I've been putting this off for a couple days... this was a big loss for me.  Furgie was about 31 1/2 months old which is pretty darn old for a mouse.  Gilly & Furg were the first mice that my husband really connected with.  Furgie was the best mouse, she was gentle, affectionate, and kind to other mice.  She had a wonderful life that she got to spend with her best friend, Gilly, and lots of other mice that she loved very much.  She was part of a colony that took care of each other in sickness and in health.  The first two years of Furgie's life were completely free from sickness or injury, and was still running on the wheel up until the day before she died.  Furgie just slowly got old and although she looked really rough... she make it clear that she certainly didn't feel as bad as she looked.  I was with her when she died, which was hard on my heart.  
Furgie, we miss you so much and so does your colony.  After your sisters realized that you were gone, they treated your body with such respect and tenderness.  Delilah spent a long time gently grooming your body, head to tail.  I placed you in a special box with a little teddy bear and buried you in my garden.  I will miss seeing your sweet face every day but I am comforted knowing that you are free.  I could tell that your were pretty uncomfortable toward the end.  I hope you found Gilly and Penny!  I will never forget you and I love you forever.  Until we meet again...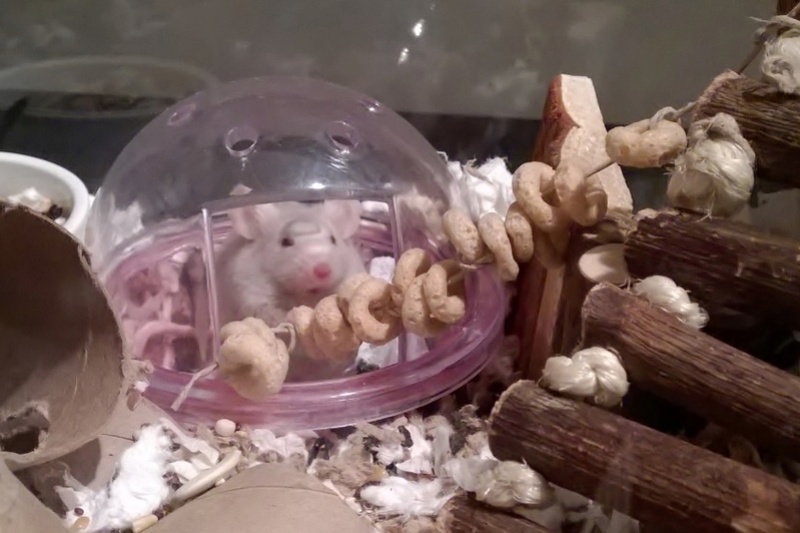 _________________
Lady mice
: Maggie, Claire, and Penny (aka Sweet P)
Gentleman mice
: Alexander
Other pets
: Little Buddy, Kevin (cats) Sherberta, Dustin, Lidiya, Chip, Squiggy, Nina, Harold, Spike, Mia, Mim, Henrietta(hamsters), Chloe and Zoey (chinchillas), Herman/Figaro Whooopers/Burlington (guinea pigs)
 Penny, Honeybun, Lucy, Annie, Gilly, Furgie, Tedward Wigglesworth, Olivia, Goose, Sweet Katie, Binky, Delilah, Bitsy, Boopers, Sprout, Splotchy, Eva, Slappy, Shuggie, Fancy Pants, Jellybean, Charlie, Murray, Sally, Maya, Gunther, Lil Smokey, Magnus, Norman, Winnie, Sally, George, Harriet, Spec, Erzulie, Lucille, Agatha and Clementine.
Moderator





Join date

: 2016-04-03


Posts

: 2457


Likes

: 743










She was such a sweet mouse. I'm sorry for your loss.
_________________
currently without meece but always remembering:
Cheeseburger, Bacon, Twix, Hashbrown, Daryl,
Celyn, Rina, Seren, Hazel, Arsinoe, Tilda, & Eulyn
Gerbils: Oghren & Merin / Jeffrey, Geoffrey, & Jeffri /
Hamlet & Horatio / Emrys, Cream, & Hershey / 
Bill & Frances  
 Hamster: Daydream
Hero Member





Join date

: 2016-04-03


Posts

: 3807


Likes

: 1062







This made me so sad to see.
I'm glad she's no longer uncomfortable though. I'm so sorry for your loss, Furgie was a great girl.
Moderator





Join date

: 2016-06-13


Posts

: 1848


Likes

: 511










Oh, I'm so sorry abut Furgie. She had such an amazing life with you. I hope you and your girls are cheering each other up.
Moderator





Join date

: 2016-04-06


Posts

: 2975


Likes

: 857







As much as it pains us to see them move on, crossing the Rainbow Bridge is such a blessing as all is new again. I'm sure Gilly was waiting to welcome her sweet sister Furgie.

_________________
Mouseless but now Hamster-powered
Over the Rainbow Bridge: Chablis, Merlot, Bombay, Frascatti, Mimi, Musetta, Lucia, Carmen, Tosca, Tara, Buffy, Willow, Anya, Cordelia and Imogene the Syrian Hamster
Also Mom to Clare Bear cat and Hermit Crabs Big Enzo, Charles Paris and Mr Pinch
Hero Member





Join date

: 2016-04-24


Posts

: 702


Likes

: 130







Aw, how sad to see this lovely little mouse go. She lived a long and happy life with you, that's for sure 
_________________
Proud owner of two crazy one year old cats, Salt (grey and white) and Pepper (tuxedo)!
No mice... yet

See my Etsy Shop at www.etsy.com/shop/ArtistwolfDesigns
Hero Member





Join date

: 2016-04-03


Posts

: 669


Likes

: 107







May she rest in peace. What a beautiful, beautiful life she had.
Hero Member





Join date

: 2016-04-06


Posts

: 1725


Likes

: 256





Though I have not been here for very long, I could absolutely tell how much you loved Furgie. She looked like such a gentle mouse. Hopefully you will come to heal, knowing that she is free with her sisters past the rainbow bridge, all of our mice too
_________________
Just a casual mouse lover.
Sr Member





Join date

: 2016-09-27


Posts

: 107


Likes

: 10







I'm so sad to hear about Furgie :'(
I hope she's found Gilly over the rainbow bridge.
I've never known mice so old before - she had a wonderful with you.

_________________
Remembering Basil, Pumpkin & Colin
Hero Member





Join date

: 2016-04-03


Posts

: 520


Likes

: 141










It's so sad to say goodbye to a great mouse like Furgie
all you can do is count your blessings that you were able to have her for so long. I'm so sorry for your loss scaredymouse, I hope you and Furgie's colony are doing well.

_________________
Current Mice: None.
Rainbow Bridge: Daisy, Peach, Ivy, Penelope, Hazel, Ruby, Clover, Peanut, Minnie, Ginger,  Honey, Violet, Flora, Fauna and Merryweather.
Hero Member





Join date

: 2016-04-12


Posts

: 1462


Likes

: 246








---
Permissions in this forum:
You
cannot
reply to topics in this forum