Hello
The other day I saved a mum and 8 baby mice from a wannabe breeder who had no idea what she was doing, the problem is that she also had no idea how old they were. She seemed to think that that they were maybe 5 weeks old which means that they need to be separated a week ago but some of them look noticeably smaller than others like maybe there could have been two litters but they also seem to be at a similar place developmentally and they all still seem to be taking milk from mum. That being the case I don't want to risk separating them too early but at the same time I don't want millions of mouse babies, as sweet as they are it gets to a point where it could be a big problem.

Oh yeah and mum looks a bit pregnant too, I don't know when she separated the father but I'm going to assume it was too late.

They've all got their eyes open and they're all walking around the cage but I don't really know what to do for the best really!

Any advice would be greatly appreciated

jimmymcgee88

New Member





Join date

: 2017-07-30


Posts

: 2


Likes

: 0





CallaLily

Hero Member





Join date

: 2016-04-03


Posts

: 3937


Likes

: 1108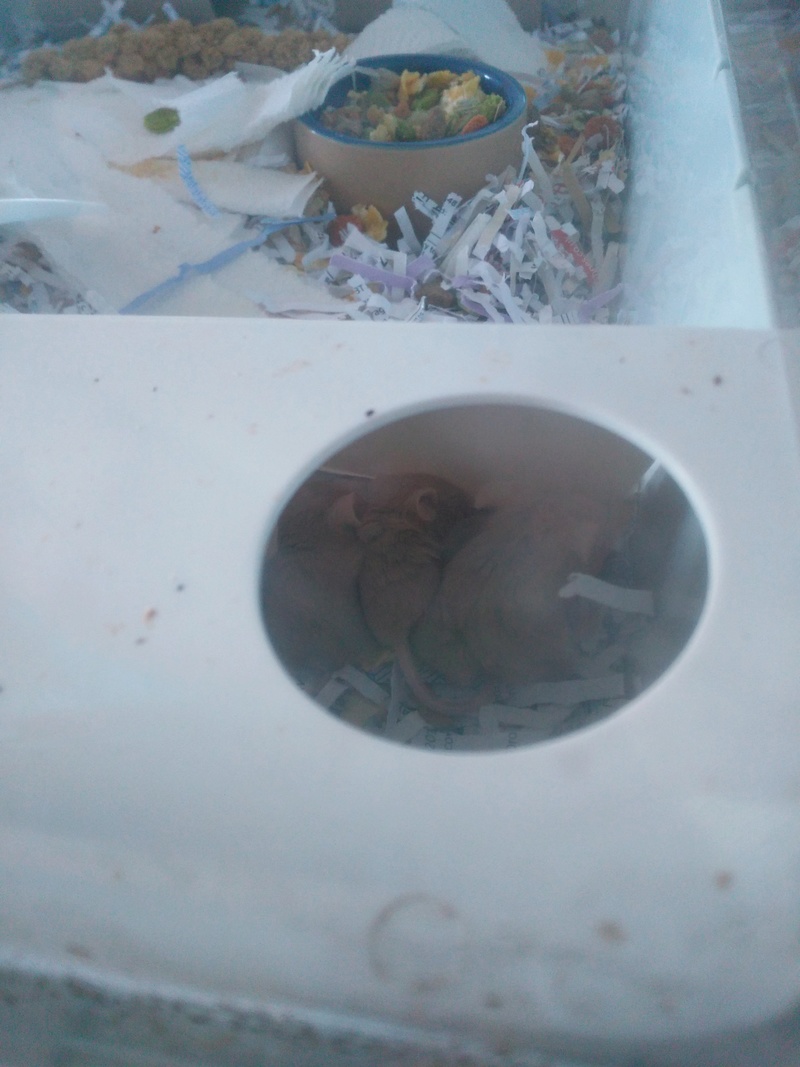 Here are some pictures I know they're not all that good but I don't want to disturb them too much just yet and if they're all running about it'll be even harder to take pictures!
Mum seems to be feeding them basically every couple of hours but most if not all of them also seem to be eating solid food and drinking water as well. Is it possible that if there are two litters the older litter might still be feeding even though they don't need to? or could the smaller ones just be a bit runty?
This is becoming a little bit stressful because I really don't know what to do for the best!

jimmymcgee88

New Member





Join date

: 2017-07-30


Posts

: 2


Likes

: 0




I don't have any experience with baby mice, but I would think the ones that are eating solid food and drinking water are fine to be separated from their mother and of those babies I would separate the boys from the girls. I know that there are very experienced members here, so hopefully they will be along with advice soon. The babies are adorable. Hope all goes well

Rodents rock!

Hero Member





Join date

: 2016-06-27


Posts

: 1818


Likes

: 599








---
Permissions in this forum:
You
cannot
reply to topics in this forum