I was wondering what mice you'd have to breed to in order to receive information about certain alleles.
For example for the C-locus you could always breed to a PEW, because their "cc" causes different outcomes with each of the other C-variants.
What about the other loci? Does anyone have experience with test-breedings? (:
I'm asking because I have a Tricolor buck, but I have no idea what his genotype is, except for:
- a(t)* because of his fox (could be tan, since tan gets white with Spl)
- recessive c-locus
- ss
- Spl*
This is him: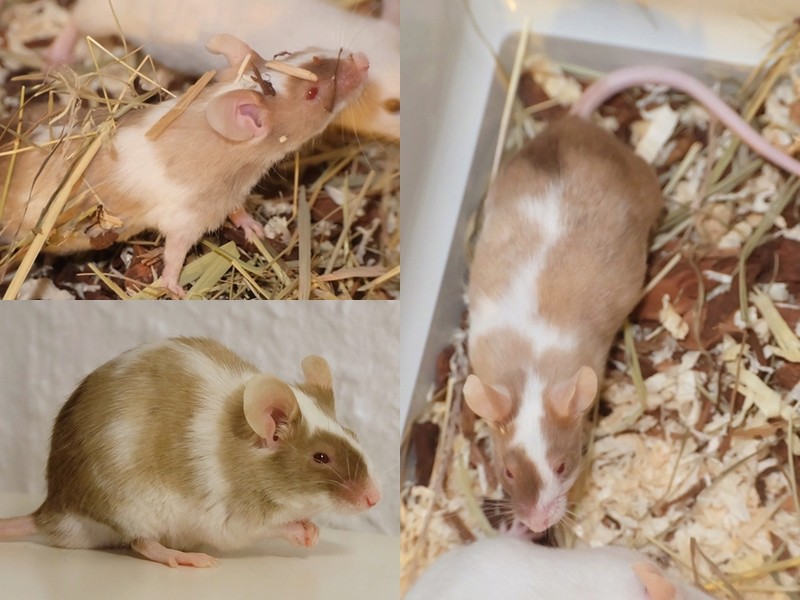 KaineHill

New Member





Join date

: 2017-11-26


Posts

: 10


Likes

: 5




Have you checked out the Fancy Mice Breeders forum? While we have some experience with genetics and breeding here, we're more pet centered than we are exhibition breeders. I'm sure there are members of the other forum that will have tons of experience to help you plan out your litters!

_________________
~Marilla, Anne, Rachel, and Diana~

Peachy

Moderator





Join date

: 2016-04-06


Posts

: 3004


Likes

: 871







Sadly noone replied to me 'til now on there and the topic got viewed only 9 times. c': So I guess it's a pretty inactive forum over there.

KaineHill

New Member





Join date

: 2017-11-26


Posts

: 10


Likes

: 5




Pairing him to a chocolate doe would yield you the most information with the least amount of litters, and will tell you if he's chocolate, black, or agouti based.

The tan gene actually becomes fox with the c-dilutes, splash is an independent gene that while dominant, is only visible on c-dilutes (minus albino). I'm not actually the best at stuff on this locus, but between his points, red eyes, and warm body, I would peg him as a chocolate tricolor (splash+pied) siamese fox (assuming that his extended rump patch is from splashing as opposed to molting in another color).

Hope this helps! His splash daughters in your other thread are really striking. <3

Frizzle

New Member





Join date

: 2017-12-13


Posts

: 16


Likes

: 18




Thanks so much for the help! He's paired up with a chocolate piebald doe since 3rd of December, so in best case she'd be 10 days in. More likely she's gonna have a litter in January though. Since I didn't get the chance to see any mating yet, she stays with him 'til obviously pregnant.
If he's Agouti based, then he'd likely throw Agoutis and Chocolate in tan (because of Aa[t]), correct? While if he's black based, there would be no Agoutis, but chocolates (if bb) or chocolate and blacks (if Bb). And if he's chocolate based, there would probably be chocolates/choco tans only, IF the doe is homozygous dominant is the C-locus, D-locus and P-locus, right?
----
In case it helps, here are infos about the two litters he had (none of them while with me)
Litter 1
He's had a litter with a BEW and the following colors popped up:
2 Splashed, 3 Tricolor (Splashed Piebald), 1 Bone and 1 Bone Piebald!
I'm certainly not sure about the Bone color though. Could be a very light cream too. To the eye it's almost white:
Litter 2
I don't know the mom nor the babies, so I can't tell you if the info I got from their "breeder" was accurate or not. He said the litter was with an Agouti Piebald (Aa ss) doe and the babies were Agouti Piebald, Black Piebald and Bone Piebald (again the color shown above).

KaineHill

New Member





Join date

: 2017-11-26


Posts

: 10


Likes

: 5





---
Permissions in this forum:
You
cannot
reply to topics in this forum