Scuttlebug was one of two orphaned babies my sister and I took in. He grew up with his sister (they had to be separated, unfortunately) and then lived with his best friend, Darcy. Oh, my Scuttle baby. He was the squirmiest baby-- he earned his name from that. He had a lot of names while growing up, as we just used descriptors so that we wouldn't get attached while they were fragile. He was first called Scar (but who knows who truly had the Scar lol),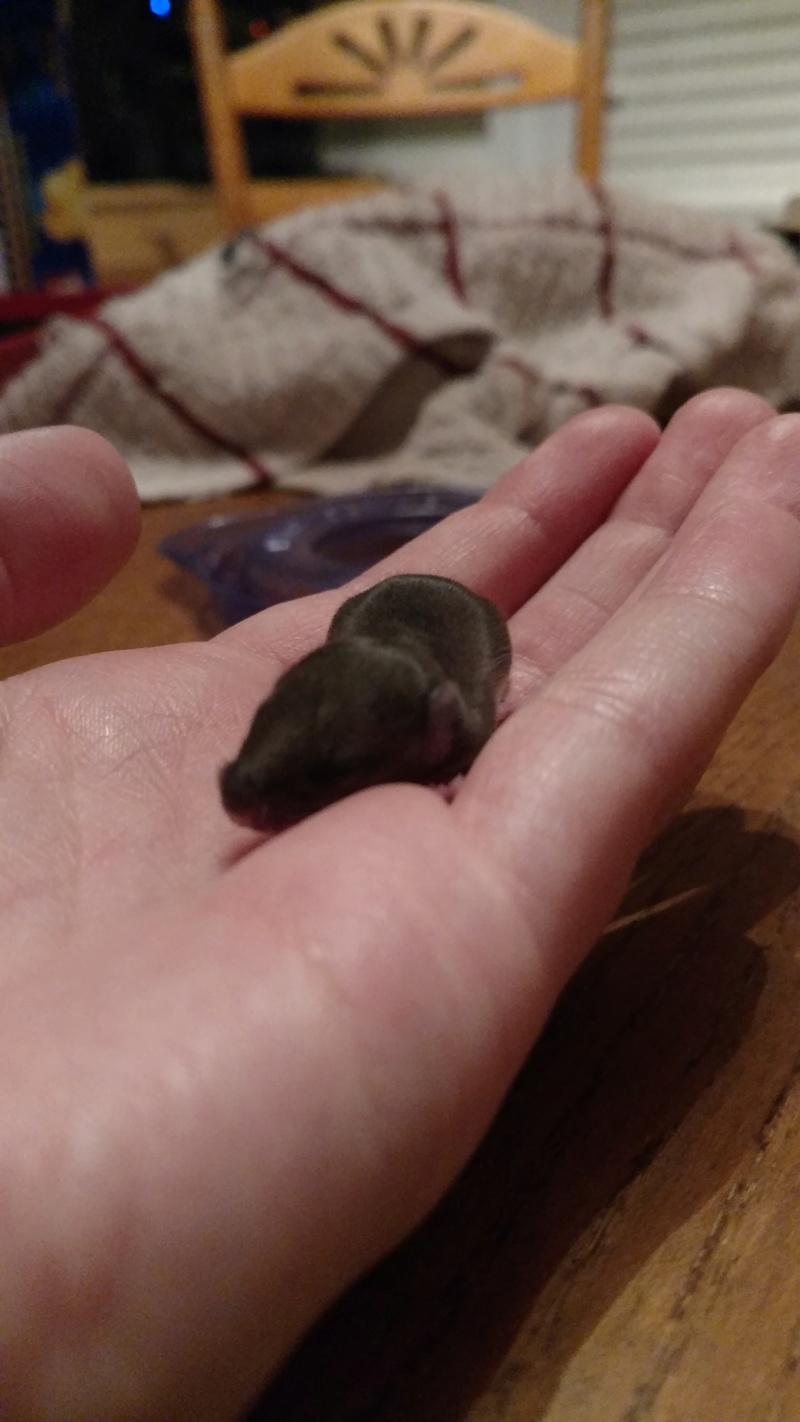 then either Eyes or No-Eyes,
and when they became fully-functioning, robust babies, he became Scuttlebug.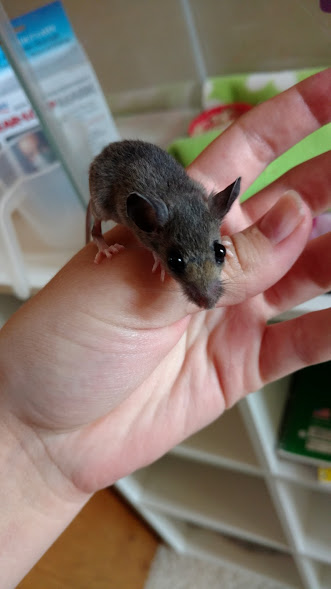 He was a wild child. We house our babies in glass tanks with wire mesh tops. Deer mice are built to jump, and he loved to jump straight up to the top and crawl around like it was a whole other world.
He began doing backflips. He would jump up and let go really quick so that he did a whole circle. There was no stopping him, he was wild with wild instincts and didn't trust or listen to me. Nonetheless, I loved him for all that he was. He did backflips for literal hours on end and smacked me when I got too close. He loved the little tiny chunks of sugary wafer I shared with him in a desperate attempt to gain his trust.
He was a feisty wild child, but he was my feisty wild child.
Scuttlebug was fine yesterday morning. I said hey to him and he even greeted me and tried to nip my finger through the wire on the ceiling. When I headed up to bed and checked on him and Darce, he was already stiff. He had been on the ceiling and fell at the wrong angle, hit the box below him, and broke his neck/back. I thank everything in the universe that it was instant. He felt no pain. He was just gone. We examined him (or rather, my father did, I was buried in blankets sobbing) and determined that Darcy had committed no foul and that he definitely died from a fall and not a wound. I was devastated.
I tried to blame it on myself. I tried to justify the fact that he was gone by blaming it on something I did. In the end, he had been fine. It was a freak accident. He lived a long life compared to what he was supposed to get and he had a good life. I made my peace after a few hours of tears and prayers to him up in heaven.
He was supposed to live 5 days. He lived 3 months and 15 days. He had it good.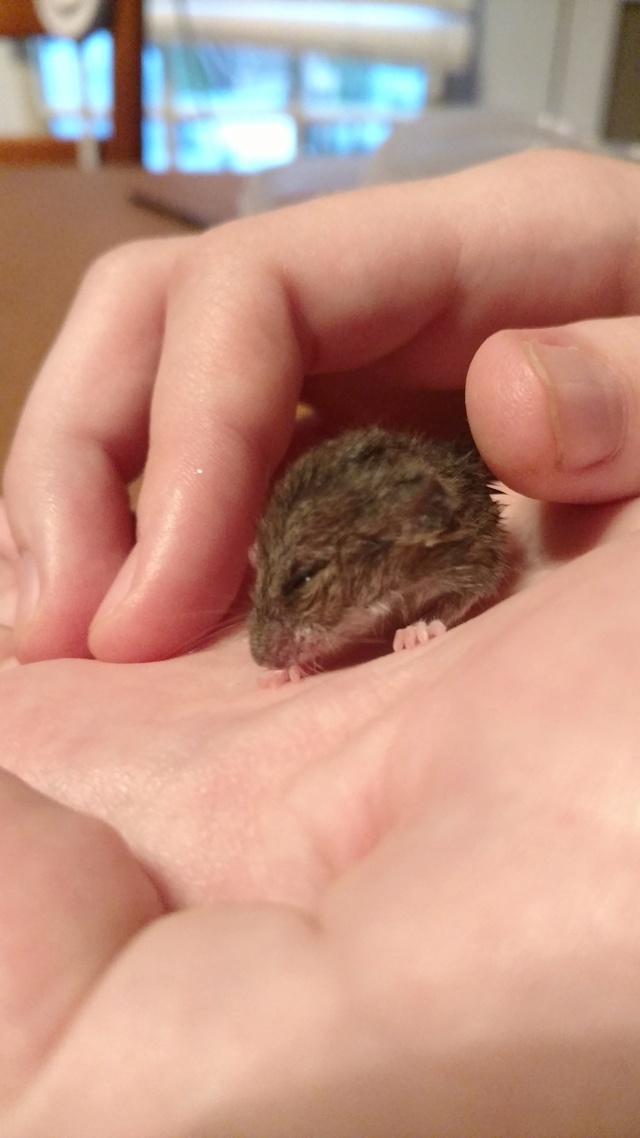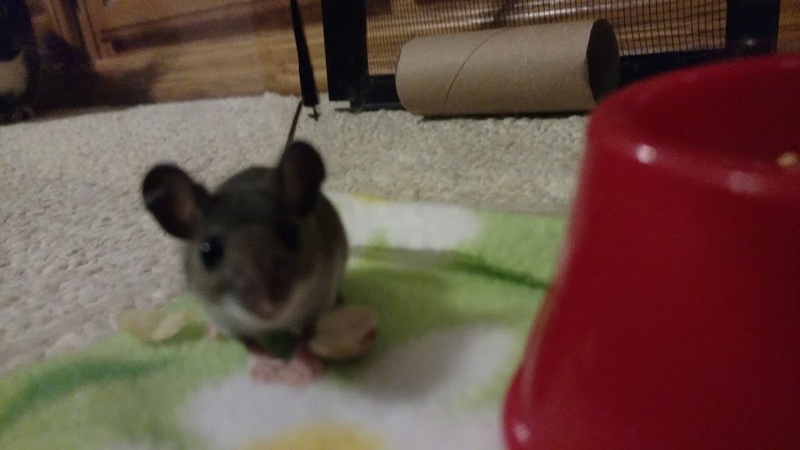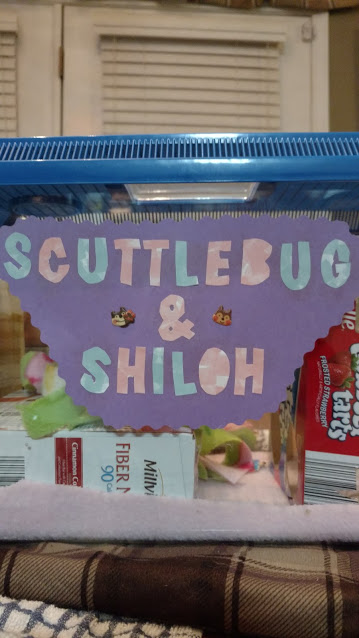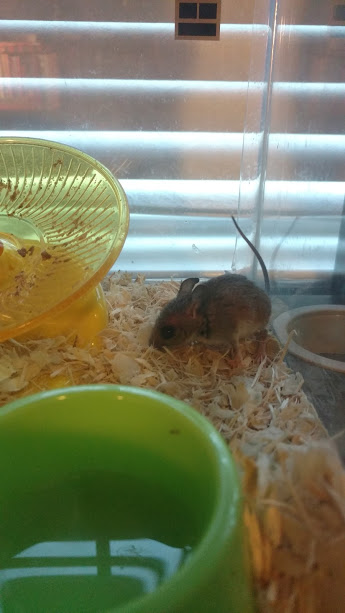 Goodnight, sweet Scuttle. Run free. I love you now and forever, baby boy.

_________________
New to the world of mice, but not to the world of rodents. Mice, hamsters, gerbils, chinchillas.
My meeces: Darcy, Daisy, Daphne, Kalypso, Saratoga

Other pets: Kitties Juniper, Ozzie, and Rosie, Teddy Bear the poodle, Chinchillas Lily and Nina (a mother-daughter pair), Ferrets Hope and Azrael, and the fish-- Neon Tetras named after the Beatles and a Bristlenose Plecostomus named James. James is female.

Founder of Project Happy Paws-- phpaws.cf and foster mom to Strudel and Bagel!

Rest in peace, dear Scuttlebug and Shiloh. I love you both, now and forever. You'll always be my babies.
Full Member





Join date

: 2017-12-02


Posts

: 66


Likes

: 14







What a sweet boy! I'm sorry about his sudden passing, but he definitely had a much better life than he would've had you not taken him in.
I wish you the best with your remaining mice and your other pets, and welcome you to the forum! (as much as I can welcome you, also being a newbie here
)
_________________
tabby | she/her | 23 | tx, usa
~Mouse Dossier~
my mouse gallery
mouse mom to: Spider, Clue, Mahjong, Peebee, Nellie, Oakley, Frida, Frankie, Mary, Shelley, Thyme, Caramel, Olive, Popcorn, + Beetle

remembering: Trouble, Yahtzee, Checkers, Pumpkin, Jay, Sid, Zola, Hazelnut, + Dragon

Sr Member





Join date

: 2017-11-23


Posts

: 284


Likes

: 78







So sorry. But just know, those babies would not have survived at all if not for you and your sister taking such good care of them. So, though Scuttlebug's life was shorter than it should have been, you gave him a great quality of life while he was here. (((Hugs)))
Hero Member





Join date

: 2016-06-27


Posts

: 1818


Likes

: 599







I'm so sorry for your loss. He was a cutie and at least you still have his sister to help bring you comfort in helping to remember him.
_________________
Jr Member





Join date

: 2017-12-01


Posts

: 40


Likes

: 21







I'm so sorry for your loss.
_________________
currently without meece but always remembering:
Cheeseburger, Bacon, Twix, Hashbrown, Daryl,
Celyn, Rina, Seren, Hazel, Arsinoe, Tilda, & Eulyn
Gerbils: Oghren & Merin / Jeffrey, Geoffrey, & Jeffri /
Hamlet & Horatio / Emrys, Cream, & Hershey / 
Bill & Frances  
 Hamster: Daydream
Hero Member





Join date

: 2016-04-03


Posts

: 3803


Likes

: 1062








---
Permissions in this forum:
You
cannot
reply to topics in this forum