Graham's all alone, and while the attention I give her is keeping her stable -- she'll get lonely, inevitably so.

I came across this little merle girl on craigslist. She's free without her cage, and they just don't have the time to bond with her. Apparently, she's not used to humans, and they got her from Petco four months ago. She's in a pretty small cage compared to the 10 gal my girl is in, so I'd like to help her out.  I don't know.

I'm considering just going for it. It seems soon, but I always intended to make Maier and Graham a trio so they wouldn't be left alone when one passed. That never quite happened, and I worry for Graham's mental health while she mourns.

What would you do in such a situation? I'm not sure if I should go out and meet a few different mice or just find one in need and take it in. With the quarantine on top of the wait to bringing another girl into the house, I'm very worried for her.

Then there's the issue that I'd have to quarantine merely on another half of the room, so they'd share an air supply anyhow.

Losing one half of a bonded pair is never easy, especially not for the remaining half.
_________________
Remembering Maier, Graham & Garcia
I would get the merle girl if you want her and, if you can, grab another pair from somewhere. Work on taming the merle girl and the others during quarantine, and then pick one to introduce to Graham. (Alternatively, wait until Merle and Graham are together... two cages instead of four. lol)
This gives you two pairs, and you can choose to either leave them that way or introduce them all. When Graham is ready to go, you can then introduce the one left behind to the pair without going through quarantine again.
Graham gets a new sister and you set yourself up for a happy little colony. Two birds, one stone.
In the meantime, give your lonely lady all the love, attention, and fun she'll tolerate. I went through this with my first mice, too. It's sad at the moment, but when everyone is finally together and happy... it's magical!!

_________________
~Wild Thing the Half-Wild Mouse~
Moderator





Join date

: 2016-04-06


Posts

: 2986


Likes

: 857







I couldn't forget about the little merle one, so I'm gonna see about setting up the quarantine cage tomorrow and I'm messaging their new owner to see better pictures. I can't quite tell if she's actually merle or just a gray, but I'll stick with that for now.

I know a breeder who comes to town with the reptile convention in July. He sells a lot of types -- even hairless -- so I think I'll see if I can get one or two from him then.

I'd need another properly sized tank or merely a larger one, but it's a good plan! I hope they get along alright.

_________________
Remembering Maier, Graham & Garcia
Sounds like a good plan to me
Keep us posted!
Hero Member





Join date

: 2016-06-27


Posts

: 1818


Likes

: 599







Image isn't mine, of course.
She isn't merle (it was just the lighting), but she is really cute. And about the same size as Graham. I wonder if I should take her in with her cage and save it for quarantine, considering her current owner plays to just throw it out. I imagine it'd help her settle in, too.
She's a cutie, though! I don't know what her name is but if she doesn't have one I'm gonna need some ideas. That's a hint, by the way. wink.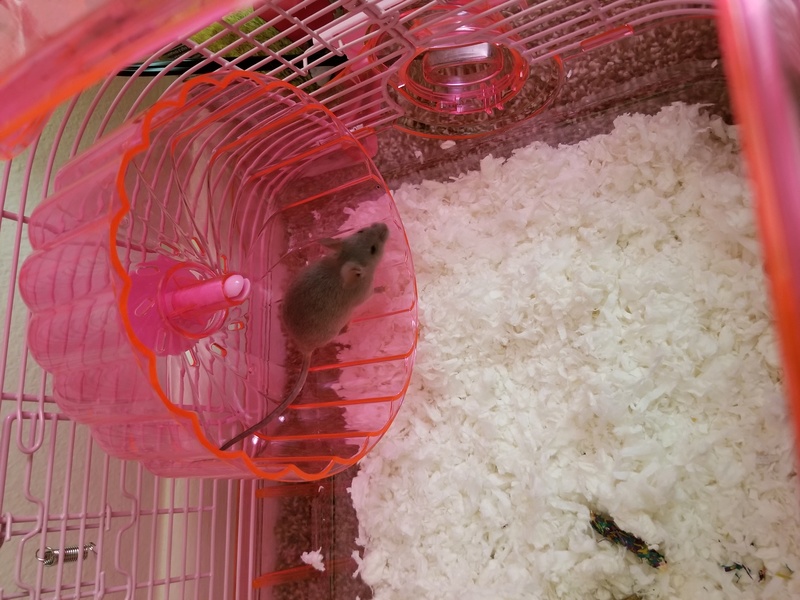 I'd considered just letting Graham be alone till she passed but I have no idea how long that'll be. She's a month younger than Maier, so a little over one and a half -- she could live a whole year alone, especially since she acts and looks so young. Best bet for her is to keep the colony going. Weaning out of mice will be a difficult task if it ever gets to that!
_________________
Remembering Maier, Graham & Garcia
I am in a different financial situation now that we own a bird, though. I don't know how this will affect the vet funds in the future, even though Graham's never had to see one. I wonder if I should wean out now or merely wait. This gray is estimated to be six months already, but knowing pet store mice, could easily be more.

This is a strange situation. I'm not quite sure what I want to do about it. Eck.
_________________
Remembering Maier, Graham & Garcia
Mousie needs a home. And she looks like her name should be Lesley.

If you really want her (and, remember, she needs a home), why not set aside a savings plan for vet visits? Just downsize your budget by some steps you won't find too difficult to endure (such as, buying store brand rather than fancy brand grocery items, or cutting your dessert servings in half, or using coupons) and drop the money you save into an empty shoebox or coffee can. In two or three months you could have a nice little emergency doctor fund going, and little Lesley could be comfortably at home with Graham.
_________________
Zephyr
Coco
Bobby
Noche
Paiva
April
I loved you so / I still do / I always will / 'Twas Heaven here with you.
Sr Member





Join date

: 2017-10-18


Posts

: 244


Likes

: 135







She is adorable!
Hero Member





Join date

: 2016-06-27


Posts

: 1818


Likes

: 599







Aww, she's too cute! I hope you're able to get her!
_________________
Jr Member





Join date

: 2017-12-01


Posts

: 40


Likes

: 21







My email hasn't quite been working in my favor to message back (I have incredibly low storage.) but we're checking out a good pet store Saturday or Sunday. They keep their males separated, females together, hamsters alone, etc., so I'm hoping it'll work out. Little Graham has taken to sleeping in a tiny paper cup I put in as something to shred up.

Also, Grahams wood allergy seems to be getting less serious. I tried it out with a wood hamster house a few weeks ago and she's showing no signs of excessive scratching. I still don't trust popsicle sticks, though...she never did grow all of her hair back after the allergy ordeal last year so there's no way I'm risking it with those things. So far so good though!


Similar topics
---
Permissions in this forum:
You
cannot
reply to topics in this forum