Useful Links
Forum Rules
Please read the forum rules before posting. If you have any questions, contact a moderator.
Pet Mouse Info
Links to help you find all the care info threads throughout the forum.
Cage Calculator
Find out how many mice will fit in your cage or tank.
Contact
Use this link if you need to get in touch with the administration team without an account.
FAQ (forum)
Frequently Asked Questions about the forum.
Vetective™
Vetective™ is "a community-driven exotic mammal veterinarian locator and review service."
Page 2 of 2 •

1, 2
I have tons of experience with bunnies!! They make amazing pets. Here are some tips
-DIY or C&C cages are the best cages
-Don't have a wire bottom cage
-Spay or neuter your bunnies to prevent deadly diseases (Especially with females)
-Rabbits do best in pairs, so getting a spayed female and neutered male would be great
-Water bowls are better than water bottles
-Feed 1/4 cup of pellets for every 2 pounds (ex, 4 pound bunny would get 1/2 cup a day)
-Use Oxbow pellets and hay
-Avoid alfalfa, even with young bunnies
-Feed leafy green veggies along with bell pepper
-Keep fruit to a minimum
-Spend a lot of time with your bun, but don't push them
-Not every bunny will want to be pet
-Enjoy your new bunny! I would STRONGLY suggest getting 2
New Member





Join date

: 2017-12-30


Posts

: 2


Likes

: 1




Thanks a ton!
I'm just getting one bunny for now, he's a single bunny at the shelter and I'll spend tons of time with him to compensate. Maybe I'll get another one when I have less mice, though! Six mice and two rabbits would be a ton to balance, so I was thinking that when my current colonies are gone, I'll probably get a second pet.
Have you gotten your bunny yet?
I'm excited to see him!
Not yet! I was going to pick him up today, but it snowed and the roads were too bad to go anywhere. I'm picking him up Tuesday.
I have the adoption papers filled out, so he's mine! But I'm working tomorrow so I can't get him sadly, and the shelter is closed for New Years Day on Monday. So Tuesday it is! I've got his enclosure almost totally set up, though.
Can we see photos of his enclosure? I love seeing different setups for all kinds of animals. I love looking on Pinterest at stuff like that!
Sure thing!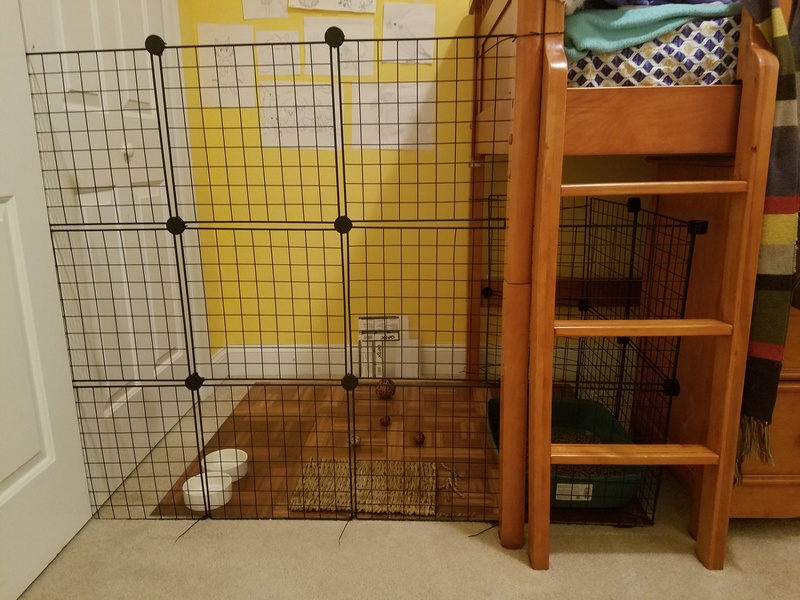 This is my setup so far. It still has a little ways to go. I need to get more of the vinyl flooring, for one, cause it turns out the enclosure is a little bigger than I thought. And I'm going to put blankets down. I had that corner of the room open, so I opened up the underside of my bed to make it the appropriate amount of space! There's no door on the cage part, but all I have to do is open both closet doors, and Clover is free to come and go as he pleases. It was easier than trying to figure out how to do a door with these, I think. I plan to reinforce the wire caging with more zipties and of course get some bunny proofing on the baseboard and beg leg in the back there. So bit of a work in progress! I was hoping to pick up Clover today, but I'm glad the weather stopped me. Definitely still things to do!
Looks nice! We have our minirex in a similar sized enclosure.

I've also found not all rabbits like company, so I would try an introduction period before adopting a second when you plan to . My bonded pair is Bandit and Wolfgang, two netherlands. Male and female. We had two foster boys, Yetti and Timothy who were bonded, but the rest were solos. Thumper was an intact male, as he was a show rabbit up until a year before he died, and he hated females. Intact or not, they were terrible to him. Abraham is also going into the show business soon, so he's intact and solo as well; Kale is a grumpy old man who hates every rabbit on gods green earth. I guess it depends on the personality more than the species.
Hero Member





Join date

: 2016-06-19


Posts

: 952


Likes

: 193







Yeah, I really don't plan to get another rabbit anytime soon. It'll be a year from now minimum, but most likely another two. No more animals are coming into my care until all my girls have passed. And even then, I may wanna continue keeping mice instead. But if I do get another bun, I'll go through a rabbit specific rescue. I know they usually do programs with rabbit owners looking to get another, so the rabbits can meet each other before adoption. It's fun hearing on facebook about all the successful introductions! New friendships everywhere. ^^
The enclosure looks great!!! Really nice job! Thanks for sharing the photo
Page 2 of 2 •

1, 2

Similar topics
---
Permissions in this forum:
You
cannot
reply to topics in this forum