Page 2 of 2 •

1, 2

If she has one, she'll need prescription antibiotics.
_________________
Remembering Maier, Graham & Garcia
Hero Member





Join date

: 2016-06-19


Posts

: 1168


Likes

: 255







Yeah, she'll need to go to a vet.
Hero Member





Join date

: 2016-04-06


Posts

: 1725


Likes

: 256





Yes, River and CinnamonPearl are correct. A vet will prescribe antibiotics, usually Baytril, and you'll need to give them to her for whatever amount of time the vet prescribes. When my mouse had a respiratory infection, she looked like she wasn't going to make it through the night until the vet appointment in the morning, but she hung on and now she's doing fantastic after a course of antibiotics! It's best to take them as soon as you can, because mice can get worse fast. Good luck with your mousies!
Moderator





Join date

: 2016-06-13


Posts

: 1850


Likes

: 515










Consulting veterinarian parents! Thanks for all your help!
_________________
...Owner of Alice and Jam -
- Remembering Sam and Phoebe
 ...
@jubilee

wrote:Consulting veterinarian parents! Thanks for all your help!
You are lucky having veterinarian parents!!!
Oh, how sweet!!! She is adorable! Thanks for sharing photos
@CinnamonPearl

wrote:

@Peachy

wrote:It sounds like Jam is weaned, but in her original post jubilee said she wanted a pinky. Since she says she's still considering it I thought it was important to address.

Oh

. Yeah, no don't do that.
Hey about that! I wasn't planning on taking a baby mouse from it's mommy. I noticed a guy on craigslist was just selling orphaned pinkies to be eaten by snakes, and my heart went out to the wee things.  I don't think I am going to adopt one, but if I did, that's where I'd get it from.  I get your concern as I also understand that hand raising is an unnecessary and dangerous action if the mother or a surrogate is present.  
I gave little un-named mouse a bath with a damp cloth (she had some pee pee on her back from her friends at the pet store and wasn't cleaning it herself after a day  
) and then heated her tank up a wee bit with a warming pad, since it's been so cold.  She fell asleep snacking!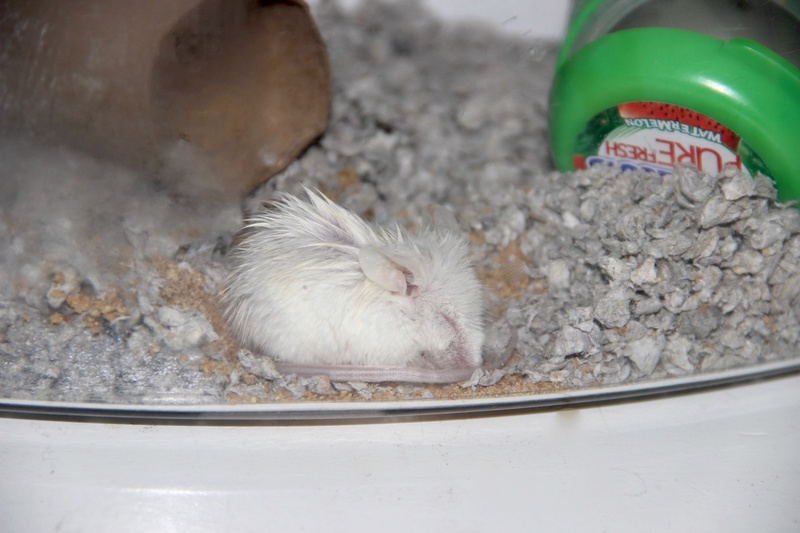 Awww, she is sooooo sweet.
What a cute lil' girl.
By the way, I like your signature. =D
Sr Member





Join date

: 2017-10-26


Posts

: 347


Likes

: 84







Page 2 of 2 •

1, 2


Similar topics
---
Permissions in this forum:
You
cannot
reply to topics in this forum