Some of you may know I have two female mice and one male ASF for school in veterinary technology. The ASF was living in a 10g aquarium for the semester but I could see quickly he became very depressed. When I had one female she seemed OK but he just did not seem like he was happy or at least content. I cleaned the girls tank very well and had them hanging out in a bin on my bed while I deep cleaned the 20g tank. They were doing great. Lots of head and butt sniffing or rubbing or something and they pretty mich ignored eachother. I have the three of them in the 20g now with upgrades and more climby things and a second water bottle. I heard one disagreement that resolved before I even made it over to the tank. No blood and it was the two females squeaking at eachother.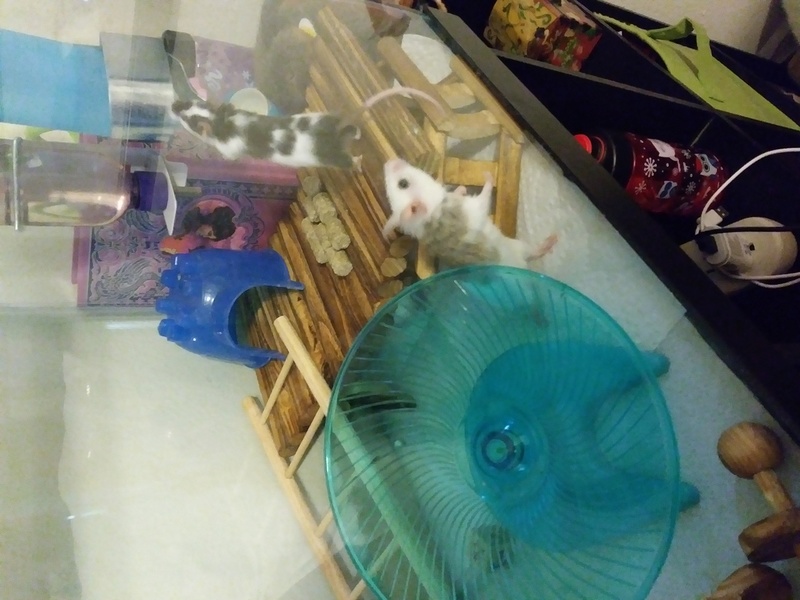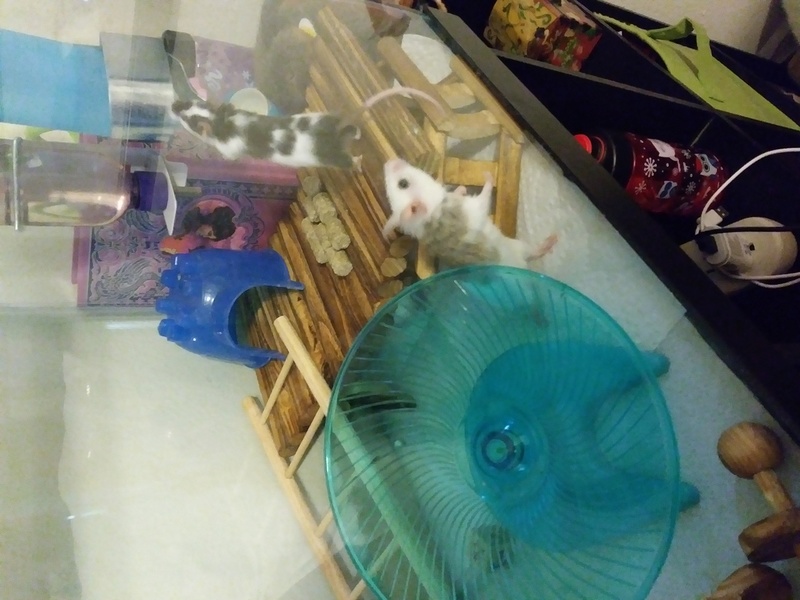 How cute! They look very happy.
_________________
Remembering Maier, Graham & Garcia
So this little dude went crazy on me today. I picked him up how I normally have been and he bit me many times on my hands and I couldn't even get him to his cage. He jumped onto the floor and my cat is luckily stupid and young so the cat caught him but not one scratch on the poor thing. Now hes super aggressive anytime I'm near him which, while understandable, I cant use a biting mouse for my class. My fingers hurt and the joints are sore that i can hardly bend one. My friend is taking him back because its not safe for him as jumpy and aggressive with this many cats. She's going to use him for stud at least so he won't be a feeder rat and I'm just going to sneak a real rat into the house for school.
It sounds like you just scared him, though? Even if you picked him up as you always have, you may have startled or surprised him, and biting can always be trained out. But anyway, sorry it didn't work out. Just remember that your real rat can't live with your mice!
Hero Member





Join date

: 2016-04-06


Posts

: 1725


Likes

: 256





It'll also be good to remember that rats can't live in tanks like mice can. Good luck.
_________________
Remembering Maier, Graham & Garcia
His breed is still pretty wild from my research. I don't have time for a wild one. I work overtime in a full time job and on top of the workload from school and my responsibilities I'm barely getting the tank cleaned as much as i would like to. My boyfriend even took on making sure he can feed and water them if i get pulled into a late surgery. On Sunday we were in an emergency surgery until 7pm. I didnt get home until 9pm... My boufriend is going to try and build me a rack and they're going to have to deal with being close enough to smell eachother.
Good luck! I love rats, remember to give a post in the members section when you get them.
_________________
Remembering Maier, Graham & Garcia

---
Permissions in this forum:
You
cannot
reply to topics in this forum