My 13-14 week old baby girl Cassiopeia appears to be considerably larger than my tiny Lyra. Lyra is 21 grams and Cass is 32... Lyra is 2 weeks younger, however. They don't seem to argue over food and i have separate food bowls in case they do, but they seem to get along just fine... Cassie is also a bit of a spider-mouse so I know she gets plenty of exercise... I was just wondering if Cassie is overweight or if Lyra is a bit underweight?? Thanks if you can help!
_________________
Lady mice
: Maggie, Claire, and Penny (aka Sweet P)
Gentleman mice
: Alexander
Other pets
: Little Buddy, Kevin (cats) Sherberta, Dustin, Lidiya, Chip, Squiggy, Nina, Harold, Spike, Mia, Mim, Henrietta(hamsters), Chloe and Zoey (chinchillas), Herman/Figaro Whooopers/Burlington (guinea pigs)
 Penny, Honeybun, Lucy, Annie, Gilly, Furgie, Tedward Wigglesworth, Olivia, Goose, Sweet Katie, Binky, Delilah, Bitsy, Boopers, Sprout, Splotchy, Eva, Slappy, Shuggie, Fancy Pants, Jellybean, Charlie, Murray, Sally, Maya, Gunther, Lil Smokey, Magnus, Norman, Winnie, Sally, George, Harriet, Spec, Erzulie, Lucille, Agatha and Clementine.



Join date

: 2016-04-03


Posts

: 2457


Likes

: 743










Cool. So 32g is an ok weight?
32 is definitely ok. The small side of the "average" range is 25 grams. Some mice get muxh larger than that! It often comes down to genetics. In general, a mouse's weight isn't something to be concerned about unless they're so obese (they usually look huge and round, not sleek and slim) that they have health issues... like trouble walking.
Edit: This is Cora. She was brindle, and genetically prone to obesity. She was pretty big but not quite worrisome yet. More veggie treats and playtime exercise for mice like her!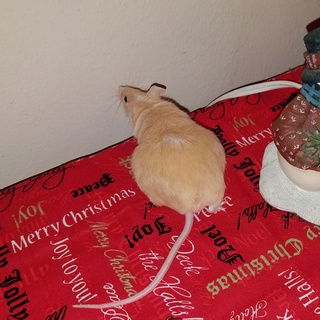 _________________
~Wild Thing the Half-Wild Mouse~



Join date

: 2016-04-06


Posts

: 2985


Likes

: 857







Agreed, they look very fit! I had a mouse that was about 90 grams. This was my 90 gram girl:
It's pretty obvious when they are overweight, you'll be able to tell. Different mice have different healthy weight ranges. Just like different people do. For example, an adult female person that is 5' 5" and weighs 125 lbs, is in what is considered the healthy weight range, but if the person weighed that much and was only 5' 2", they would be considered overweight. It's similar with mice, they all have different body types and some might have a larger healthy range than others.



Join date

: 2016-06-13


Posts

: 1850


Likes

: 515










Ok thanks so much! I guess I was just a bit paranoid
She looks perfect. This makes me wonder how fat my brindle really is, she's at least twice that! I thought my 31 gram girl was tiny.
_________________
Remembering Maier, Graham & Garcia



Join date

: 2016-06-19


Posts

: 1168


Likes

: 255







Oh! I'm hoping - as Ly-Ly is only about 11 weeks that she might grow a bit... but it doesn't bother me as she's definitely getting enough food and exercise so...


Similar topics
---
Permissions in this forum:
You
cannot
reply to topics in this forum