Hello everybody!
I have been wanting to upgrade my mouse cages for a while now and after the recent litter I decided to keep 3 girls. I now have a group of 5 females (including the mum's, Ricotta and Fontina) and one male (Haloumi). I am wanting to purchase two new cages but I was hoping for some recommendations as to what cages I should choose. I am going to go with barred purely because of the better ventilation and the extra places to hang hammocks, caves etc. What cages does everyone have and what would you recommend for my group of females? Please bare in mind I live in NZ so many of the really good cages aren't available here
I don't mind about cost as I have been saving to splurge on them.
Thanks in advance!
P.S. Pics of your cage setups would also be greatly appreciated if you don't mind!
hi! Live in new zealand too and i have had the exact same struggle with finding decent cages. in the end i did decide to just make my own bin cage as my parents didnt want me spending hundreds of dollars on a cage. i bought a 60L bin from the warehouse and it was $16 or something, the mesh was from bunnings. it is a decent size and i have 4 females living in it. (photos below)
have a look on
https://nz.miscota.com/
as they do have some decent sized barred cages. (i think the Ferplast Cage Kios looks pretty decent (not sure on bar spacing) -
https://nz.miscota.com/small-animals/ferplast/p-69920?r=8010690097886&gclid=Cj0KCQjwttbWBRDyARIsAN8zhbK-ToquzEbo0ox8jHdsyXDK52VypIsCAOvKnLTcecig43kxn0IEUsMaAik5EALw_wcB&gclsrc=aw.ds
here is my bin cage setup...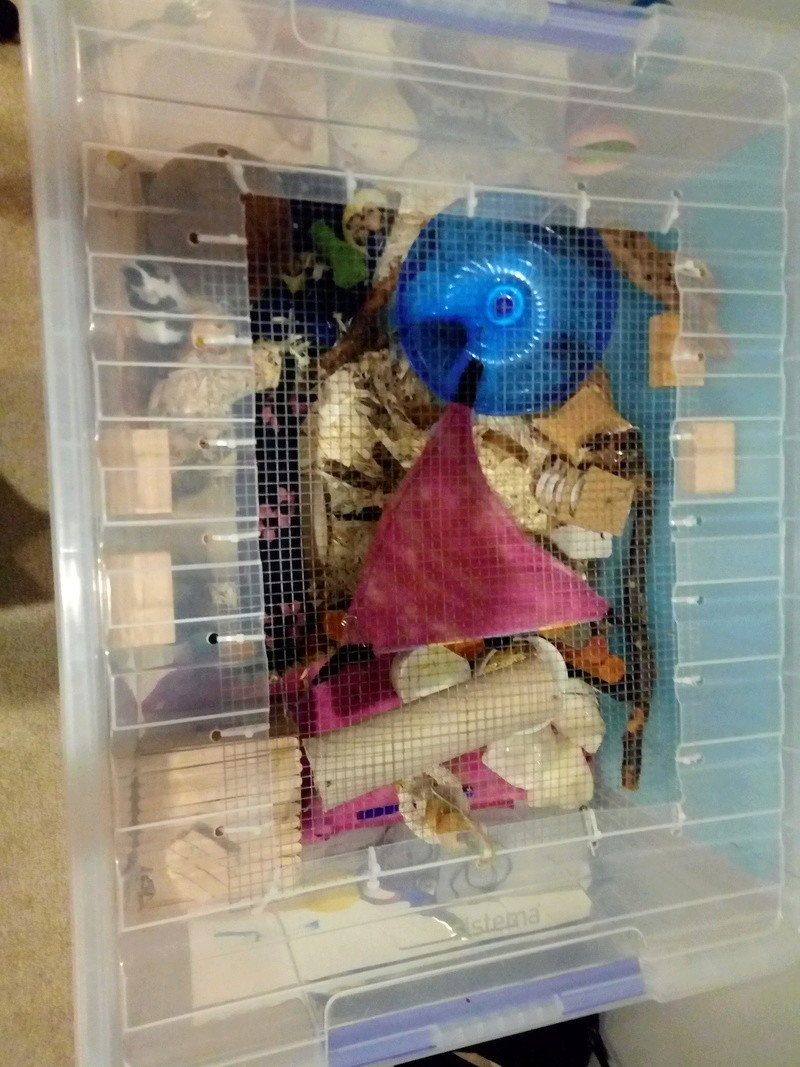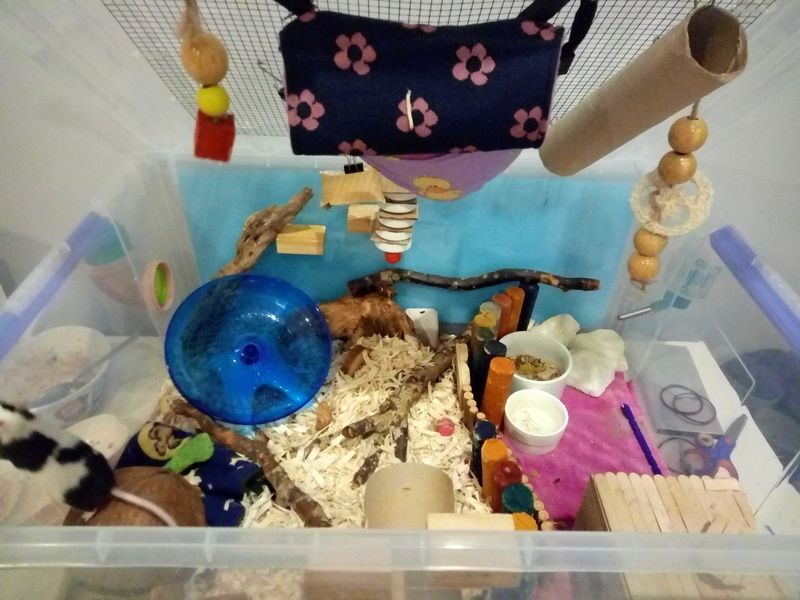 _________________
Luna~ ~Nova~ ~Vega~ ~Apollo~
Remembering: ~Milly~ ~Jazz~ ~Jem~ ~Oreo~
Sr Member





Join date

: 2018-04-02


Posts

: 127


Likes

: 40







Neat cage! Thanks for the ideas
@jadamouse
woah! I love how you did the food and water area! I've been so frustrated with trying to pick bedding out of their food lol
I've only had my mice for a little over a week and their cage is not nearly as exciting as Jadamouse's
I have a bin cage too but instead of mesh, I drilled holes all over the sides near the top and all over the lid. It has 3 females in it.
I don't know if you have petco but that's where I got their little 2 level house it's by the brand You & Me and they love it.
New Member





Join date

: 2018-04-11


Posts

: 14


Likes

: 0





So cute! Unfortunately we don't have a Petco
@freckles24
thank you! your cage looks great
_________________
Luna~ ~Nova~ ~Vega~ ~Apollo~
Remembering: ~Milly~ ~Jazz~ ~Jem~ ~Oreo~
Sr Member





Join date

: 2018-04-02


Posts

: 127


Likes

: 40







@freckles24

wrote:I've been so frustrated with trying to pick bedding out of their food lol  
Since my little mousie girl was an
only
mousie girl, maybe we had a little more latitude in trying solutions to problems like that, and having them work, than if there had been other little ones around being bad influences on each other.
What worked in April's tank was to put the water dish and food (either in a small container or just loose) inside a plastic clamshell container that was full of berries or something when I bought it and had sufficient head clearance inside for April to dine in comfort.  I set it in with the lid down but not shut, covering the contents but not blocking access.  I used a little trick to get the clamshell to stay in its spot on the acrylic tank floor, yet it easily lifted out for cleaning.
April just took to that arrangement as if it was something mice ran into all the time out in the wild ... or at the (ahem) rodent mill.  She'd use the lid as just part of the floor space, to run across or stand on top of and look at me all cute-like.  For morning greeting, when I'd lean my big ol' face in to make kissie noises to her, she would stand on top of the lid, stretch up, and touch my nose with hers.  She'd race across the tank, over the top of her "dining nook", turn around, lift the lid, and climb in to eat or drink, or just lean over the edge sometimes for a quick sippie.  Then she'd pull the lid back down and run back over the lid into the messy-nest-and-chew-toy end again.  She also had cardboard tubes alongside the clamshell that she could run through or on top of, which she often did.
It really took care of a LOT of the bedding-in-the-food, bedding-in-the-water problem.  Unfortunately, sometimes she decided it would also work quite nicely as a WC, and morning washup would take a bit long since I did not have a spare clamshell.
A picture's worth a thousand words, so 'tis said, so here's my little boopster standing on top of her dining nook - probably so she can try to reach some oats I stuck among the colorful knots on that bird toy she enjoyed messing around with.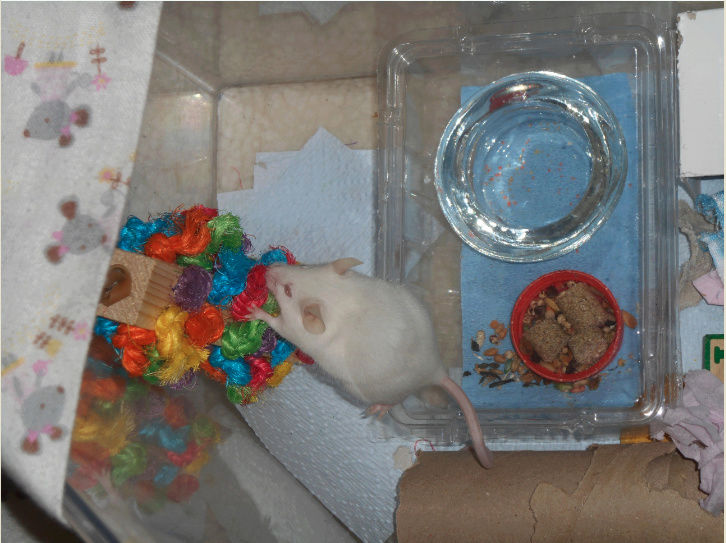 Aw.  Sweet April.  Giant Mouse misses you, Little Mouse.
_________________
Zephyr
Coco
Bobby
Noche
Paiva
April
I loved you so / I still do / I always will / 'Twas Heaven here with you.
Sr Member





Join date

: 2017-10-18


Posts

: 223


Likes

: 116







That is a really good idea! I might steal that

---
Permissions in this forum:
You
cannot
reply to topics in this forum