Tabby's Moussier
A thread for me to put all my mice, show them off, link to their galleries, etc.
Just a little bit about me: I'm Tabby, she/her, 22, a Pennsylvanian now living in Texas. I love animals and nature, writing, bats, videogames, my pets, drawing, and animals, and I'm usually wasting time on the Internet. You can find me online under the names: Noivurn, chiroptera/chiropterra/chiropterran, or gruntsmom
I've had mice on and off since I was in ~2nd grade, and got back into mousekeeping in the Summer of 2017, after an impromptu/accidental move to Texas that my pets cemented. Yahtzee and Trouble were these girls, who re-opened my eyes to having mice. They're both over the rainbow bridge now, but they'll always be in my heart.
If curious, here is me (with Trouble):
Last edited by chiroptera on Wed 16 May 2018, 10:16 am; edited 2 times in total
_________________
mouse mom to: Clue, Peebee, Nellie, Oakley, Frida, Frankie, Mary, Shelley, Spider, Thyme, Caramel, Olive, + Beetle

remembering: Trouble, Yahtzee, Checkers, Mahjong, Pumpkin, Jay, Sid, Zola, Hazelnut, Popcorn, + Dragon

The Girls
My female mice, organized by colony.
The Gamer Girls
Gamer Girls Gallery
Clue
(Clue-Do Solitaire Mouse)
gallery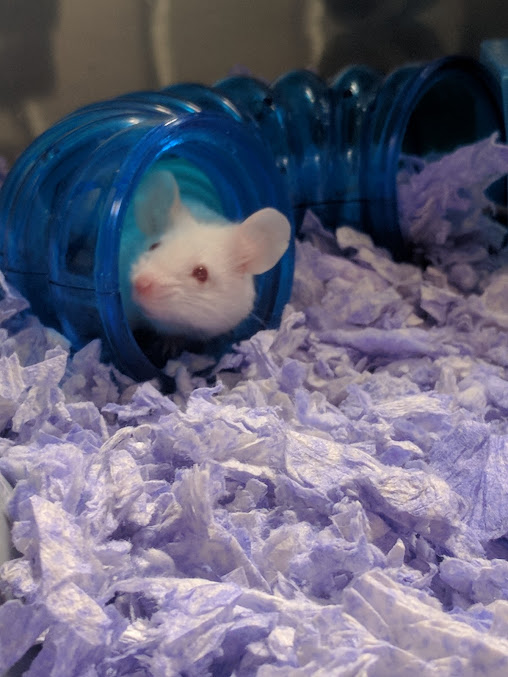 I got Clue and Mahjong together in January of 2018, because the two of them were too cute and
I'm weak
I couldn't choose. I've always loved PEW mice, and Mahjong was a too-cute little fluffball. Clue is more reserved, and is shy at first but will cuddle up in your hair or clothes once she gets comfortable.
Mahjong
(Mahjong Parcheesi Mouse)
gallery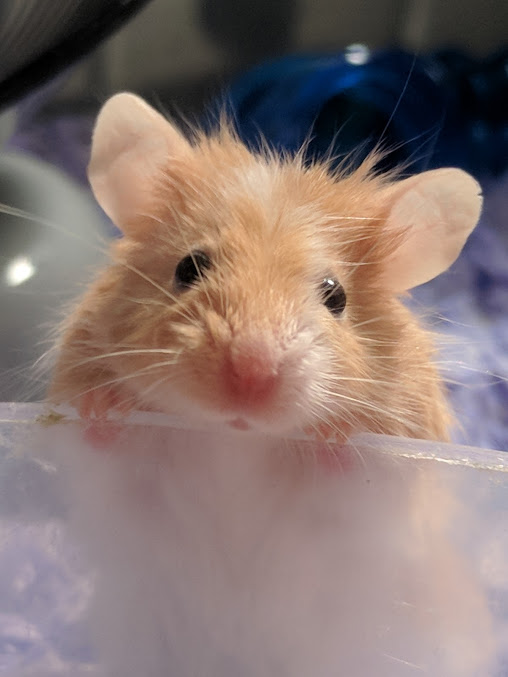 Mahjong weaseled her way into my heart with her charm and good looks. She's a little troublemaker, but she's cute as pie and she knows it. She was a bit of a bully at first, but now seems to be settling in and behaving (
most
of the time). She sure is a beautiful little mouse, though!
Peebee
(Peebee Andromeda Mouse)
gallery
Peebee is a spunky, adventurous little mousie! She's adorable and very friendly, and will climb right onto your hand as soon as you get it in the cage. She's always full of surprises- and energy! She was adopted
more or less
alongside her twin sister, who unfortunately passed away.
She's named after
Peebee from Mass Effect: Andromeda
.
The Girlie Girls
Girlie Girls Gallery
Nellie
Nellie Shy Mouse
gallery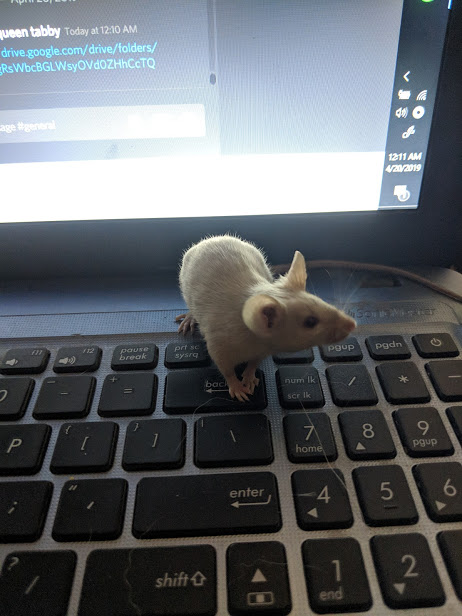 Nellie was my first female from a breeder, and she's as cute (and sweet) as can be! Although she hasn't posted on it yet, she has her own twitter @nelliemouse!
(WIP)
Oakley
Annie Oakley Mouse
gallery
WIP
The Foodies
Thyme
Thyme Rosemary Mouse
gallery
Thyme was surrendered to Petco along with her cagemate, a one-eyed mouse I named Hazelnut. Seeing an older, disabled mouse, I couldn't just leave her there! So I adopted Hazelnut and Thyme. (Hazelnut has since passed away.) Thyme is a little bit skittish but she's a pretty girl, and a big chewer.
Caramel
Caramel Reggie Mouse
gallery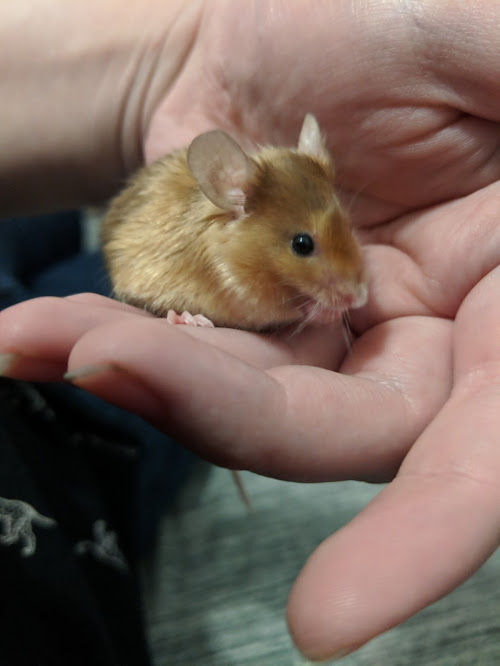 Caramel was adopted alongside Thyme and Hazelnut to have a trio of girls- and the shiny little satin was just too cute to refuse! Even now, she's still extremely small, an itty bitty little sweetie! She's a very friendly mouse, and isn't as skittish as the other foodies.
Olive
Olive Anis Mouse
gallery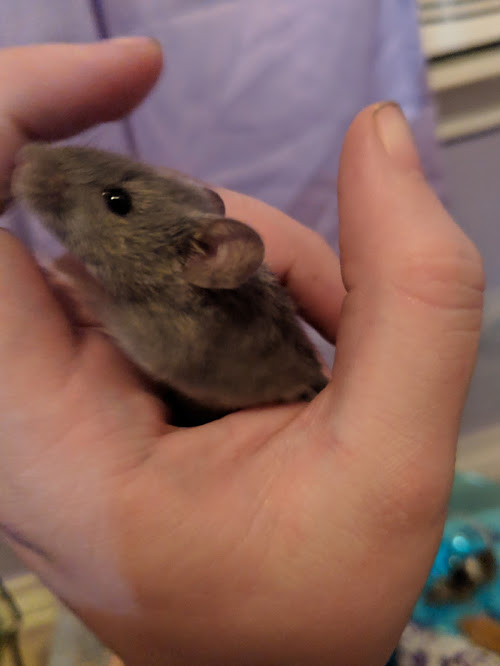 Olive was adopted a bit later than the other foodies. I saw her one day in Petsmart and thought she was super cute, but didn't get her... a few days later, we were in there again and she was still there, and my roommate fell in love with her two! And... home she came. She's skittish and still a bit nibbly, but she's a lovely grey gal.
Popcorn
Popcorn Wishes Mouse
gallery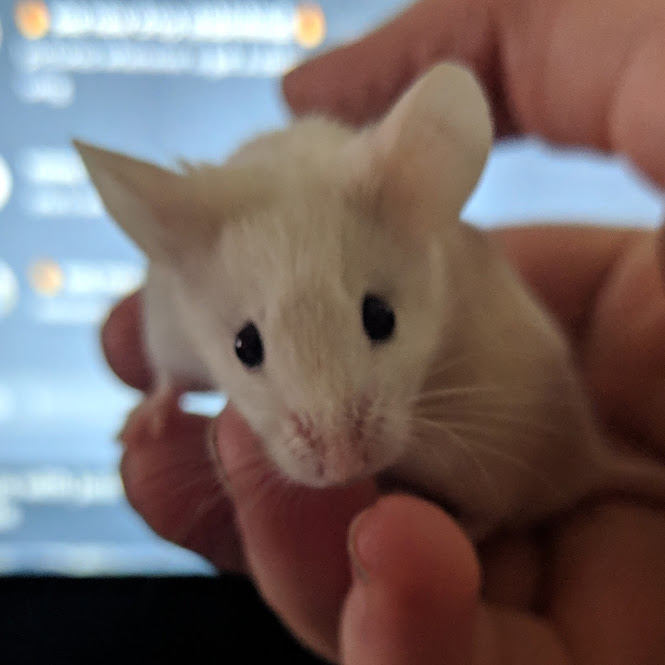 Last edited by chiroptera on Tue 07 May 2019, 1:41 pm; edited 17 times in total (Reason for editing : Updates)
_________________
mouse mom to: Clue, Peebee, Nellie, Oakley, Frida, Frankie, Mary, Shelley, Spider, Thyme, Caramel, Olive, + Beetle

remembering: Trouble, Yahtzee, Checkers, Mahjong, Pumpkin, Jay, Sid, Zola, Hazelnut, Popcorn, + Dragon

The Boys
My male mice! On their own, since they can't cohabitate.
Spider
(Spider Georg Mouse)
gallery
Spider was my first boy from a breeder, and he's already the apple of my eye! He's a show-type chocolate self. He's super sweet, and loves to climb around and perch on my shoulder when I get him out. I'm still working on getting him settled in and used to me, but I love him already!
Last edited by chiroptera on Sun 14 Apr 2019, 8:58 pm; edited 3 times in total (Reason for editing : Updates)
_________________
mouse mom to: Clue, Peebee, Nellie, Oakley, Frida, Frankie, Mary, Shelley, Spider, Thyme, Caramel, Olive, + Beetle

remembering: Trouble, Yahtzee, Checkers, Mahjong, Pumpkin, Jay, Sid, Zola, Hazelnut, Popcorn, + Dragon

Over the Rainbow Bridge
My mice who have passed on. I'll always remember them, and their little grabbies will forever have my heart.
Trouble
(Trouble Perfection Mouse)
May 2017 - Feb 2018
gallery
Trouble was my heart mouse, and the reason I got back into mousekeeping. My roommates and I were at the pet store, getting food for their rats, when I realized there was a mouse stuck under a food bowl that was upside down. So, I asked an employee to flip it over in case she was really stuck, and when she did, I fell in love. There was Trouble, all dazed and confused and beautiful. I named her "Trouble", since (at the time) I thought she would be the troublemaker of the group. Along with her, I adopted her sister, Yahtzee so that she would have company. A little while after I got her, she developed a head tilt, we think because of an ear infection. The vet gave us some medicine, which seemed to help, but her tilt didn't ever go away completely. But that was okay, she was my beautiful, perfect waltzing daughter. She passed away in my hands in February.
Yahtzee
(Yahtzee Monopoly Mouse)
May 2017 - April 2018
gallery
I got Yahtzee as a companion for Trouble; her brindled coat and cute little face endeared me almost as much as Trouble did. She was actually far more mischievous than Trouble was, and was less of a cuddlebug, but she was still a sweet, sweet girl. She was my roommate's favorite, and of course I loved her too. She and Trouble were extremely close and never fought or squabbled! As brindled mice tend to be, Yahtzee was a bit chubby, but she loved to run on her Silent Spinner and was an acrobatic girl nonetheless. She passed away in late April of 2018, for unknown reasons. She was my favorite professional morb, and she's greatly missed.
Checkers
(Checkers Backgammon Mouse)
gallery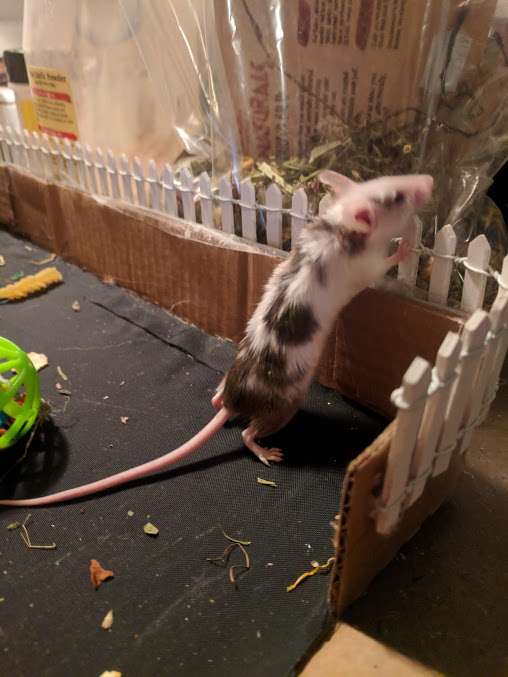 The third of the Gamer Girls, I got her to balance out the colony. (Or so I tell myself, despite their never being a lick of aggression between Trouble and Yahtzee  
) She's a cuddlebug, and really loves to hide in my hair. She's named Checkers because her spots look similar to a checkerboard! She had to be put down due to complications most likely related to cancer.
Pumpkin
(Pumpkin Harvest Mouse)
(~October 2017 - March 2019)
gallery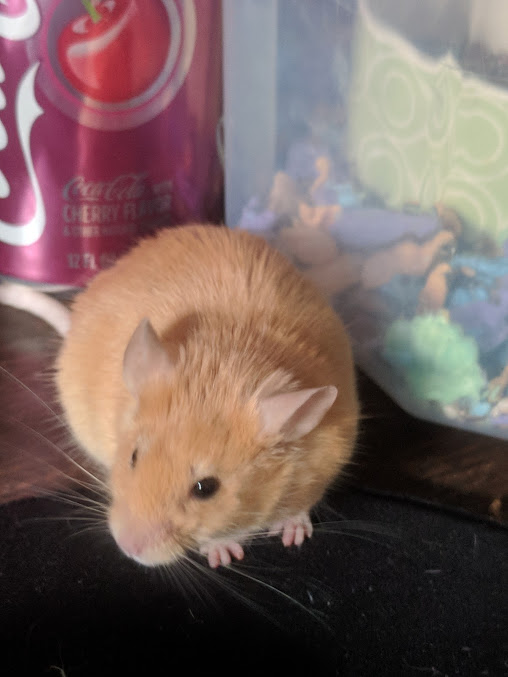 Pumpkin was an "Oops!" at an all-female PetSmart. He got another mouse pregnant in shipment, and of course had to be separated. He was stuck at the store for months, looking so round and cute and sad, and after leaving to visit my family in PA for the holidays and coming back to him still there, now without a wheel in his cage, we finally caved. My roommate and I adopted him together, and now he has a happy home to run to his heart's content.
We had him laid to rest due to poor health.
Jay
(Jay Mouse)
(June 2018 - July 2018)
gallery
Jay was a crafty little climber, who was adopted... more-or-less alongside her sister, Peebee. The story behind their adoption started at Petco, where I was looking at the mice with my roommates, and as we were watching, a tiny little girl was just crawling all the way up the front of the cage, and I had to save her... That was Jay! So, we got the employee and asked for the black mouse we saw, packed her up, and took her home. But then, we noticed that we thought her tail had looked different when we saw her before... we chalked it up to a glare on the cage. Until we went back to Petco for something a few days later, and saw an almost identical little black mouse in the cage! We'd mistakenly gotten the wrong mouse the first time. So, we took Jay home that day, too. Peebee and Jay were definitely littermates, other than the slightly different markings on the tail, they looked identical. Sadly, Jay passed away for no known reason in July.
Sid
(Sidera Nyx Mouse)
(July 2018 - August 2018)
gallery
I wasn't planning on getting a mouse at all when I got Sid; my roommates were getting a new rat baby and I asked to see the mice while we were there. I promise, I totally just wanted to look!! But I put my hand into the tank and the sweetpea crawled right on. I couldn't just leave her there, right?!
 She was very she and submissive, but so, so sweet.
She was named after
Sid from Mass Effect: Andromeda
.
Zola
(Tali'Zola Mouse)
(??? - September 2018)
gallery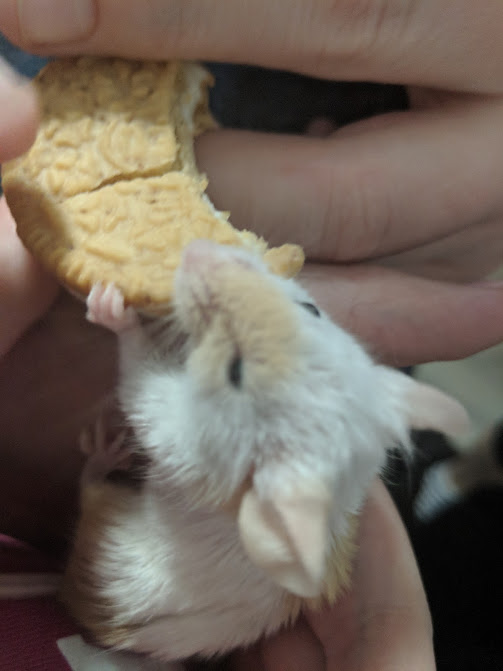 I was approached by an employee at the local Petco and was offered Zola, who belonged to said employee's sister, and needed a new home. I didn't have very much to go off of, other than that the mouse was female and that she was an adult. When I accepted, she warned me that the mouse "wasn't tame", so I expected a challenge taming her... and I was met with a total sweetie. A little skittish at first, but, she's a mouse, so of course! She was very sweet, and loved cuddling and eating.
She had to be euthanized due to health issues.
She came with the name Zola, but "Tali" comes from
Tali'Zorah from Mass Effect
.
Dragon
(Dungeons-and-Dragon Pinetree Mouse)
gallery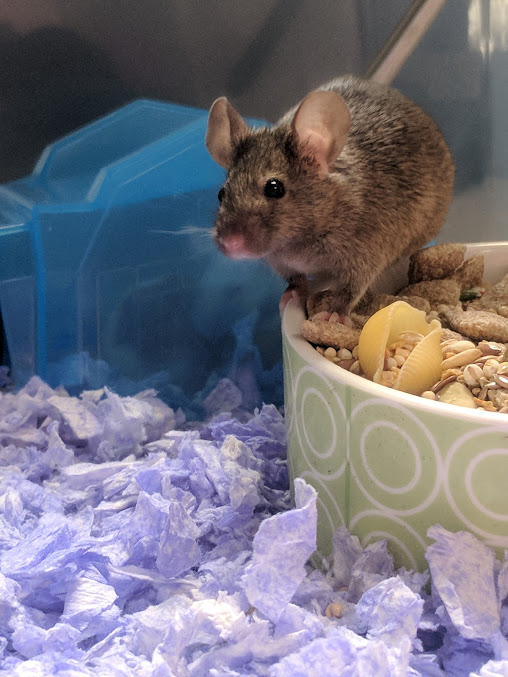 Dragon was (admittedly) impulse-adopted after Trouble passed away, with another mouse who unfortunately had to be rehomed. She's a very tough looking mousie, but was very scared at first, and would cry whenever one of the other girls touched her. She's settling in now and has actually been
trying to
dominate her sisters! (Update: She ended up a big bully.  
) She passed away by unknown causes.
Last edited by chiroptera on Sun 14 Apr 2019, 9:13 pm; edited 11 times in total (Reason for editing : Updates)
_________________
mouse mom to: Clue, Peebee, Nellie, Oakley, Frida, Frankie, Mary, Shelley, Spider, Thyme, Caramel, Olive, + Beetle

remembering: Trouble, Yahtzee, Checkers, Mahjong, Pumpkin, Jay, Sid, Zola, Hazelnut, Popcorn, + Dragon

_________________
mouse mom to: Clue, Peebee, Nellie, Oakley, Frida, Frankie, Mary, Shelley, Spider, Thyme, Caramel, Olive, + Beetle

remembering: Trouble, Yahtzee, Checkers, Mahjong, Pumpkin, Jay, Sid, Zola, Hazelnut, Popcorn, + Dragon



Similar topics
---
Permissions in this forum:
You
can
reply to topics in this forum