I got my two mice, Sam and Sheen, from a family friend whose mouse had a litter (they bought a pregnant mouse). All was well for the first week, until they started to gain a lot of weight. I'm sure you can tell where this story is going, but I thought they were just getting too chunky. After just a week and a half of having these mice, I was in complete shock when I came home to Sheen's litter of pinkies. The next day, Sam gave birth. All of a sudden I went from having 2 to 22 mice. Yikes!!
Now the babies are about 2 months old and the moms are about 4 months. I've found homes for most of the babies, but i'm still searching for homes for the rest. Sam and Sheen have such a cute bond; they are always found cuddling up next to each other in the hammock. Right now they are fighting a URI, so please send your prayers! Here are Sam, Sheen, and their babies.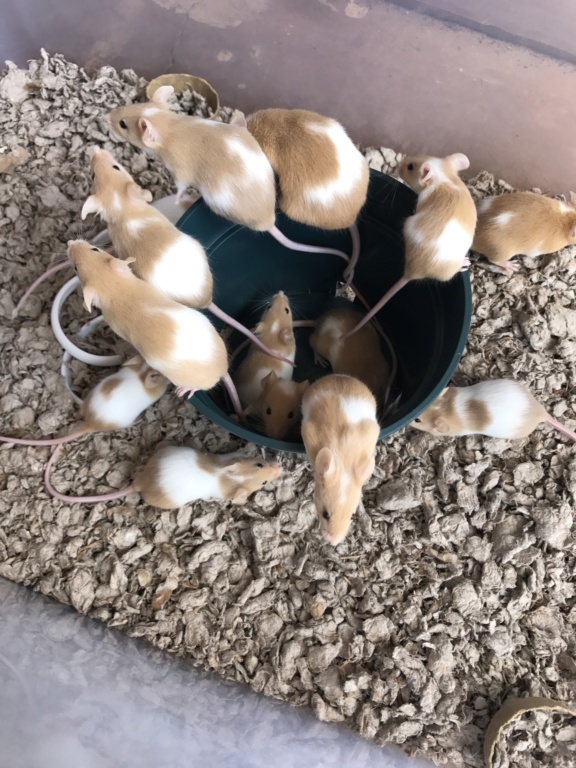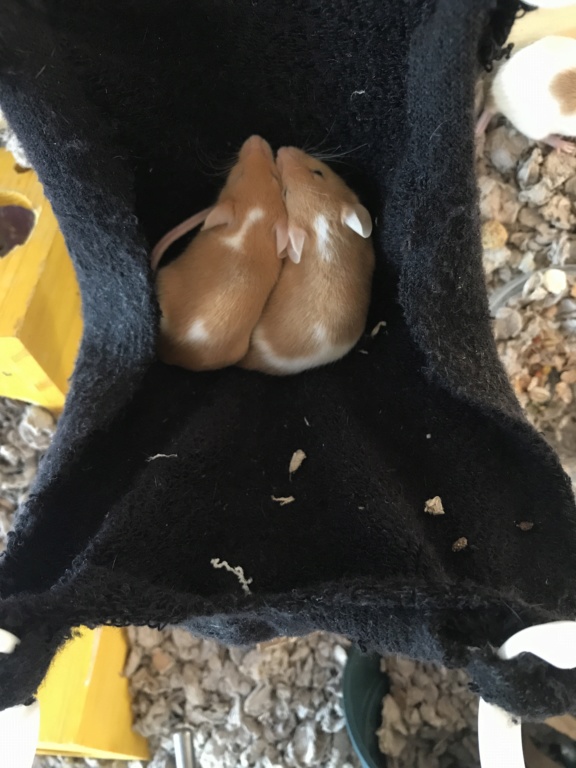 New Member





Join date

: 2018-07-04


Posts

: 6


Likes

: 1




Welcome!
22 mice!
How many boys did you end up with?
_________________
currently without meece but always remembering:
Cheeseburger, Bacon, Twix, Hashbrown, Daryl,
Celyn, Rina, Seren, Hazel, Arsinoe, Tilda, & Eulyn
Gerbils: Oghren & Merin / Jeffrey, Geoffrey, & Jeffri /
Hamlet & Horatio / Emrys, Cream, & Hershey / 
Bill & Frances  
 Hamster: Daydream
Hero Member





Join date

: 2016-04-03


Posts

: 3702


Likes

: 1036







New Member





Join date

: 2018-07-04


Posts

: 6


Likes

: 1




Welcome  
 Those babies are super cute! That's amazing you only got 6 boys, good luck finding homes for the rest, though I'm sure you will; who could resist those faces.
_________________
M I C E:
Berlin, Odessa, Fiji, Kenya, Nairobi, Xanthi, Arizona, Denver, Cyprus, George.
Remembering:
Fey, Aurora, and Dahlia
Full Member





Join date

: 2018-02-22


Posts

: 96


Likes

: 30








---
Permissions in this forum:
You
cannot
reply to topics in this forum