Hello all, you may remember me from earlier in the year. Unfortunately I am back to ask about a health issue with my Benji.
Here is a photo of his eye, which I noticed about half a week ago as red. No weeping or anything, just red. But now he breathes very heavily and is generally hunched. He is about 8-9 months old.
Has anyone seen this before? I know these are bad signs. Is there a way I can clean his eye?
Thank you.
Jr Member





Join date

: 2018-02-05


Posts

: 38


Likes

: 19




I had similar looking eye problems with my boy, Daryl. My vet and I never did find a cause or a solution. We tried different antibiotics and eye ointments, tried eliminating things from his home and diet. Nothing worked. But he never developed any breathing problems. Definitely try to get your guy an appointment with your vet. Hunched over with abnormal breathing = vet appointment asap. Please let us know how he does.
_________________
currently without meece but always remembering:
Cheeseburger, Bacon, Twix, Hashbrown, Daryl,
Celyn, Rina, Seren, Hazel, Arsinoe, Tilda, & Eulyn
Gerbils: Oghren & Merin / Jeffrey, Geoffrey, & Jeffri /
Hamlet & Horatio / Emrys, Cream, & Hershey / 
Bill & Frances  
 Hamster: Daydream
Hero Member





Join date

: 2016-04-03


Posts

: 3874


Likes

: 1086







We went to the vet today! Things learned:
He is a healthy weight, 35 grams.
His eye looks just like a scratch on the lid, not infected.
He doesn't show signs of respiratory infection beyond the hunched posture and heavy breathing.
He is generally still strong and active and eating. He was running around trying to escape the vet .
There is a hurricane coming so I got antibiotics in the case that I need them. I figure It would be a good thing to have around anyway. It's likely I'll start a ten day course of these tomorrow. (sulfameth/trimeth)
She also recommended a deep clean of his bin so I'll do that tonight and see if he improved.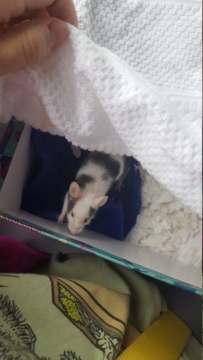 Jr Member





Join date

: 2018-02-05


Posts

: 38


Likes

: 19




Glad to hear that vet appointment went better than expected. keep us posted on his progress.
_________________
Amy Lynn
(a loving
mouse mom)
My Current Mouse Family
Does:
Bucks:
Ruby                            Pepper
Princess Fluffles       Stuart
Bianca                         Chestnut
Dottie                          Tiny
                                   Mogwai
                                   Ninja                                   
Sr Member





Join date

: 2018-06-30


Posts

: 133


Likes

: 16









Similar topics
---
Permissions in this forum:
You
cannot
reply to topics in this forum