Welp. I really didn't intend to get more mice this time- for once, I was actually just at the pet store for a cat collar and some Whimzees. I wasn't even planning on browsing- we were on a schedule! But then there was a tank on the table at Petco. Uh-oh. It was some mice who had been surrendered.
Uh-oh.
One of them was missing an eye.
Well, sh-...
Along with the two sisters (they had had a third sister, but she'd already been adopted), I picked out a little satin girl to introduce to them as a trio. A little bit later, I saw a sweet grey mousey at Petsmart, didn't get her, went back a few days later and she was still there, my roommate saw her and loved her, and... brought her home too.
They're separate from the Gamer Girls colony, because my last few attempts to add more to their colony have ended very poorly, so I think that they've pretty much decided their colony is as back as it's going to be. So, introducing
The Foodies
: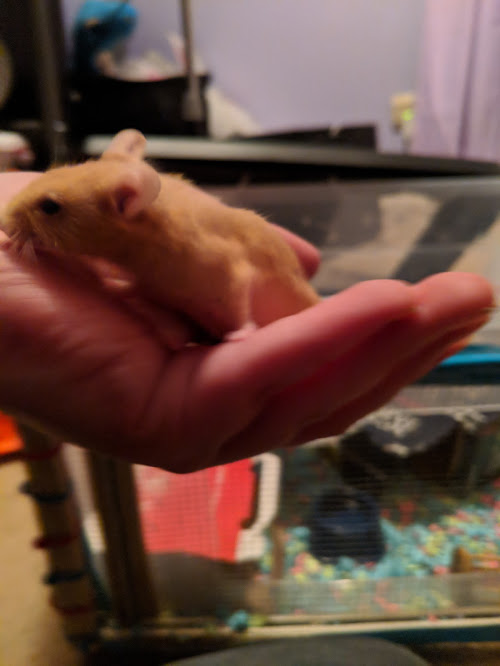 Hazelnut, the one-eyed mousie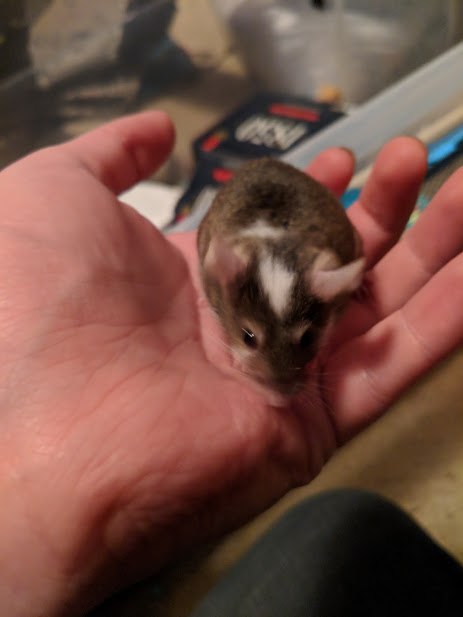 Her sister, Thyme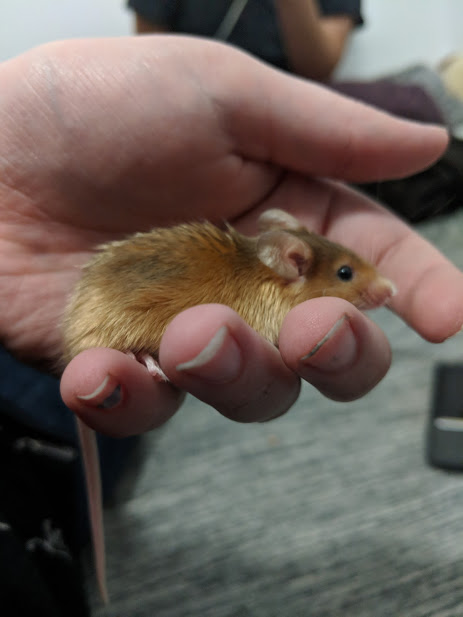 Sweet, itty bitty Caramel
and, last but not least, Olive!
...I have 10 mice now. Maybe I should stop. They're just such great pets!
_________________
tabby | she/her | 24 | tx, usa
★Mouse Dossier★
my mouse gallery
mouse mom to: Clue, Roan, Nellie, Oakley, Frankie, Bonny, Lovie, Mary, Morel, Bella, Turtle, Dandelion, Rafflesia, Ginger, + Spider
remembering: Trouble, Yahtzee, Checkers, Mahjong, Pumpkin, Peebee, Jay, Sid, Zola, Caramel, Hazelnut, Thyme, Olive, Popcorn, Shelley, Frida, Dragon, Beetle, + Pancake
So cute! Love my gerbils but I'm missing mice!

CallaLily

Hero Member





Join date

: 2016-04-03


Posts

: 3937


Likes

: 1108







Hello, Tabby.
I think my highest number was 21 or 22. Two litters will do that. Your new girls are crazy cute! And i'm definitely stealing the name Thyme. Will have a whole herb garden. lol

Peachy

Moderator





Join date

: 2016-04-06


Posts

: 3007


Likes

: 871







@CallaLily
Thanks!
Yeah, nothing quite satiates the mouse itch like, well, having mice! Even rats are so different from them!
@Peachy
Sometimes I joke about how many mice I'd have if Pumpkin got his way into the girls' bins- how many mice I'd have then. 70? 90?
Faaaar too many. If I had more room, I'd probably have more than the three bins I have now, if I'm honest. 20+ is a lot, but somehow I wouldn't put it past me sometime in the future!
_________________
tabby | she/her | 24 | tx, usa
★Mouse Dossier★
my mouse gallery
mouse mom to: Clue, Roan, Nellie, Oakley, Frankie, Bonny, Lovie, Mary, Morel, Bella, Turtle, Dandelion, Rafflesia, Ginger, + Spider
remembering: Trouble, Yahtzee, Checkers, Mahjong, Pumpkin, Peebee, Jay, Sid, Zola, Caramel, Hazelnut, Thyme, Olive, Popcorn, Shelley, Frida, Dragon, Beetle, + Pancake


Similar topics
---
Permissions in this forum:
You
can
reply to topics in this forum