Cool beans!
I finally got some X-rays of my spine for the first time in 22 years.  Nice to see it again!  These are the first modern digital ones I've ever had.  I'm pleased with some of the detail, such as seeing the holes in the 'buttons' and the twisty ends of the wires.  I've never seen that before. 
In general, I was disappointed with how faint the images were.  There was a side view of my tailbones, it was light grey on medium grey.  I'm used to old fashioned film where bones were clearly visible as  bright, almost solid, white.  In this set, I had to crop out all of the anatomical skin because it was much more visible than my ribs.  What?! Why!? I'll need to have the chiropractor explain it to me because I don't understand. They seem backwards.  I guess they were shot from the FRONT, through the skin, muscle, fat and organs.  
I think my neck looks good.  I had it adusted by a chiropractor for the first time in my life last week.  AMAZING! I'd had numbness and tingling in my hands for nearly a year. She suggested it was caused by bones in my neck pressing on nerves. It was mostly GONE in two minutes!  As I stood outside waiting for the bus, I swivelled my head to see if it was coming.  There was no crunching or grinding sound!!!  It must be three years since I've had a crunch-free neck.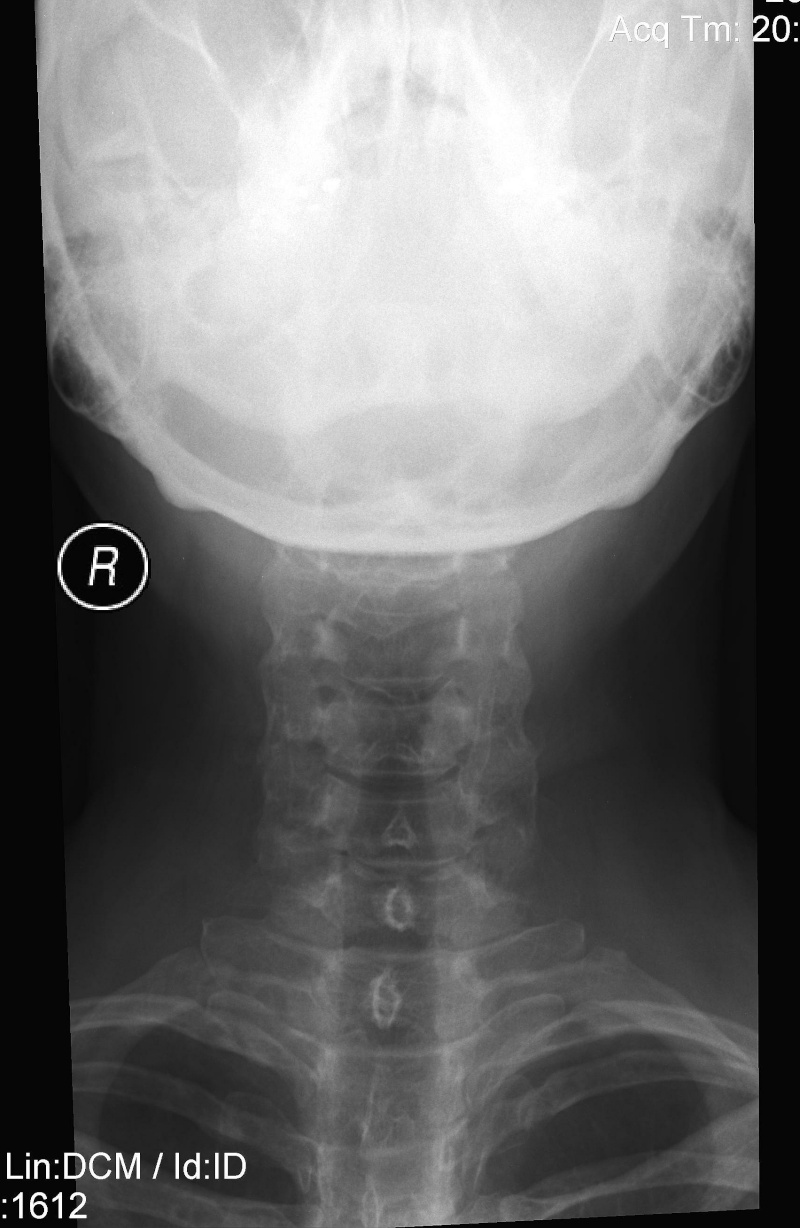 Here is my middle and lower spine. The worst curve on your lower right is actually on my left.  
A close-up of one of the hooks.
The upper spine, featuring an obsolete "Harrington Rod."  I had this surgery just a few years before one where the spine could literally be straightened became safe and commonplace.  So I'm stuck being shorter and consequently fatter through the middle than my natural, potential height.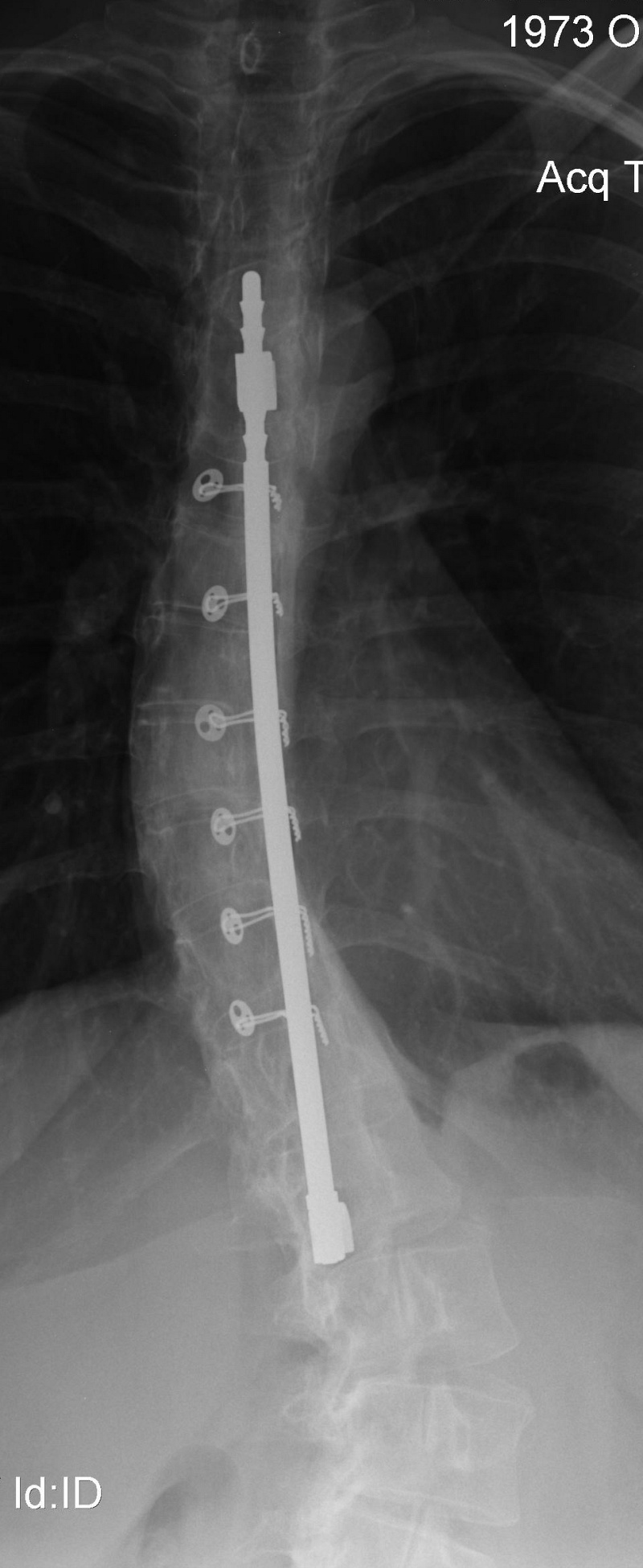 Dang girl, that is a curvy spine!  Those Harrington rods are no joke.  Those x-rays are pretty badass, though.  Is that thing really uncomfortable or does it feel pretty normal to you at this point?
This isn't nearly as impressive as the hardware you have in your back... but these are the screws that came out of my hip... it felt real good to get them out.  
Moderator





Join date

: 2016-04-03


Posts

: 2430


Likes

: 725










Yes, I remember your fascinating X-Rays, scaredymouse!   I was jealous that I didn't have one to share at that time. I'm surprised they let you keep the screws and didn't send them off to be incinerated as bio-hazardous waste!

I'm entirely unaware of the metal, although I can reach with my hand and feel the skin between my shoulders to locate where the very top of the rod is. But that's it.

The top of the S curve looks a lot better than I remember it.  I suppose it's possible that it may have improved a little. Hmm, that would be interesting.  However, seeing the disc material bulging out of the top of the two vertabrae on the lower curve makes me a bit nervous.  Why do I not feel that?

My best advice:  Egoscue exercises as explained in PAIN FREE by Pete Egoscue. Glorious.
Wow! That's pretty awesome. X-rays really are cool, aren't they?
Hero Member





Join date

: 2016-04-06


Posts

: 1721


Likes

: 256





Ooh! And I thought my mouth x-rays were awesome
I've just got the giant metal screws of an implant though so not nearly as impressive. They're actually tiny compared to those crazy screws and stuff!
_________________
Proud owner of two five month old kittens, Salt (grey and white) and Pepper (tuxedo)!
No mice... yet

See my Etsy Shop at www.etsy.com/shop/ArtistwolfDesigns
(I'm currently donating 25% of proceeds to my local low-cost spay/neuter clinic!)
Hero Member





Join date

: 2016-04-03


Posts

: 647


Likes

: 103







I was pleasantly surprised to receive radiologist reports on all three sections of my spine.  I was unaware that professional interpretation was part of the X-ray service.

The neck was as I expected: Normal except for a "Mild disc space narrowing at the C5-C6 level."  That explains the nerve problems in my hands.

The thoracic section mentioned just one vertebra losing height. I don't know how that can happen since the bones in that section are fused  into position. The chiropractor wasn't terribly concerned about it.


The lumbar report was the most disappointing.  I was hoping that at age 42, I'd still be RE-generating, not degenerating.  However, I'm not shocked.  It makes sense that with the upper back being partially straightened, the lower back has taken the brunt. 
"There is mild degenerative disc disease present at the L1-L2 and L2-L3 levels."
(The rod ends at the top of L2.)

"Hypertrophic changes of the L4-L5 and L5-S1 [predominantly L5-S1] facet joints are noted."
(L5 is the lowest vertebra on top of the pelvis.)

The lumbar area was summed up as "Mild degenerative disc and facet joint disease."  I looked up facet joint disease and it is one of many terms for arthrtitis.  Okay, so arthritis at the top and bottom of one vertebra and mild disc degeneration at another.  
It could be a lot worse.

Yesterday, I chatted with the chiropractor about the reports as I was lying on a roller-massage table before an adjustment.  Then she de-crunched my neck again and did the lower back, too.  What I had not realised was that SHE HAD NEVER SEEN ANY OF MY X-RAYS!  She received the brief reports ONLY, no pictures!  I showed printouts I'd made of a few images and asked her to clarify some points.  She nearly gasped and said, "Wow, these are much worse than what's in the reports!" 

Oops.  And this from a doctor who  deals with skeletons all day, every day.

---
Permissions in this forum:
You
cannot
reply to topics in this forum