Hello!
I'm so glad to finally have the time to come back here and catch up with you and your mice! It'll take me a while to catch up on all that's happened but I've missed my daily check-ins.
The wedding went so well - we succeeded in getting married, everyone was happy, we ate cake, we danced, we ate more cake and a good time appeared to be had by all! Honeymoon was wonderful down in the UK New Forest area - I have some lovely photos to share with you (another time...because busy catching up on everything we missed...apparently the world doesn't stop just because you've got married and went away on honeymoon!)
We got back yesterday evening and today we're collecting Colin from our friends - it seems so long since I've had a mouse snuggle, I've missed my little darling!
Just thought I'd share a few pictures with you from our day
This is me before the ceremony:
Here we're cutting the beautiful cake:
We did a 'traditional' first dance, but we also did our first Morris dance together which was one we wrote especially for the occassion - complete with shiny gold hankerchiefs. Yes, it is indeed possible to dance in a floorlength wedding dress (but one without a train and I did take my veil out).
This is one of the whole Morris side doing more traditional dance.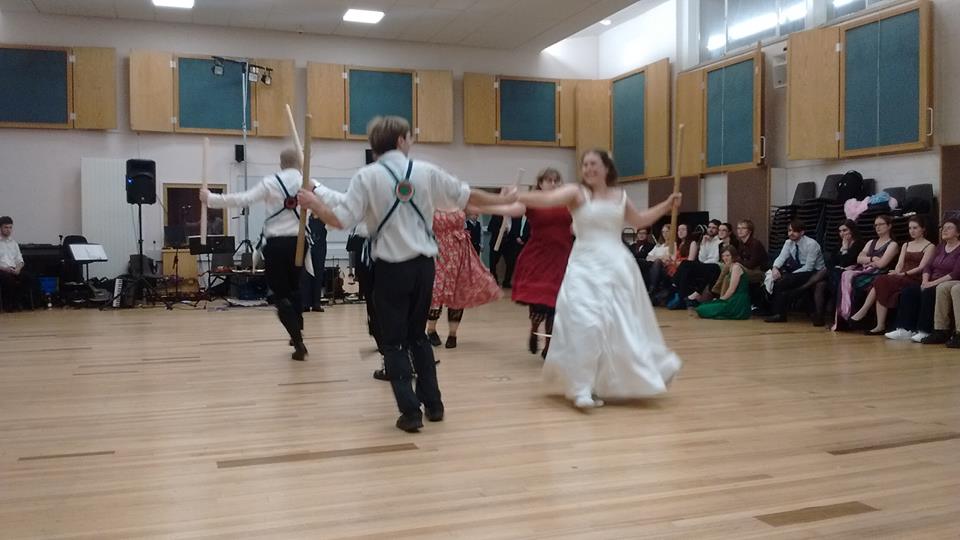 So yeah, thats all for now - but I've missed you all and I'm so glad to be back!

_________________
Remembering Basil, Pumpkin & Colin
Oh yeah, I meant to add that my dress was actually my sisters and is 10 years old now! It was altered since my sister wore it - I had the train removed and straps added, but it didn't need any altering for dress size except in length!!!

_________________
Remembering Basil, Pumpkin & Colin
Eeee, congrats!!! You look lovely, and those are great pictures!
I was so excited to just get back home and look at my wedding pictures. lol
I'm glad you're back, and am looking forward to the rest of your shares! I bet Colin is glad to have you back, too.

Peachy

Moderator





Join date

: 2016-04-06


Posts

: 3164






Congrats!! Looks like a lovely ceremony.

CallaLily

Hero Member





Join date

: 2016-04-03


Posts

: 3937






Congratulations on getting hitched! I'm so happy for you.

CinnamonPearl

Hero Member





Join date

: 2016-04-06


Posts

: 1725




Thank you :-) it was a lovely day - everything we wanted. So happy be married (and have the organisation over with!)
We went for dinner at our pet sitters and spent some time afterwards playing with Colin so he could say goodbye to them. Colin got so excited to see me that he sparked and demanded many strokes. I was forgiven for giving him a holiday (where he got spoilt absolutely rotten...). So lovely to have him home (and playing in my hoodie pocket!)

_________________
Remembering Basil, Pumpkin & Colin
Nice to have you back stephlisa, looks like you had a great time at your wedding
you looked lovely, and I love your flowers!
I bet Collin is happy to be home!

_________________
Current Mice: None.
Rainbow Bridge: Daisy, Peach, Ivy, Penelope, Hazel, Ruby, Clover, Peanut, Minnie, Ginger,  Honey, Violet, Flora, Fauna and Merryweather.
So glad everything went well: wedding, honeymoon, Colin's stay with the pet sitter and his reunion with you. You and your hubby make a nice couple and I had no idea that one could perform a Morris dance in a wedding dress
!

_________________
Mouseless but now Hamster-powered
Over the Rainbow Bridge: Chablis, Merlot, Bombay, Frascatti, Mimi, Musetta, Lucia, Carmen, Tosca, Tara, Buffy, Willow, Anya, Cordelia and Imogene the Syrian Hamster
Also Mom to Clare Bear cat and Hermit Crabs Big Enzo, Charles Paris and Mr Pinch

MesaMouse

Hero Member





Join date

: 2016-04-24


Posts

: 702






Similar topics
---
Permissions in this forum:
You
cannot
reply to topics in this forum