I placed an order with The Homespun Loft last month for a fleece hide and I'm so glad that I did!  I just stumbled across their store and had to have one of their fleece cupcake hides.  Linda was very easy to work with, answering all of my questions quickly, making sure it was a good size for the mice and more importantly - safe.  It shipped out and arrived right on time too. Celyn and Rina already love it!  (Hazel is still sleeping)
There's other cute designs too ... castles, faery houses, teapots, sharks ... and they have other super cute items ... tunnels, igloo covers, sleep sacks, mats, etc. Here's the link for anyone who's interested in checking them out.
https://www.etsy.com/shop/TheHomespunLoft
And of course a few pics of Celyn and Rina checking it out for the first time.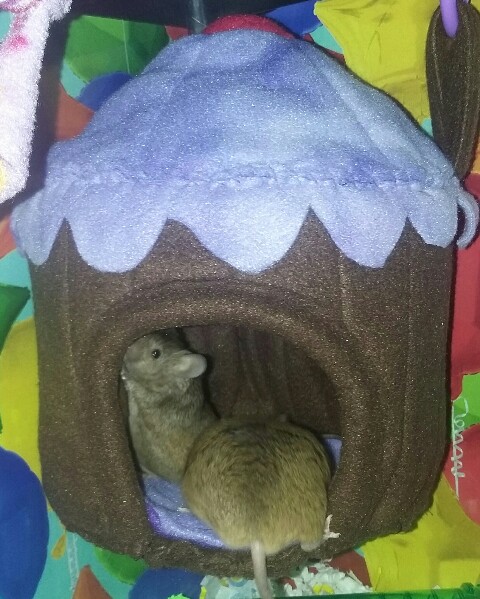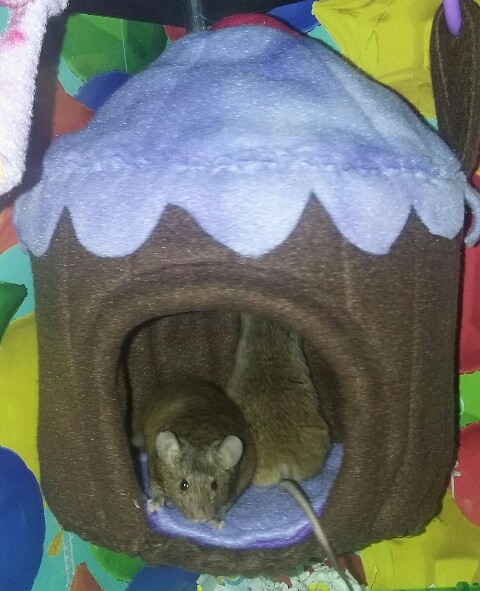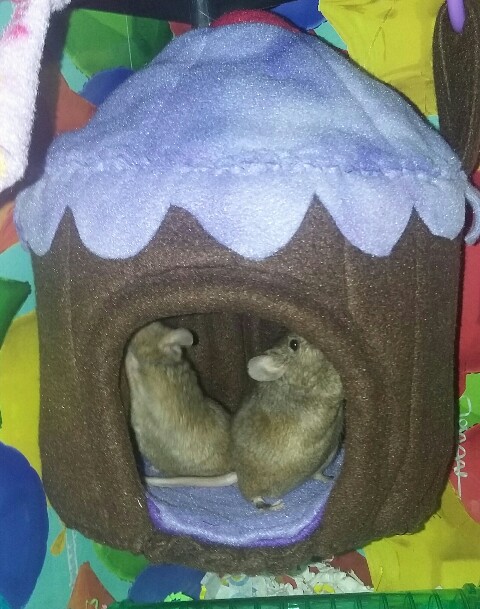 CallaLily

Hero Member





Join date

: 2016-04-03


Posts

: 3937


Likes

: 1110








Peachy

Moderator





Join date

: 2016-04-06


Posts

: 3048


Likes

: 895







Wow! That is really a little piece of art and the girls appear to have given their seal of approval
.

_________________
Mouseless but now Hamster-powered
Over the Rainbow Bridge: Chablis, Merlot, Bombay, Frascatti, Mimi, Musetta, Lucia, Carmen, Tosca, Tara, Buffy, Willow, Anya, Cordelia and Imogene the Syrian Hamster
Also Mom to Clare Bear cat and Hermit Crabs Big Enzo, Charles Paris and Mr Pinch

MesaMouse

Hero Member





Join date

: 2016-04-24


Posts

: 702


Likes

: 130







Oooh, that's really nice!
_________________
Lady mice
: Maggie, Claire, and Penny (aka Sweet P)
Gentleman mice
: Alexander
Other pets
: Little Buddy, Kevin (cats) Sherberta, Dustin, Lidiya, Chip, Squiggy, Nina, Harold, Spike, Mia, Mim, Henrietta(hamsters), Chloe and Zoey (chinchillas), Herman/Figaro Whooopers/Burlington (guinea pigs)
 Penny, Honeybun, Lucy, Annie, Gilly, Furgie, Tedward Wigglesworth, Olivia, Goose, Sweet Katie, Binky, Delilah, Bitsy, Boopers, Sprout, Splotchy, Eva, Slappy, Shuggie, Fancy Pants, Jellybean, Charlie, Murray, Sally, Maya, Gunther, Lil Smokey, Magnus, Norman, Winnie, Sally, George, Harriet, Spec, Erzulie, Lucille, Agatha and Clementine.

scaredymouse

Hero Member





Join date

: 2016-04-03


Posts

: 2457


Likes

: 745










The girls really seem to like it! I forgot to add that it is machine washable, so that's a plus. I'm hoping I can go back in a while and place another order. I really love the shark hide.
I do ok making simple hammocks but I know I'd never be able to make cute shapes like hers and have them turn out so well. But that's ok because now I know a great small business to turn to for them.

CallaLily

Hero Member





Join date

: 2016-04-03


Posts

: 3937


Likes

: 1110







That's sooo cute, I love it

_________________
Current Mice: None.
Rainbow Bridge: Daisy, Peach, Ivy, Penelope, Hazel, Ruby, Clover, Peanut, Minnie, Ginger,  Honey, Violet, Flora, Fauna and Merryweather.
I'm a little disappointed this morning. When I peeked in on the mice, what did I see?  Fluffy stuff coming out of the cherry on top of the cupcake hide.  I specifically asked for no batting/stuffing - all fleece. She said no problem and assured me the final product was all fleece except of course the two plastic hanging rings. I felt around more carefully all over the rest of the cupcake and I don't think there's any more. I was able to removed all the fluff from inside the cherry, so it's not a complete loss.  
I'm just....well as I said , disappointed.  
EDIT: I looked back over our convo and this may very well be miscommunication on my part. We discussed a fleece only, no batting hide. Later she asked if I still wanted the cherry on top, to which I said yes please. I didn't even think about asking again about batting or stuffing. So looks like it's my fault.

CallaLily

Hero Member





Join date

: 2016-04-03


Posts

: 3937


Likes

: 1110







---
Permissions in this forum:
You
cannot
reply to topics in this forum