+3
MouseLover
River
AnonymousMouseOwner
7 posters
I saw a similar thread on a hamster forum, so I thought I'd make one here! How does your pet store treat the animals? How much do they know about each animal?

I'll start with PetCo - The PetCo near me has about 50-100 female PEWS in a 20 gallon long, with a saucer wheel, water bottle, hide, and food dish. There is also another 20 gallon long with 50-100 male PEWS and they are housed pretty much the same way - just the basics. There is another tank with 2-3 females - good size, probably 30 gallons (?). That tank has a water bottle, food dish, hide, and saucer wheel. They keep the dwarf hamsters in a 20 gallon long, there is usually 2-3 hamsters in there. They don't look so good though, they are always running along the sides of the walls like maybe it's not enough space for them or possibly they have illnesses. All the small animals are housed on CareFresh which is awesome. It's been a few weeks since I have been to PetCo so I can't really remember how the other animals were housed.

So, what are your pet stores like?
The Pet Supermarket near me is terrible. Guinea pigs in 1 foot blocks, housing no hides, a food dish and a water bottle so low to the ground they have to strain to drink. The mice, hamsters, and gerbils are kept in similar positions, but with a far too small silent spinner and a small igloo
The reptile cages are okay. They're too small, but acceptabe, with a lot of enrichment. 
Birds there have fa too tiny cages, a singular perch and a worn out hanging toy. One of them has been there for so many months she's started shedding her own feathers. If I were financially available, I'd save the poor girl. A handful of the employees are very compassionate and do handle all animals regularly. 

Petco..rodents are kept in 30-40g tanks. Far too many female mice, a handful of rats and a singular hamster per tank. They don't sell any reptiles or birds, but do occasionally have a rescue cat or dog for adoption in relativelt okay circumstances.

Haven't been to a petsmart in ages. No way to tell.
_________________
Goose & Otter* ♂ 

Remembering Mr. Bald ♂, Tipsy, Topsy, Maier, Graham & Garcia ♀
*Neutered male group. Do not house intact males together.*

River

Hero Member





Join date

: 2016-06-19


Posts

: 1486






My local pet store isn't the worst... I mean, the small animals are in too small tanks, but everything looks clean and they have wheels and hides and stuff. There aren't any mice for sale though
I'd give it a passing grade, like a C. I've certainly seen worse.

_________________
Current Mice: None.
Rainbow Bridge: Daisy, Peach, Ivy, Penelope, Hazel, Ruby, Clover, Peanut, Minnie, Ginger,  Honey, Violet, Flora, Fauna and Merryweather.
The nearest Petco to me keeps male and female mice (separately) in the bottom 2 sections of their small animal cage unit. These 2 sections (as well as the 2 above) are larger than a 20 gallon long but I'm not sure what their exact dimensions are.  There are usually around 10+/- mice (mostly PEW) in each of these tanks with two each (too small) mesh wheels, a hide, water bottles, food bowl, and paper based bedding.  The tanks are clean and the mice all look healthy.
The same size tanks above usually house rats and guinea pigs. Around 4-5 of each on average. These guys have the same bedding, food bowls, water bottles, hides, and the rats have a wheel if I'm remembering correctly. The next level up has around 6 smaller cages, where the hamsters are kept. Again paper based bedding, hides, wheels, food bowls, water bottles. They house around 2-3 hamsters together in each of these.  All kept clean and animals look healthy.
The ferrets have a fairly good sized end unit and though you can definitely smell them, the cage is usually pretty clean (I'm guessing these guys are pretty messy because it's the only cage that is occasionally a bit funky?) and they look well. These guys have hides, food, water, litter (pelleted) pans, and some toys. Usually around 4-5 of them together.  It's on top of or near this cage that the small animals up for adoption are usually placed, in their own separate aquariums - usually 15-29 gallon tanks.
The reptiles usually have a lot more places to hide/decor in their tanks (separate unit, different aisle) and various substrates.  These display units are various sizes too, with bigger animals getting the larger sections.   Again they keep these pretty clean and the animals look well.  Their hermit crabs are placed here, which of course catch my attention.  Cocofiber substrate, usually decent temp/humidity, places to climb/hide, both fresh and salt water, food, a few extra shells though occasional painted ones (blech!).
The birds are on an end unit, one big cage with a big bare tree/branch perch. I think I've only seen parakeets there. I don't pay a lot of attention to them honestly, but in passing I notice they usually have some sort of enrichment that they are eating/shredding.
They also have fish and RES but I don't often go over into that section, though I do see the Betta display on my way through. Same as most other stores that sell them. Small containers. Most likely filthy water. And usually about 50 or so of them. Poor fishies.

CallaLily

Hero Member





Join date

: 2016-04-03


Posts

: 3937






In my area, PetSmart beats Petco hands down.
The closest Petco to me carries
only
female
rodents. Mice are how ever many were received that week placed in one long or two short cases, each with a tiny saucer wheel, a small igloo hide, one dish with food blocks and one water bottle. The hamsters are one or more to a short tank, even the Syrians, usually with just an igloo, food dish and water bottle. Guinea pigs are usually two to a long tank with a larger igloo, food dish and water bottle. Rats are also in a long tank but one or two "fancier" rats are alone in short tanks with a higher price tag. The ferrets have a stand-alone circular cage at the foot of the rodent section. The fish department is large and allows shoppers to wander about among the walls of tanks arranged in facing "C"s, complete with ocean sounds piped in. There are, of course, the ubiquitous bettas in their nasty little containers. The birds are all parakeets in a large endcap cage with some hanging toys but they don't look all that healthy or happy. Reptiles get the best layouts, small tanks but well-appointed for each species: tropical, woodsy or desert environments, good water and food supplies, proper temps/humidity and nice hiding/climbing features. Unfortunately, this does not extend to the hermit crabs -- a very depressing set up that makes me want to adopt every crab in there...assuming any are actually alive. Turtles have a free-standing tank while tortoises are kept in the reptile walls. Tarantulas also live in reptileland.
PetSmart, on the other hand, has healthy, lively animals of all species. The store nearest me carries
only
female
rodents (another store a few miles in the other direction carries
only
males
). Mice are kept no more than 3 per small tank and have an igloo, mesh wheel, food dish and water bottle -- there is usually a small chew toy as well . Dwarf and robo hamsters are usually housed in pairs in short tanks but, thankfully, Syrians are housed alone in large square tanks (someone has done their homework!), all with igloos, mesh wheels, food bowls and water bottles. Guinea pigs are usually in pairs or trios in large tanks, as are rats, with igloos, food bowls and water bottles. Birds have their own aisle with several species available; the parrot(s) have a handsome large cage at the endcap of the bird section. All of the birds are always lively, jumping around their perches or playing with hanging toys or on the ground playing with jingle balls. They all look healthy, feathers all shiny and eyes bright. The fish section is less dramatic than Petco"s, arranged along one wall four tanks high. The hermit crabs live in this section in narrow but deep tanks with substrate, moss pits, hides, pellet food (ugh) and good temp/humidity levels (this is where I've gotten my healthy non-craigslist crabs). Reptile and amphibians have nice but compact tanks: like Petco, each environment suits the species and each animal is usually quite visible, climbing, basking or coming up to visit the front of the tank (I love lizards and frogs and never fail to spend too much time in this section
).
I've bought mice from both Petco and PetSmart over the years and the latter has a much better understanding of how to handle them. Petco staff reach in to the bin and grab the mouse you've indicated by its tail (!!!!!) whereas PetSmart staff reach in with
two hands
to scoop up the mouse. When I was buying three of my last colony, they were all in the same tank so the associate turned over the igloo, let them all climb in and then she picked it up and gently slid the girls into the carry box from the igloo. The PetSmart folks are happy to take a rodent (or hermit crab) out of its tank for you to meet whereas the Petco folks would rather you just decided on your own and pointed through the glass so they could pop the one you want into a carry container. Most of my mouse food could only be found at PetSmart but, sad to say, Imogene's hamster food is only at Petco (sigh); fortunately, both carry Flukers freeze-dried insects for the hermit crabs. As the stores are only a mile apart, I've always been happy to go the extra distance to shop at PetSmart.

_________________
Mouseless but now Hamster-powered
Over the Rainbow Bridge: Chablis, Merlot, Bombay, Frascatti, Mimi, Musetta, Lucia, Carmen, Tosca, Tara, Buffy, Willow, Anya, Cordelia and Imogene the Syrian Hamster
Also Mom to Clare Bear cat and Hermit Crabs Big Enzo, Charles Paris and Mr Pinch

MesaMouse

Hero Member





Join date

: 2016-04-24


Posts

: 702






Interesting how chain pet stores can be so different depending on location!
Ok, so I am starting to remember some other things about PetCo. There is a tank by itself, very nice size, in the center of the small animal section, and it houses 1-2 chinchillas at a time. They have paper pellet bedding, a hide, and of course food and water. Then there's the cats, they are from a rescue, they have a nice big room all to themselves with cat trees, toys, food, water, and a litter box, there is a glass window so you can look in and see them. The fish section is a corner of the store, they have 10 gallons lined up in their displays. The only sad thing about the fish section is the goldfish and the bettas. The bettas are in little cups and there are hundreds (I'm not exaggerating) HUNDREDS of goldfish in a ten gallon tank (Some of them sick, some of them upside down
).
Then, we have PetSmart. Much better at small animal care, I can tell you that. I remember last time I went they had 2 female mice in a tank, probably about 10 gallon size, so not bad at all. They had a wheel, hide, food, and water bottle. They had one lone male mouse all by himself in a 10 gallon tank... which is awesome! He had the same items as the girls did. I think all the small animals were on aspen (at least I hope it was aspen!). The dwarf hamsters were housed pretty much the same as the female mice (Wheel, food, water, hide) and there were about 3 in a ten gallon which is not good but not awful I guess. The syrian hamster(s) were housed like the male mouse, all alone, water, food, wheel, hide. I forgot to mention all the wheels are mesh. There is a nice big tank on an end-cap for the chinchillas, although I don't see chinchillas there much, it's not something they have in stock often. They have a nice sized hide, chews, water, and food. The fish section is pretty much the same as PetCo's, overcrowded goldfish, and in a corner of the store. The birdies look happy but a little overcrowded. They have like 10-15 finches in probably about a 20 gallon (?). They have a perch, toys, food, a hanging nest/hide, and water. I don't think they have other birds, I can't remember. The reptiles are housed nicely, but I do feel that the baby geckos and baby bearded dragons are slightly overcrowded, at about 5-10 per tank.
AnonymousMouseOwner wrote:Interesting how chain pet stores can be so different depending on location!
This is so true. There's another Petco further from me that I've been to a couple times. Their mice were way overcrowded and every last one of them had crusty/scabby looking skin in both the male and female tanks. I don't know if they were dealing with a mite/lice infestation or fighting or something else. The tanks also were not as clean as the one closer to me but they had roughly the same size tanks with the same bare essentials.
---
The nearest Petsmart to me in DE doesn't have mice often. The few times I've seen them there it's been a smaller group of girls, about 4-5.  Different varieties . Their tanks are smaller but still a good size, with one hide, one wheel (usually the right size), food, water, paper based bedding. One time they had a lone male mouse that I think may have been an oops.  He was housed the same though I remember his wheel was broken. I haven't been to this store very much lately so I'll wait to comment more. Last time I was there I was using my Carefresh coupon and honestly I didn't pay much attention to the tanks beyond seeing that most of the small animal tanks appeared empty.
Here's a picture I have of that boy mouse.  This only shows about half the tank. I went back for him but he was gone.
---
There's a smaller, even closer pet store to me but I think they're getting out of selling small animals because they have their big cage unit up for sale.  In the past - at a different location - they've housed all their mice together, male and female!  I was shocked.  At this newer location they had less mice and I think they were all female. Here's a picture.  Again only a portion of the tank shown. There was a hide off to the back left. Aspen bedding. Food and water.
A screen shot of their ad: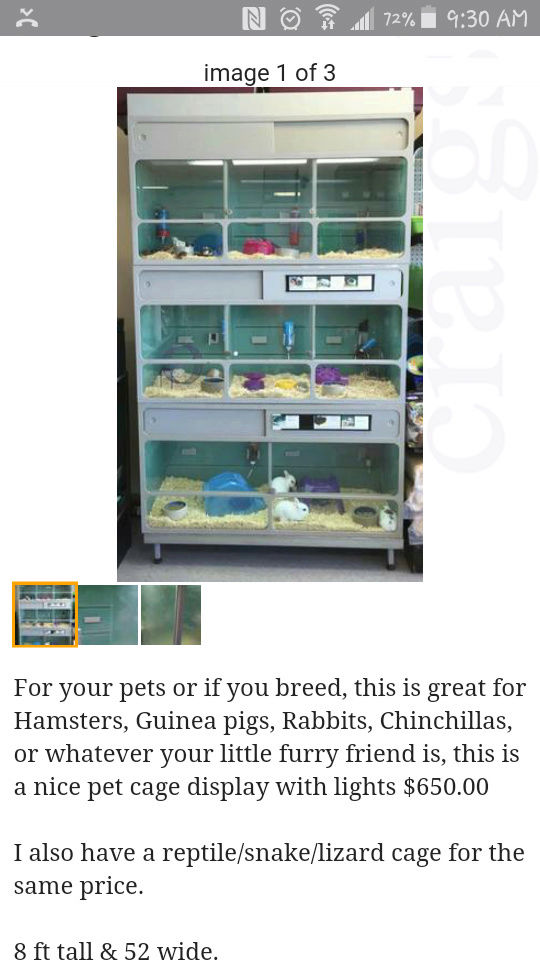 It says they're also selling their reptile unit so maybe the whole store's closing down. hmmm

CallaLily

Hero Member





Join date

: 2016-04-03


Posts

: 3937






Not even gonna read through this thread. XD I know how it'll make me feel.

CinnamonPearl

Hero Member





Join date

: 2016-04-06


Posts

: 1725




Ok, so today we went to the city where all the pet stores are lol. There is a mom and pop store, but it is HUUUUUUUUUUUUUUUUUGE (Over 18,000 sq feet)! It's my favorite pet store and is where nearly all my mice come from. They don't take care of their animals as well as PetSmart does, but I think they are better than PetCo. They are all housed on aspen bedding, in ten gallons, and there are anywhere from 1-15 mice in the tank at a time, girls in one cage, boys in the other. Mesh wheels, food with sunflower seeds, peanuts, and raisins, but I guess it's better than block food... Their animals are always babies, or super super young. Except the rats, the rats are always full grown, I don't know why, pretty silly. They keep 1-2 full grown rats per ten gallon with just food and water
. The rats are bigger than a soda can, I mean they are huge full grown ratties. They keep 2-8 syrian hamsters per ten gallon, but they are super tiny babies. The syrians have a dangerous barred wire wheel and food and water. Dwarfs are housed the same as syrians except they have a mesh wheel instead. Bunnies have a nice huge glass cage with great ventilation through the lid, I am very impressed with their bunny care. For the bunnies there is aspen bedding, chews, a hide, pellets, hay, and water. Usually 3 rabbits max per cage. The reptiles and fish have fabulous setups, (except the feeder fish
). I am pretty pleased with this store and all my mice from here have been friendly and healthy, this includes Lilac, Blossom, Daisy, and Scout. So I think they keep their mice better than PetCo does, and probably have better lines.
A feel good story for you all.

Our local "big chain" pet stores in Australia tend not to carry live animals. The ones that do only sell fish, rodents and birds and are all housed appropriately. Taking in only what they have the capacity for. They source local for their animals. Aka local breeders who are well known within their respective show circuits. Dogs and cats are on display during designated hours of the day, usually pets from the local rescue. They are held in big play pens. If I was to sell them some of my mice I would need to book in an appointment with their vets for a brief check over before they took them.

My favourite small local pet store is even more amazing. Their mice are kept better than mine are at home. Similar to the local chains they will source local and only buy what they can sell. They have recently had some albino mice come through ( really nice quality mice, I know their lines pretty well). Due to being albino they are not selling. Because of this she hasn't been able to take on any of my girls and is happy to keep the albino girls around as pets until they are sold.

Now this could just be in my area, but thankfully we don't seem anywhere near as horrendous as the conditions in the US.
Similar topics
---
Permissions in this forum:
You
cannot
reply to topics in this forum