+4
MouseLover
AnonymousMouseOwner
CanadianExport
Peachy
8 posters
I meant to celebrate Yoshi's 2nd birthday on the 12th, but we have so many family members with November birthdays that we had one big party at a hotel... and it happened on the 12th. So I'll share today. It's a whole bunch of Yoshi... from the beginning!
Yoshi came home 12/24/14, so assuming he was about 4-6 weeks, I can't be too far off on his birthday. lol He started off as my brother's mouse, but living with me because Mom didn't want a mouse in the house.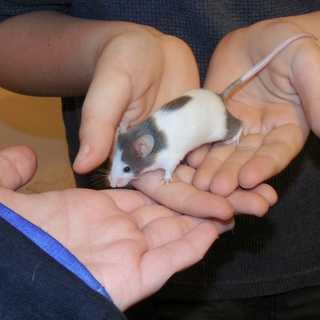 A few months after he came home, in February/March, he had started scratching his ears. Nothing the vet and I tried worked to help him stop, and some nights he just looked so terrible that I was kinda scared to look. By August he finally finished scratching off his ear, and then he totally stopped scratching. Everything healed! I was so impressed.
And from then on he was my beloved wittle Yoshi Boo. He's so sweet and cuddly, and independent and bossy.
I'm so in love with this mouse it's crazy!!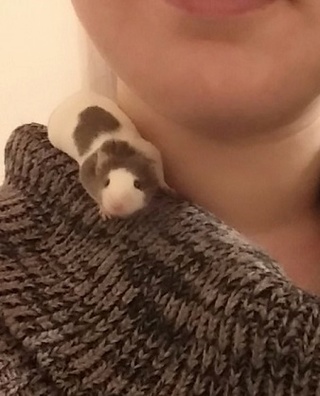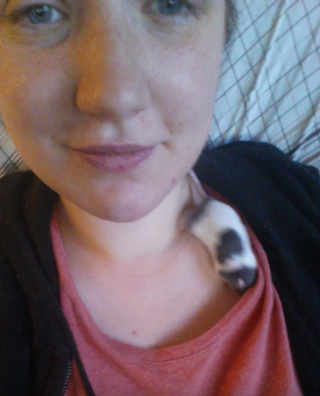 Today we celebrated with boiled eggs (Yoshi's favorite!), pumpkin mush, and a gazillion kisses.  

Peachy

Moderator





Join date

: 2016-04-06


Posts

: 3164







CanadianExport

Sr Member





Join date

: 2016-10-08


Posts

: 258






Aww! Happy birthday Yoshi! I love that little guy
Happy Birthday Yoshi
congratulations on making it to 2 years

_________________
Current Mice: None.
Rainbow Bridge: Daisy, Peach, Ivy, Penelope, Hazel, Ruby, Clover, Peanut, Minnie, Ginger,  Honey, Violet, Flora, Fauna and Merryweather.
Awww, Happy birthday, Yoshi!
He is the cutest!! All the pics are great but I love the last one. Great idea with the curls of colored paper.

CallaLily

Hero Member





Join date

: 2016-04-03


Posts

: 3937






He was running through the curls, it was cute!
I had everything set up and ready and was so excited, then I realized I left my camera batteries at my mom's.
Few of my pictures turned out, hopefully I'll get cute Christmas ones!

Peachy

Moderator





Join date

: 2016-04-06


Posts

: 3164






Happy Birthday Yoshi! Give him an extra cheerio or two for me
_________________
The trio: Maisy, Kisiel, and Fiona
Remembering Charlotte and Rogue

MooMouse

Sr Member





Join date

: 2016-08-15


Posts

: 274






Happy Birthday, little man! Stay healthy and live long. Peachy, I remember your TFM posts about the arrival of Yoshi and how he was to be your brother's mouse but living at your house...hard to believe that was almost 2 years ago!

_________________
Mouseless but now Hamster-powered
Over the Rainbow Bridge: Chablis, Merlot, Bombay, Frascatti, Mimi, Musetta, Lucia, Carmen, Tosca, Tara, Buffy, Willow, Anya, Cordelia and Imogene the Syrian Hamster
Also Mom to Clare Bear cat and Hermit Crabs Big Enzo, Charles Paris and Mr Pinch

MesaMouse

Hero Member





Join date

: 2016-04-24


Posts

: 702






Happy 2nd Birthday Yoshi!!!!!  
Who needs ears anyway?
_________________
Lady mice
: stormy, Dahlia, lily, Ella billie, coco, maggie
Gentleman mice
: milo, jimmy
Other pets
: Little Buddy, Kevin (cats) robert, lulu, Englebert, harold, Gerald, Zumi, nico, charlie, (hamsters), stella (gerbil), Gilly (hedgehog)
 Penny, Honeybun, Lucy, Annie, Gilly, Furgie, Tedward Wigglesworth, Olivia, Goose, Sweet Katie, Binky, Delilah, Bitsy, Boopers, Sprout, Splotchy, Eva, Slappy, Shuggie, Fancy Pants, Jellybean, Charlie, Murray, Sally, Maya, Gunther, Lil Smokey, Magnus, Norman, Winnie, Sally, George, Harriet, Spec, Erzulie, Lucille, Agatha and Clementine.

scaredymouse

Hero Member





Join date

: 2016-04-03


Posts

: 2458









Similar topics
---
Permissions in this forum:
You
can
reply to topics in this forum