So, my first mouse, Snow, came from awful conditions at a pet shop. You may have seen my story about her a while back. She was in a rabbit hutch type structure with TONS of other mice, not separated by gender. It was very basic, food, water, mesh wheel, hide, and bedding. All shared with tons of other mice - male and female. I had no idea what I was doing, I was inexperienced at the time. We actually asked "Can you keep mice as pets?"  
 and got a reply "Yeah, a lady comes in here all the time and buys them for pets...", we then asked "Wait, you house different genders together? Can it be pregnant?" the person told us "They are about 3 or 4 weeks, so they can't be pregnant yet....". So, I came home with ONE girl mouse, and she lived in a 10 gallon all alone, with pine bedding (I know, bad!), a mesh wheel, water bottle, a chew, and food with peanuts in it (I know, not good). I began noticing tiny cuts on her ears, a few days later. Every time I would check they were worse and worse, she scratched them like crazy. That progressed, until her ear looked like this: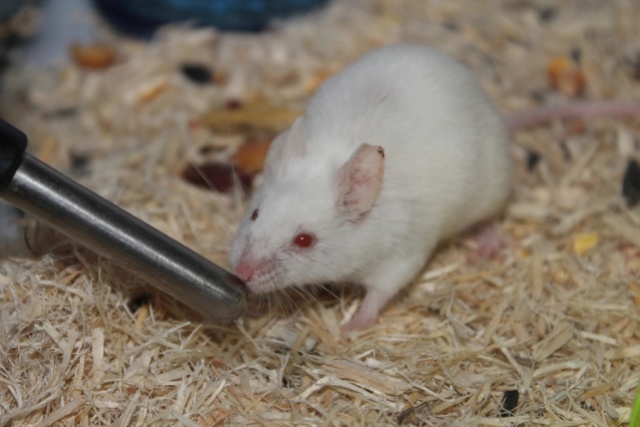 Now, I didn't even know vets could treat such tiny animals then, so I didn't even think of bringing her to one.  
I comforted her the best I could, and took her out to play a lot. I checked on her and worried about her several times a day. I really loved her. After 2 months, she started to look really bad. One morning, I noticed her laying by her water bottle, out in the open. She was breathing, but looked really bad. We went out for a few hours, and I came back to find her laying in the same place, but she was gone. We had a little funeral for her. I'm just curious to know what caused this. It took 2 months. Was it OCD? Loneliness? Allergies? I just don't know...
Aw, sweet little snow... She was beautiful. So, any number of things could have caused her symptoms and her death but it was most likely a combination of several things. There's no way to know what really happened, but here is a likely scenario. Based on your description of where she came from, she was most likely taken from her mom too soon which didn't do her any favors and she most certainly had mites. She was also bred poorly, I'm sure. She may have been sick but you didn't know what to look for at the time. Or she might have become sick as a result of the pine bedding due to her already weakened state. We care for out pets the best we know how and when we know better, we do better. You brought her home and you loved her, that's all she knows.
_________________
Lady mice
: stormy, Dahlia, lily, Ella billie, coco, maggie
Gentleman mice
: milo, jimmy
Other pets
: Little Buddy, Kevin (cats) robert, lulu, Englebert, harold, Gerald, Zumi, nico, charlie, (hamsters), stella (gerbil), Gilly (hedgehog)
 Penny, Honeybun, Lucy, Annie, Gilly, Furgie, Tedward Wigglesworth, Olivia, Goose, Sweet Katie, Binky, Delilah, Bitsy, Boopers, Sprout, Splotchy, Eva, Slappy, Shuggie, Fancy Pants, Jellybean, Charlie, Murray, Sally, Maya, Gunther, Lil Smokey, Magnus, Norman, Winnie, Sally, George, Harriet, Spec, Erzulie, Lucille, Agatha and Clementine.

scaredymouse

Hero Member





Join date

: 2016-04-03


Posts

: 2458









Similar topics
---
Permissions in this forum:
You
cannot
reply to topics in this forum