Please do not threat about it. Because I want shared with you about deer mouse? is wild, but she was too young to survived. When the man moved in new build and hears mice was screaming and found she is stuck on glue trap. He was rush to SPCA no-kill for help and they take mice to vet to save her. Where I working at SPCA no-kill I take her home with me until her health return and see like she is very happy have safe home with me. So, I keep her for best life. Share some the pictures
First arrive at my home, she was cover by oil to remove from glue trap: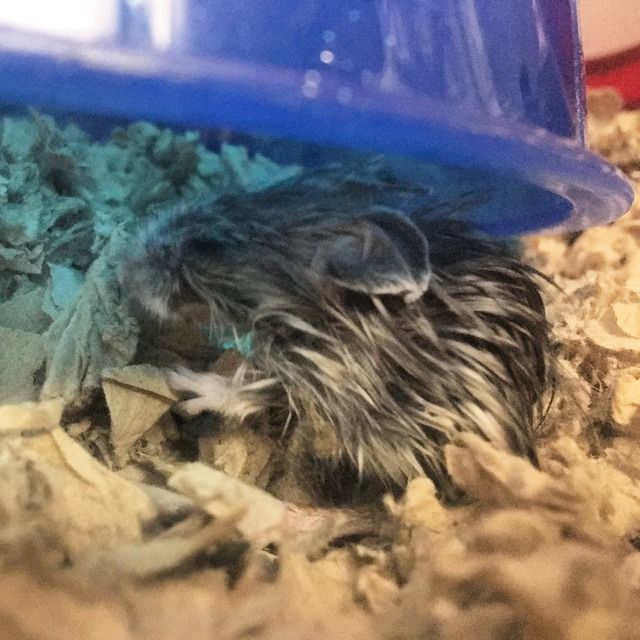 Second return normal hairs and beautiful tail:
Today, she is.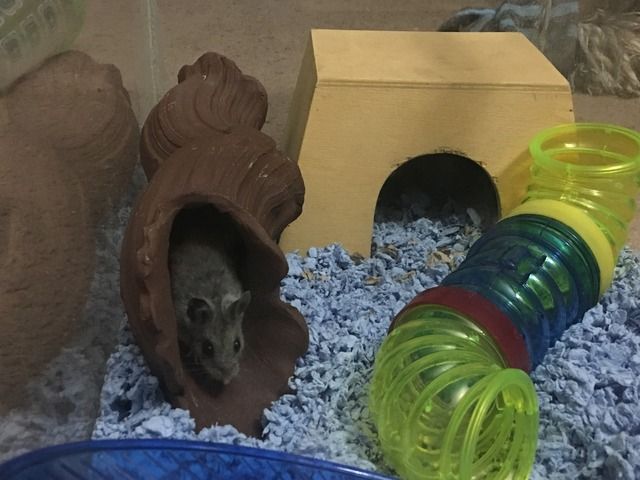 Before and after: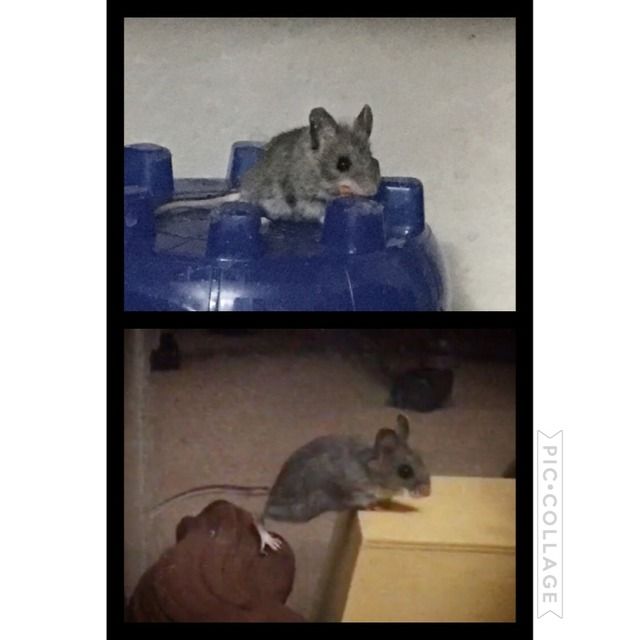 She's a cutie. Good job taking care of her!!

Peachy

Moderator





Join date

: 2016-04-06


Posts

: 3164






Such a cute little thing! Ideally, wild animals belong in the wild and should be returned. However, there certainly are exceptions to that rule. She looks healthy and well taken care of
She sure is cute!
_________________
Lady mice
: stormy, Dahlia, lily, Ella billie, coco, maggie
Gentleman mice
: milo, jimmy
Other pets
: Little Buddy, Kevin (cats) robert, lulu, Englebert, harold, Gerald, Zumi, nico, charlie, (hamsters), stella (gerbil), Gilly (hedgehog)
 Penny, Honeybun, Lucy, Annie, Gilly, Furgie, Tedward Wigglesworth, Olivia, Goose, Sweet Katie, Binky, Delilah, Bitsy, Boopers, Sprout, Splotchy, Eva, Slappy, Shuggie, Fancy Pants, Jellybean, Charlie, Murray, Sally, Maya, Gunther, Lil Smokey, Magnus, Norman, Winnie, Sally, George, Harriet, Spec, Erzulie, Lucille, Agatha and Clementine.

scaredymouse

Hero Member





Join date

: 2016-04-03


Posts

: 2458









Shes so cute! Thank you for saving her.

CallaLily

Hero Member





Join date

: 2016-04-03


Posts

: 3937






What a beautiful tail she has! Kachina is a pretty name too. Thank you for your mercy in getting her out of one of those awful glue traps. I agree that it's a sad reality that sometimes, wild mice need to be eliminated because they can be pesty and pose a risk in the form of health issues or property damage, but I feel pretty strongly that it's the sane, responsible thing to do so in a humane way- poisons and glue traps are NOT humane.

Unicorn

Sr Member





Join date

: 2016-12-21


Posts

: 112






Agreed, Anyway, I am scare return her to wild because I believe not good idea that where I living in large city of Las Vegas. There no farm around. Only Ranch that they have traps around that's sad. But SPCA told me can keep it for her best life.
She'll be all right with you! Her species isn't endangered or protected, it's okay to pull just one out of the native population.
Thank you for being so responsible about it though! I'm glad the SPCA was so helpful. I have a lot of love for that organization.

Unicorn

Sr Member





Join date

: 2016-12-21


Posts

: 112






---
Permissions in this forum:
You
can
reply to topics in this forum