+3
CinnamonPearl
Peachy
AnonymousMouseOwner
7 posters
Where do I even begin about this girl. She has so much personality and she is so sweet. January 2nd was her 6 month gotcha day. I'll celebrate by retelling her story and adding lots of cute pictures to this post! And of course, she'll also get lots of oats and mealworms for her gotcha day too!
One day I was browsing Craigslist and a mouse came up in the free section. The post read "Free mouse, please help him, he needs a home". Something told me to ask if they were sure it was male. Later that day, we called the person. We asked if they were sure or not, and they said "Oh, we already gave away the male, we have a female still though". Not sure what they meant by that, we asked if they had been together they replied "No, they lived in separate cages, we never put them together". We then asked if they had any pictures they could send us online. They said they didn't have any on hand but they could take some and send them to us. So they took some pictures of her hanging out on their shoulder, but she just looked like a little blurry blob, you couldn't tell anything from the picture, other than the fact that she was a mouse. So, we arranged a date to go to their house and pick her up.
When we got there, and they brought her out, she was tiny and skinny, I didn't even pay attention to her color or coat really, I just knew I wanted her. They put her in my hand, and she walked around for a while, then I went and got the carrier out of the car, and we took her.  
She was starving and went to the food bowl immediately after getting to her new home. This is a picture I got of her eating: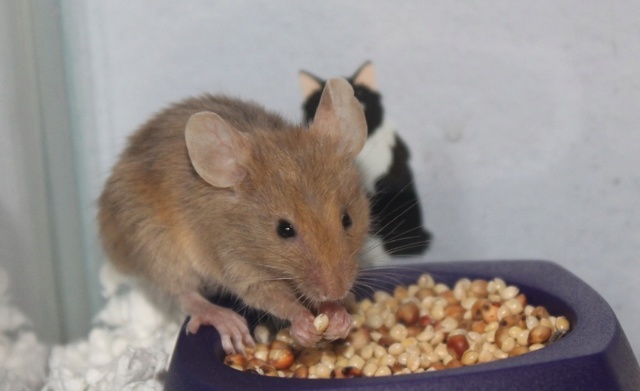 This is how tiny she was, that block is not much bigger than a quarter, she was soooo tiny.
Weeks went by and she was introduced to the girls, and now she is as happy as can be. She's pretty tame for a girl mouse, she will sit comfortably in my hand and groom herself. And normally I wouldn't hand feed treats, but she's never even nibbled me, so I hand feed her treats, and she'll gently take them from me with her two front paws. She is such a gentle, sweet mouse, not only to me, but to the other girls too. You are a great mouse Clover, and very loved, happy gotcha day!
Now enjoy some pictures of little Clover: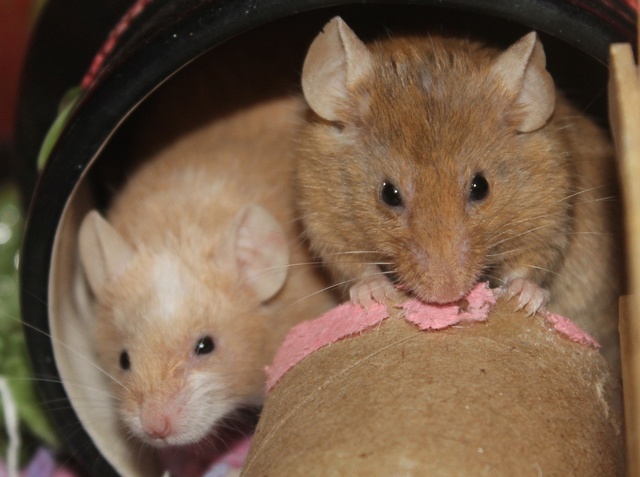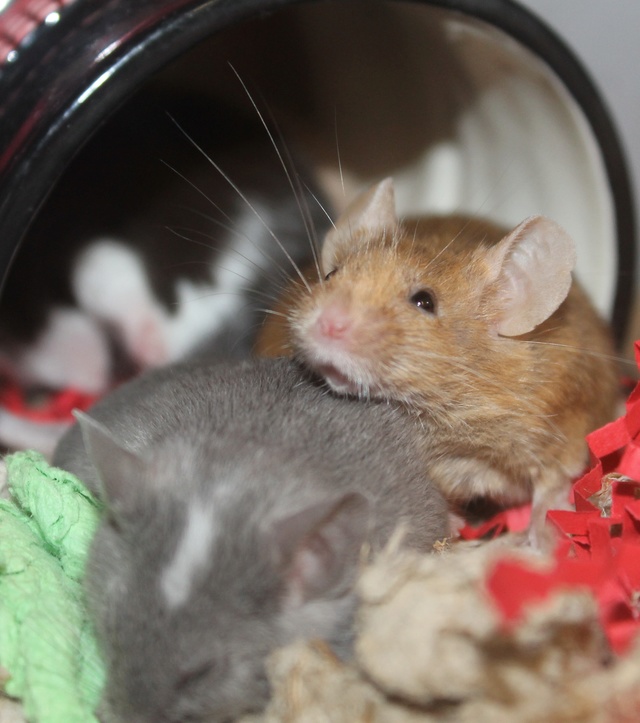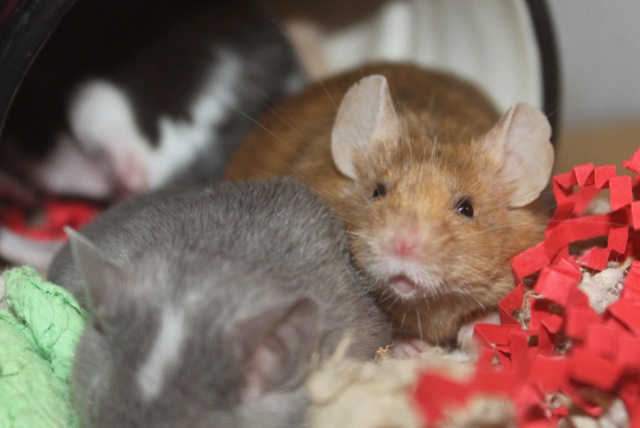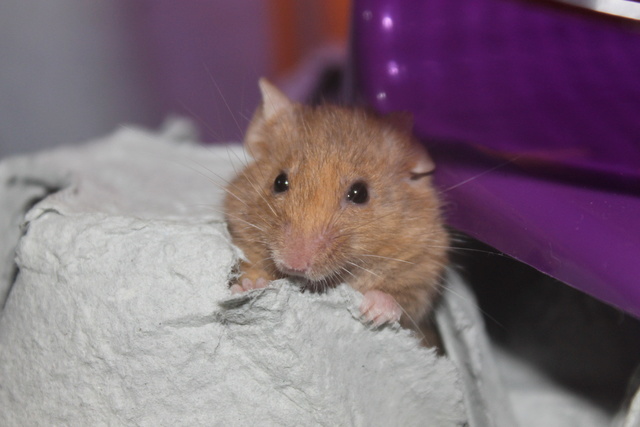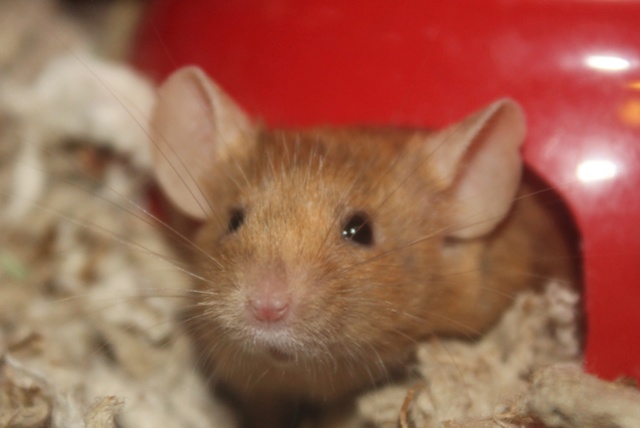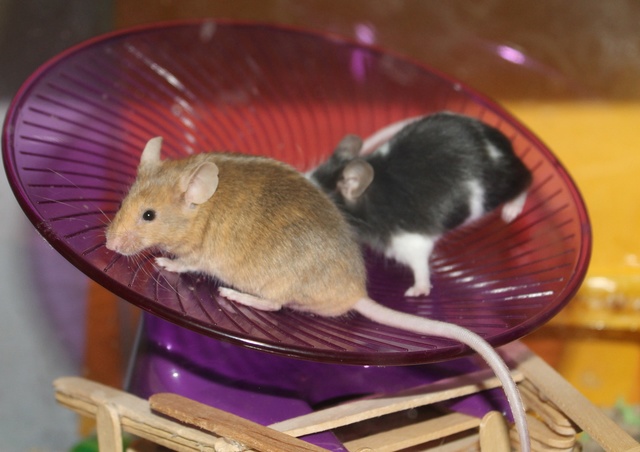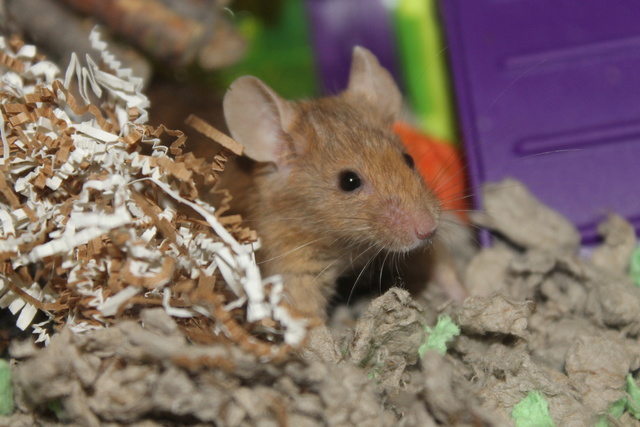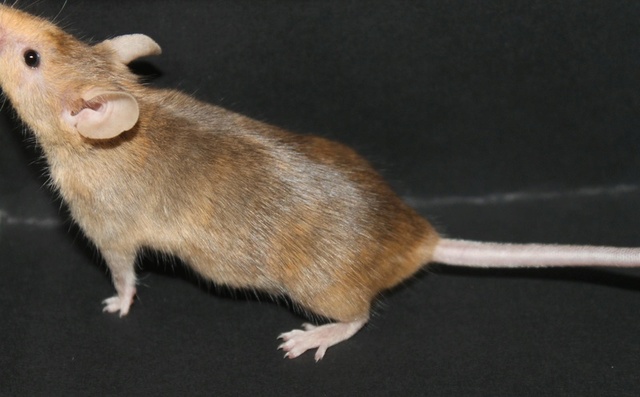 Last edited by AnonymousMouseOwner on Mon 09 Jan 2017, 4:09 pm; edited 1 time in total (Reason for editing : Ugh, months not moths LOL)
Happy 6 months, Clover!!
She's so cute, and so lucky that you found her. She reminds me a lot of my first mom mouse, Ali.

Peachy

Moderator





Join date

: 2016-04-06


Posts

: 3164






Yay Clover! A sweet little mouse. How good that you found her and took her in!

CinnamonPearl

Hero Member





Join date

: 2016-04-06


Posts

: 1725




She's such a cutie. Happy 6 months!!

CallaLily

Hero Member





Join date

: 2016-04-03


Posts

: 3937






Aaaaa wookits her widdy faceums!
I need more mice. Why don't I have my own place? I need more room for more cages and more mice.
Thanks for sharing her story and all these great photos! Need to up my picture game too, clearly.

Unicorn

Sr Member





Join date

: 2016-12-21


Posts

: 112






I didn't know her backstory so thanks for including that with all those fabulous pics of the lovely Clover. She's grown into such a beautiful mouse! From the early pics, it was hard to tell what color she'd be but now such a rich brindle! Especially love the first pic of Clover with Lilac
.

_________________
Mouseless but now Hamster-powered
Over the Rainbow Bridge: Chablis, Merlot, Bombay, Frascatti, Mimi, Musetta, Lucia, Carmen, Tosca, Tara, Buffy, Willow, Anya, Cordelia and Imogene the Syrian Hamster
Also Mom to Clare Bear cat and Hermit Crabs Big Enzo, Charles Paris and Mr Pinch

MesaMouse

Hero Member





Join date

: 2016-04-24


Posts

: 702






Sweet little Clover,
Happy half Birthday little lady!  
Auntie Scaredymouse
_________________
Lady mice
: stormy, Dahlia, lily, Ella billie, coco, maggie
Gentleman mice
: milo, jimmy
Other pets
: Little Buddy, Kevin (cats) robert, lulu, Englebert, harold, Gerald, Zumi, nico, charlie, (hamsters), stella (gerbil), Gilly (hedgehog)
 Penny, Honeybun, Lucy, Annie, Gilly, Furgie, Tedward Wigglesworth, Olivia, Goose, Sweet Katie, Binky, Delilah, Bitsy, Boopers, Sprout, Splotchy, Eva, Slappy, Shuggie, Fancy Pants, Jellybean, Charlie, Murray, Sally, Maya, Gunther, Lil Smokey, Magnus, Norman, Winnie, Sally, George, Harriet, Spec, Erzulie, Lucille, Agatha and Clementine.

scaredymouse

Hero Member





Join date

: 2016-04-03


Posts

: 2458









Similar topics
---
Permissions in this forum:
You
can
reply to topics in this forum