Hi everyone!

I wanted to introduce myself. I'm Kate, and I'm new here and new to mice. I became the unplanned guardian of a sweet little pet mouse (who I named Daphne Sparkles) a couple weeks ago. I didn't know anything about mice when I adopted her, but I quickly set to work researching online. And when I of course realized that mice are social creatures who do best with other mice, I adopted two more female mice as friends for Dapnhe. These two are much younger, maybe 5 weeks, and their names are Mishka and Xanthippe.

I have lots of questions I'll be asking soon in the forum, as I try to establish a happy home for these three little girls. I'm having so much fun with them and love them all to pieces. Getting a little bit obsessed really. My 13-year-old daughter (one of my four human daughters) joked that I'm going to turn into a "Crazy Mouse Lady." I can see that.

Anyway, thank you all for letting me join you, and I look forward to learning about mice here!



Kate B

New Member





Join date

: 2017-01-18


Posts

: 17




Hello!
Its nice to meet you
We'd love to see pictures of your mice if you have any!
I think most of us are a littled mouse-obsessed here!

_________________
Remembering Basil, Pumpkin & Colin
Welcome to the forum! You'll meet quite a few more crazy mouse ladies here.

CinnamonPearl

Hero Member





Join date

: 2016-04-06


Posts

: 1725





CallaLily

Hero Member





Join date

: 2016-04-03


Posts

: 3937






Thanks everyone.  
Most of my photos that I've taken of my mice so far are blurry.  (Is there a thread somewhere about how to photograph mice?  I need that!)  And as I'm just learning to upload photos here, I'm not yet sure why these are showing up sideways and upside down.  Hmm.  Well, if you twist your neck, you can kind of see what they look like!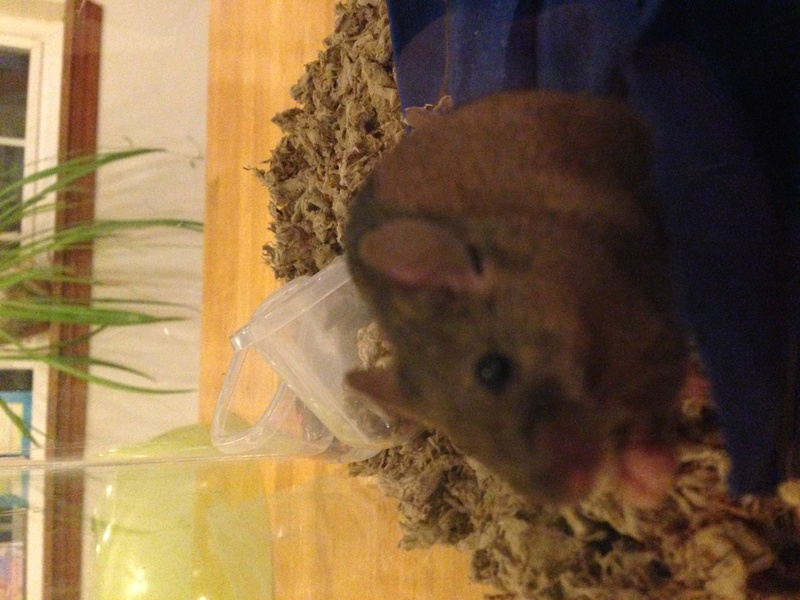 The bigger, dark colored one is Daphne Sparkles, and the little lighter one is Mishka.  Xan is the hardest to photograph, so I'll have to try and get one of her to show you guys.  
They're all VERY cute, if I do say so myself.  

Kate B

New Member





Join date

: 2017-01-18


Posts

: 17




Welcome!
Daphne Sparkles is a unique (but cute!) name for a mouse. lol
I think the photo host turns pictures that are too vertical. I don't know why, but if you crop pictures into a square or horizontal shape they won't get rotated.
There's a thread with photo tips in the picture section too. I find cell phone cameras so hard to use for mice! If I don't have my proper camera I just take videos and then take screenshots from the video.
Edit: Here's the link to that thread:
http://petmousefanciers.forumotion.com/t535-photo-tips

Peachy

Moderator





Join date

: 2016-04-06


Posts

: 3164






Welcome! You've come to right place, we're all crazy mouse people
_________________
Lady mice
: stormy, Dahlia, lily, Ella billie, coco, maggie
Gentleman mice
: milo, jimmy
Other pets
: Little Buddy, Kevin (cats) robert, lulu, Englebert, harold, Gerald, Zumi, nico, charlie, (hamsters), stella (gerbil), Gilly (hedgehog)
 Penny, Honeybun, Lucy, Annie, Gilly, Furgie, Tedward Wigglesworth, Olivia, Goose, Sweet Katie, Binky, Delilah, Bitsy, Boopers, Sprout, Splotchy, Eva, Slappy, Shuggie, Fancy Pants, Jellybean, Charlie, Murray, Sally, Maya, Gunther, Lil Smokey, Magnus, Norman, Winnie, Sally, George, Harriet, Spec, Erzulie, Lucille, Agatha and Clementine.

scaredymouse

Hero Member





Join date

: 2016-04-03


Posts

: 2458









---
Permissions in this forum:
You
cannot
reply to topics in this forum