I've been lurking a bit for a few days and used to browse the old forums and actually got some mice about 4 days ago so I thought I should join! I'm Rowan, 18, and from Georgia (USA). I was informed of Petco's tank sale and got a 20L and a 10 gal about a week ago since I've been wanting mice for a couple years now. I've currently got 2 girls and going to get 2 more in the next day or so (will be quarantined in the 10 gal for 3 weeks before trying to introduce them, don't worry)
I greatly enjoy reading everyone's posts and it seems like a good little community! Nice to meet all of you!
Edit to add: I forgot to mention my girls are named Barry and Yuri

Rowan

New Member





Join date

: 2017-01-29


Posts

: 11






Welcome, Rowan, it's wonderful to have you.
Congrats on your new mice, we would love to see pictures of Barry and Yuri!

Peachy

Moderator





Join date

: 2016-04-06


Posts

: 3156






Thank you Peachy!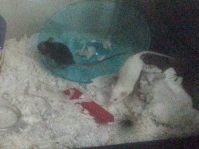 Not the best pictures, trying to get my good camera in working order and my phone camera is not that good but they're very cute

_________________
Current mice: Yuri, Yarrow, Hawthorn
Rainbow bridge: Barry

Rowan

New Member





Join date

: 2017-01-29


Posts

: 11






and welcome! Barry and Yuri are cute. I love that little house.

CallaLily

Hero Member





Join date

: 2016-04-03


Posts

: 3937






Welcome yo the forum! Nice to have you here!

_________________
Remembering Basil, Pumpkin & Colin
Hello and welcome! What adorable little ones you have

_________________
The boys- Tobias, Rinn, Fluffy, and Neville
The girls- Whiskey, Mishka, Shrew, Shina

Drago

Full Member





Join date

: 2017-01-22


Posts

: 54



So happy to meet you and your gorgeous mice! Barry and Yuri are so adorable, can't wait to see the other two when they arrive!
Welcome! And aww, Barry and Yuri are quite adorable!
_________________
The trio: Maisy, Kisiel, and Fiona
Remembering Charlotte and Rogue

MooMouse

Sr Member





Join date

: 2016-08-15


Posts

: 274






Thanks all

_________________
Current mice: Yuri, Yarrow, Hawthorn
Rainbow bridge: Barry

Rowan

New Member





Join date

: 2017-01-29


Posts

: 11







CinnamonPearl

Hero Member





Join date

: 2016-04-06


Posts

: 1725




---
Permissions in this forum:
You
cannot
reply to topics in this forum