Say hello to my critter room, which is at absolute maximum capacity.  It's all set up now to accommodate the surprise litter of mice.  There is even another 10g tank behind the chair under the other 10g over there.  It's crazy in there.  But it's clean and tidy and doesn't smell (very much).  I've got....24 critters in there!!!!! Yikes!  And that includes the babies.  Anyway, I worked very hard all week moving stuff around, we had to buy that extra shelving unit the big tanks are on and I had to do a major inventory to count wheels, water bottles, food dishes, toys, bedding, food, etc.  Phew, I think I'm all set now.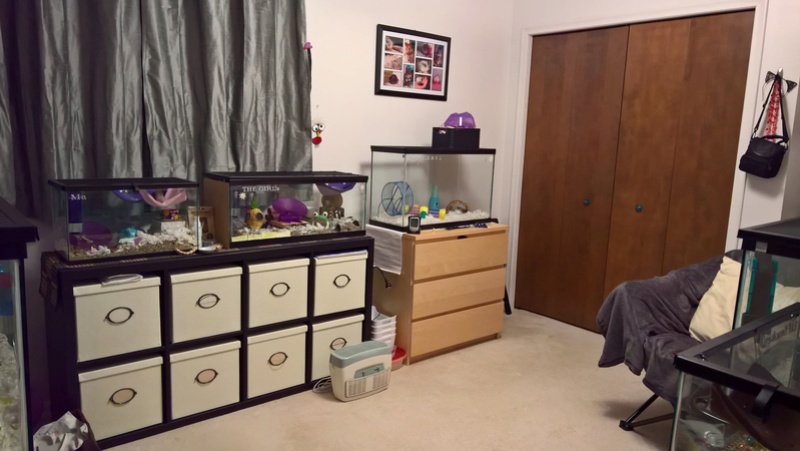 Bonus:  Kevin trying out his new bed, lol
_________________
Lady mice
: Winnifred & Sally/Georgie & Harriet Potter, Spec, Erzulie, Lucille, Clementine
Gentleman mice
:  Lil Smokey, Magnus, Norman, Alexander
Natal multimammate mouse (ASF):
Agatha
Other pets
: Little Buddy, Kevin (cats) Sherberta, Dustin, Lidiya, Chip, Squiggy, Nina, Harold, Spike, Mia, Mim, Henrietta(hamsters), Chloe and Zoey (chinchillas), Herman/Figaro Whooopers/Burlington (guinea pigs)
 Penny, Honeybun, Lucy, Annie, Gilly, Furgie, Tedward Wigglesworth, Olivia, Goose, Sweet Katie, Binky, Delilah, Bitsy, Boopers, Sprout, Splotchy, Eva, Slappy, Shuggie, Fancy Pants, Jellybean, Charlie, Murray, Sally, Maya, Gunther.
Moderator





Join date

: 2016-04-03


Posts

: 2455


Likes

: 741










I love it. Looks great! Kevin is a cutie.
_________________
currently without meece but always remembering:
Cheeseburger, Bacon, Twix, Hashbrown, Daryl,
Celyn, Rina, Seren, Hazel, Arsinoe, Tilda, & Eulyn
Gerbils: Oghren, Emrys, & Merin
+6 babies!
Hamster: Daydream
Hero Member





Join date

: 2016-04-03


Posts

: 3510


Likes

: 971








---
Permissions in this forum:
You
cannot
reply to topics in this forum