I am a first time mouse owner, and I am wondering what you guys think about my cage setup and have a few questions. Whiskers is a sweet little guy and loves to be held and run around on our arms/shirts/etc. He seems happy and I think he has a good amount of things occupy him, but after seeing some of the cages on here I feel like mine is kind of basic. I would be hard for me to have something very complex because I have a 3 yo and cats (he's protected from them) who need attention too. I can't spend a huge amount of time cleaning a large number of pieces/parts (I do it every night, once a week complete switch).  
What is the general rule for moving things around once they are in a position he is used to?  Is it variety or do they get stressed or confused by it?  I want to keep things interesting but I don't want to throw him for a loop.
It is a 10 gallon tank.  The rope is unoiled sisal and it runs through a little sea grass hut that I turned on its side. The black thing is an office supply holder.  I wired the levels of it in place with picture wire. I tried to provide some little nooks where he can hide and nest and stuff the big tube with paper towel pieces for nesting. For sleeping, he seems to like the corner under the office thing and also the big tube. He doesn't seem to have a dedicated potty. He does not use the wheel very much at all, is that OK?  He does do a lot of zooming around the cage, and he loves to jump and climb.
He seems to use the sticks and other wood objects for chewing, but they don't really look like they have a lot of wear on them.  Is that normal or should I be providing some more or different ones? There at already quite a few different ones.
Thanks in advance!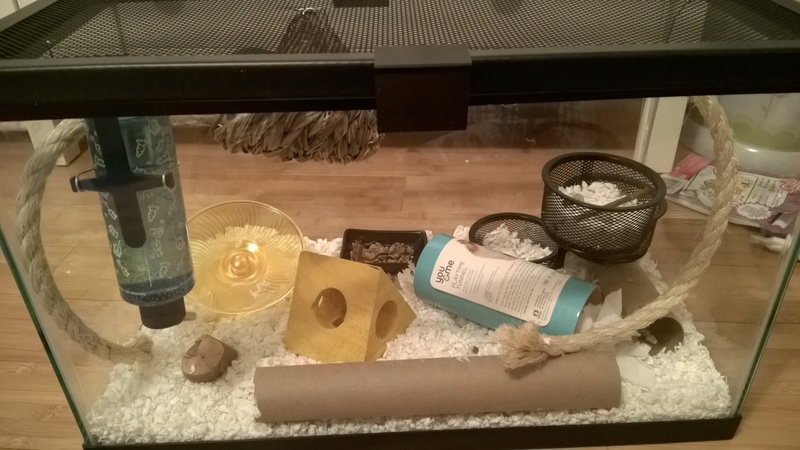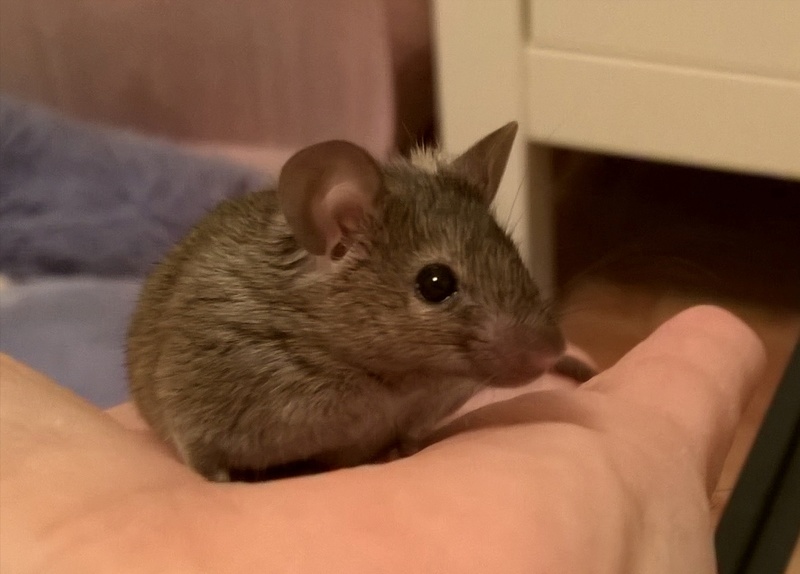 jcmaedl

New Member





Join date

: 2017-03-04


Posts

: 10



He's adorable! I'll try to answer all your questions, let me know if I miss anything. So, most mice love when their thanks get switched around every week. They get super excited exploring everything. Even better if you sprinkle treats or food around for him to find. Not all mice like to run on wheels, and that's okay. Also, he might might be doing it when you're asleep. However, his wheel is too small and that may be why he isn't running. He needs a wheel that is a minimum of 6" in diameter. Mice love mesh wheels, flying saucers, and silent spinners. I'm a fan of the 8" mesh wheel personally. Its big but it fits nice in a 10g and mice love a big wheel.
It looks like he has plenty to chew if he wants, plus their food has hard bits that also wear the teeth down. I would advise taking the sticker off the tube. It has adhesive on the back and could be harmful if he chews it. He should also have a formal hideaway to nest in. It's possible he will continue to sleep in his corner... But he should have a nest box. If you don't want to buy something, a little cardboard box is fine.
Another thing mice love is cardboard egg cartons! They love to shred those. I usually cut mine in half so I can get two weeks of fun out of one cartoon
I hope than answered all of your questions, let me know if you have any more
_________________
Lady mice
: stormy, Dahlia, lily, Ella billie, coco, maggie
Gentleman mice
: milo, jimmy
Other pets
: Little Buddy, Kevin (cats) robert, lulu, Englebert, harold, Gerald, Zumi, nico, charlie, (hamsters), stella (gerbil), Gilly (hedgehog)
 Penny, Honeybun, Lucy, Annie, Gilly, Furgie, Tedward Wigglesworth, Olivia, Goose, Sweet Katie, Binky, Delilah, Bitsy, Boopers, Sprout, Splotchy, Eva, Slappy, Shuggie, Fancy Pants, Jellybean, Charlie, Murray, Sally, Maya, Gunther, Lil Smokey, Magnus, Norman, Winnie, Sally, George, Harriet, Spec, Erzulie, Lucille, Agatha and Clementine.

scaredymouse

Hero Member





Join date

: 2016-04-03


Posts

: 2458









I think you're off to a great start with his tank! When you get the time, check out the
DIY
section. There's a lot of great ideas there - some very easy to do.

CallaLily

Hero Member





Join date

: 2016-04-03


Posts

: 3937






Thanks guys!  I appreciate it.  I have added a cardboard egg carton and cut it in half, made some holes for crawling.  He seems to love it!  I feel like I am kind of out of space for now, I will change out some things periodically to keep it interesting for him.  I may also had some more "rope highway."  I will check out the DIY.
Thanks also for the other tips.  I have been adding treats like coconut chips and berries periodically. Also Veggies. He loves broccoli!
He seems to nest in the big tube. He loves the paper towels in there. I will get a small box and see what he does with it.
I will try a bigger wheel if I can figure out where to jam it in.
Thanks again!

jcmaedl

New Member





Join date

: 2017-03-04


Posts

: 10



Similar topics
---
Permissions in this forum:
You
cannot
reply to topics in this forum