Originally posted on The Fun Mouse Forum.
Norman's Mom wrote:In dedication and loving memory of our lost loved ones, whom we still hold dear in our hearts and souls.

At The Rainbow Bridge

By the edge of a wood, at the foot of a hill, is a lush, green meadow where time stands still.
Where the littlest friends of man and woman do run, when their time on Earth is over and done.

For here, between this world and the next, is a place where each tiny creature finds its eternal rest.
On this golden land, they wait and they play, 'till the Rainbow Bridge they cross over one day.

No more do they suffer, in pain or in sadness, for here they are whole, their lives filled with gladness.
Their limbs are restored, their health renewed, their bodies have healed, with strength imbued.

They romp through the grass, without even a care, until one day they start, and sniff at the air.
All ears prick forward, eyes dart front and back, then all of a sudden, one breaks from the pack.

For just at that instant, their eyes have met; Together again, both human and pet.
So they run to each other, these friends from long past, the time of their parting is over at last.

The sadness they felt while they were apart, has turned into joy once more in each heart.
They embrace with a love that has lasted forever, and then, side-by-side, they cross over...together.

~Inspired by a Norse Legend
BarbaraFunMouse wrote:I hope you don't mind my replying to your post with this NM, but I wanted to share what helps me through the hard times of losing a loved one. We all have different ways of coping, this is just what I find helps me. It's very hard to do in the beginning, but over time it brings a ray of sunshine into the dark abyss of sorrow. When losing a loved one it's hard to think of anything other than the loss. With that, there's often regrets (ie 'I wish I would have spent more time with them' or 'I wish I had been there in the end to help them over the bridge' etc). It seems like negative thoughts inevitably pop onto ones head without warning and they are hard to get over, even if the negative thought is nothing more than the overwhelming feeling of loss. For every negative thought that comes into my mind, I force myself to think of 2 good things that I'm thankful for in relation to the lost loved one. This is very hard in that you can't then allow yourself to feel sorrow for never being able to experience your good memories with them again (if you think that, you need to think of 2 more positive things about their life!). You have to embrace the great memories and remember that no one can take that away. It DID happen. It was great. Embrace that. Eventually the good thoughts will overpower the bad and I am left with many good memories that overpower the feeling of sadness. The sadness will never go away, but it will dull. You can bring a positive light to the situation and you can eventually celebrate their life rather than morn their death.

Anyway, that's what helps me. I hope it helps someone else too. If it isn't your way of coping and you are having a hard time, please find an outlet that you feel comfortable with. Obviously we are always there for everyone that has a loss. Everyone here is among friends that understand. In addition to us, there are many grieving sites out there that can help too. You can find anything from support groups to weekly at home private candlelight memorials.
Twinkle1980 wrote:I hope this is ok to post here, its another poem which has always brought me comfort at those darkest of times.


I loved you best

So this is where we part, My Friend,
and you'll run on, around the bend,
gone from sight, but not from mind,
new pleasures there you'll surely find.

I will go on, I'll find the strength,
life measures quality, not its length.
One long embrace before you leave,
share one last look, before I grieve.

There are others, that much is true,
but they be they, and they aren't you.
And I, fair, impartial, or so I thought,
will remember well all you've taught.

Your place I'll hold, you will be missed,
the fur I stroked, the nose I kissed.
And as you journey to your final rest,
take with you this...I loved you best.

Author Jim Willis
**I hope no one minds that I moved these over. Based on the comments over on the original thread at TFM, they seem to bring great comfort to many.**
Last edited by CallaLily on Wed 29 Jun 2016, 6:28 pm; edited 2 times in total

CallaLily

Hero Member





Join date

: 2016-04-03


Posts

: 3937






Nestmouse222 likes this post
I've never read these before! Thanks for bringing them over
_________________
Lady mice
: stormy, Dahlia, lily, Ella billie, coco, maggie
Gentleman mice
: milo, jimmy
Other pets
: Little Buddy, Kevin (cats) robert, lulu, Englebert, harold, Gerald, Zumi, nico, charlie, (hamsters), stella (gerbil), Gilly (hedgehog)
 Penny, Honeybun, Lucy, Annie, Gilly, Furgie, Tedward Wigglesworth, Olivia, Goose, Sweet Katie, Binky, Delilah, Bitsy, Boopers, Sprout, Splotchy, Eva, Slappy, Shuggie, Fancy Pants, Jellybean, Charlie, Murray, Sally, Maya, Gunther, Lil Smokey, Magnus, Norman, Winnie, Sally, George, Harriet, Spec, Erzulie, Lucille, Agatha and Clementine.

scaredymouse

Hero Member





Join date

: 2016-04-03


Posts

: 2458









The "Rainbow Bridge" never fails to reduce me to absolute mush. When Fluellen, aka PieDog, passed on in 2005, his vet and staff sent a beautiful card with a copy of this poem; I still have that poem tacked on my 'fridge and read it every day (as if I would ever forget my most beloved animal friend of all!). "I Loved You Best" is new to me and says it all so simply: "There are others, that much is true, but they be they, and they aren't you." I love Arwen the BooDog (turning 12 this month and aging before my eyes) and my remaining senior mice, Anya and Cordelia (turning 2 this month) but they aren't the Pie or my heart mouse, Tara.

_________________
Mouseless but now Hamster-powered
Over the Rainbow Bridge: Chablis, Merlot, Bombay, Frascatti, Mimi, Musetta, Lucia, Carmen, Tosca, Tara, Buffy, Willow, Anya, Cordelia and Imogene the Syrian Hamster
Also Mom to Clare Bear cat and Hermit Crabs Big Enzo, Charles Paris and Mr Pinch

MesaMouse

Hero Member





Join date

: 2016-04-24


Posts

: 702






Thank you for sharing these here. The "At The Rainbow Bridge" poem is beautiful. I've always wondered what people were referring to when they mentioned the rainbow bridge. I do believe there is a place in heaven where all of our pets, big and small, are running and playing, waiting for us to meet them again
_________________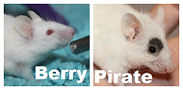 Remembering: Violet, Snow, Holly, Lilac, Clover, Petal, Cotton, Sugar, Autumn, Sage, Rocky, Jack, Willow, Blossom, Sierra, Amber, Olive, Scout, and Daisy
Similar topics
---
Permissions in this forum:
You
cannot
reply to topics in this forum