Mostly Graham, because black mice are impossible to photograph...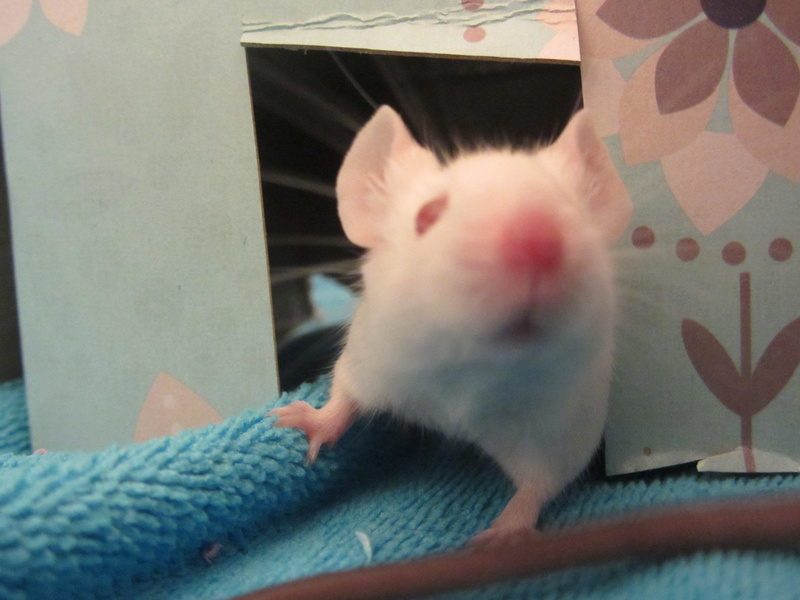 A little snootle!
Her little feetsies are so tiny...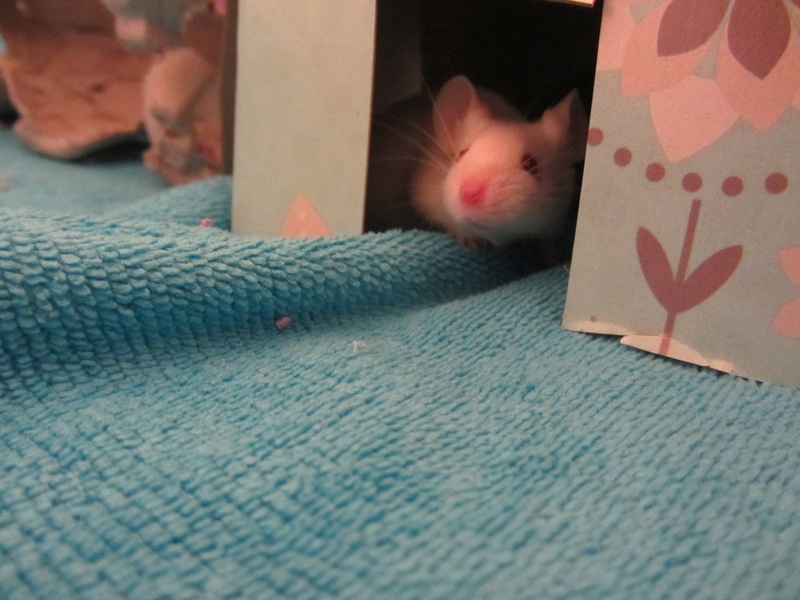 She's got quite the obsession with this box lately.
And now some Maier. She always shows up better in B+W.
Excuse my nails. It's my guitar hand. But I thought this photo showed her size well - she's the cuddliest, chubbiest little thing.
Energetic, black mice are the worst to photograph. Graham is more mellow than her sister and seems to love the camera, but Maier is more curious and just wants to see if it's edible.
_________________
Graham & Garcia
Omg, Graham has the sweetest face!!!!!
_________________
Lady mice
: Winnifred & Sally/Georgie & Harriet Potter, Spec, Erzulie, Lucille, Clementine
Gentleman mice
:  Lil Smokey, Magnus, Norman, Alexander, and Charlie
Natal multimammate mouse (ASF):
Agatha
Other pets
: Little Buddy, Kevin (cats) Sherberta, Gunther, Dustin, Lidiya, Chip, Squiggy, Nina, Harold, Spike, Mia, Mim(hamsters), Chloe and Zoey (chinchillas), Herman/Fabs/Burlington (guinea pigs)
 Penny, Honeybun, Lucy, Annie, Gilly, Furgie, Tedward Wigglesworth, Olivia, Goose, Sweet Katie, Binky, Delilah, Bitsy, Boopers, Sprout, Splotchy, Eva, Slappy, Shuggie, Fancy Pants, Jellybean, Murray, Sally, Maya.
Moderator





Join date

: 2016-04-03


Posts

: 2401


Likes

: 710










Oh, squee. They're lovely, but Graham's pictures are especially adorable! I love blurry nose close ups. lol

_________________
Always believe that something wonderful is about to happen.

~Lulie, Pearl, Dulcie, Dandy, Tulip & Finnegan~
~Alex, Darcy, Vera, Verity & Atticus~
~Mika and Milo~
Moderator





Join date

: 2016-04-06


Posts

: 2731


Likes

: 748







Thanks!

I need to take some good easter pics soon.
_________________
Graham & Garcia
Oh my goodness, another black mouse for me to love
Nice photos! And squee, that second photo of Graham... such an adorable little face!!!
_________________
Proud owner of two five month old kittens, Salt (grey and white) and Pepper (tuxedo)!
No mice... yet

See my Etsy Shop at www.etsy.com/shop/ArtistwolfDesigns
(I'm currently donating 25% of proceeds to my local low-cost spay/neuter clinic!)
Hero Member





Join date

: 2016-04-03


Posts

: 647


Likes

: 103







Great pics and such cute mice! I love the blurry nose pic too.
Hero Member





Join date

: 2016-04-03


Posts

: 3200


Likes

: 841







Awww, River, they are both adorable. I love the black and white photos! Very unique.
Hero Member





Join date

: 2016-06-27


Posts

: 1673


Likes

: 530







Thanks all! I got some photos recently...I'll be updating soon.

---
Permissions in this forum:
You
can
reply to topics in this forum