Hey guys! I've posted elsewhere that I had an unexpected pregnancy, I rescued 2 girls, Bridget and Judith, who I only noticed yesterday was so pregnant!
Set up this little nursery as fast as I could! It's in a 10 gallon tank I nabbed for free. I've got two different nesting options, one plastic and one cardboard. Lots and lots of paper bedding and tissue, chews, toys, and their favorite bed. Also plenty of water and two dishes of food, the regular mix and some more high protein+fat treats for mom.
It seems a little cluttered, and her sister does love to tunnel underneath things and kick up all the bedding. It looks a little hard to get around, but Judith hasn't had any trouble so far. Is it too cluttered? Should I remove some toys and bedding, or just rearrange as needed to keep pathways clear?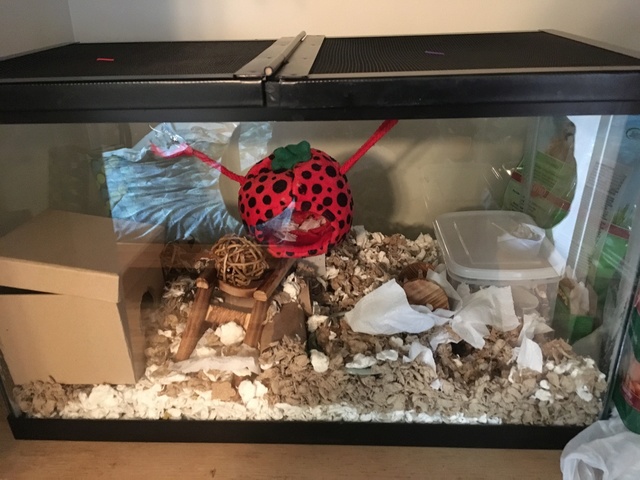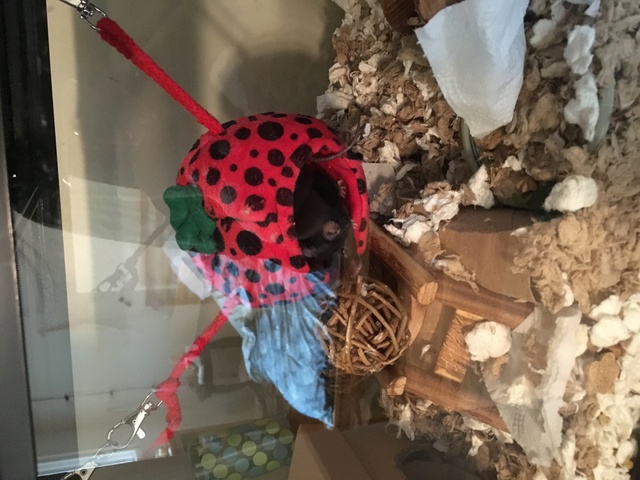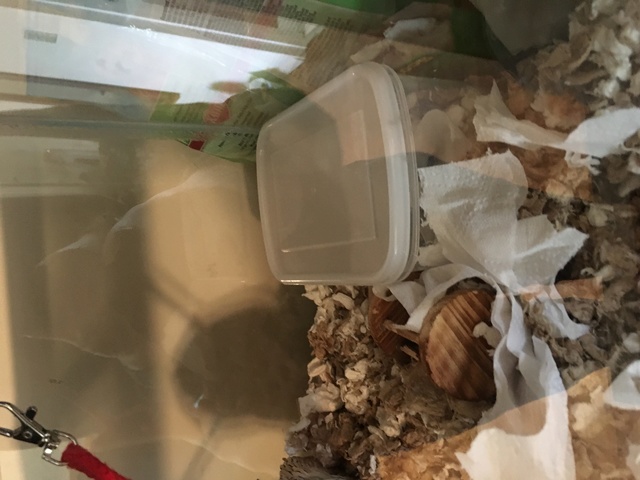 _________________
they/them pronouns please!

Bridget and Judith are my sweet Virgo rescue girls
Mice do love a mess. Moms like a lot of bedding so they can barricade the babies in the nest. The strawberry will be a nice get away and it's great that you gave her a choice of nest. I did too! It's okay to put a wheel in for her to run, exercise it good for her before and after. My momma gave birth and then felt so great, she went for a 6 hour run afterwards!!! The only wheel to avoid for about 4-6 weeks after is the mesh wheel...babies could get hurt.

You will also find that momma wants to get away for some quiet time every day. So if she wants out anytime after birth, feel free to play with her and give her special treats like plain cooked chicken or scrambled eggs. It helps with milk production.

You may have read about the use of nannies... You can make your own decision on that but many of choose not to risk it and keep the momma alone.
_________________
Lady mice
: stormy, Dahlia, lily, Ella billie, coco, maggie
Gentleman mice
: milo, jimmy
Other pets
: Little Buddy, Kevin (cats) robert, lulu, Englebert, harold, Gerald, Zumi, nico, charlie, (hamsters), stella (gerbil), Gilly (hedgehog)
 Penny, Honeybun, Lucy, Annie, Gilly, Furgie, Tedward Wigglesworth, Olivia, Goose, Sweet Katie, Binky, Delilah, Bitsy, Boopers, Sprout, Splotchy, Eva, Slappy, Shuggie, Fancy Pants, Jellybean, Charlie, Murray, Sally, Maya, Gunther, Lil Smokey, Magnus, Norman, Winnie, Sally, George, Harriet, Spec, Erzulie, Lucille, Agatha and Clementine.

scaredymouse

Hero Member





Join date

: 2016-04-03


Posts

: 2458









Similar topics
---
Permissions in this forum:
You
cannot
reply to topics in this forum