This is Weasel.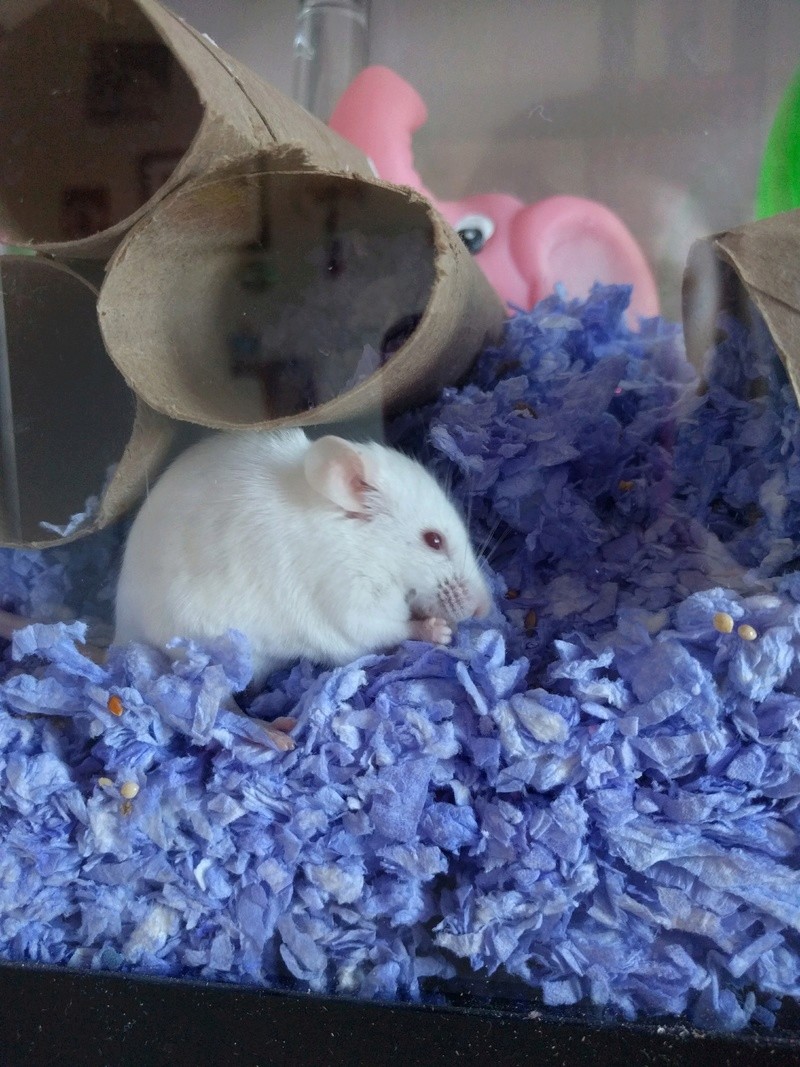 And she is absolutely *insane*. (Well, compared to my last mouse, Salem, a chubby brindle who gave up his wheel at the age of one)
Rest in peace my darling boy.
On any old Thursday, one of my classmates and I had an exchange:
Classmate: Hey, you have experience with mice, right?
Me: Uh... yeah.
Classmate: Would you mind taking care of my mouse? She's lonely and depressed.
Me: OMG I'd love to!
and I was about to run to her house and take home the darling. But then I remembered my mom. Salem was an old male who'd been pretty stinky, so she was hesitant. But I was able to weasel her into it.
Weasel, who was nameless at the time, was given to me in a 10 gallon tank, but things went downhill from that regarding her setup. Cedar bedding for one, and no wheel, just half a dish rag and a sipper tube, along with a jar lid of not-so-fresh veggies.
Just to be clear: I don't blame her owner for the setup she was in. She was likely purchased from the feeder bin, so the advice the pet store gave was the problem.
As soon as I got home, I gave the little girl later to be baptized as Weasel's life did a 180. I immediately threw out the cedar bedding, and wiped the dust off as best I could. Then I added some purple clean and cozy. I wanted to get pink because she's a girl and I wanted to celebrate that, but they din't have any in stock. No matter. Little Weasel thought nothing of hiding. Her previous owner said that she liked to hide in the half dishrag, but I found it completely unnecessary. She was out and about, sniffing high and low in her cage to figure out what the heck was going on. I introduced her to toilet paper tubes, and her mind was blown. So, I made a little pyramid and she loved it. So, I built an even bigger toilet paper pyramid, and she wasn't afraid to climb up to the top and lean down, the little daredevil. Since she was so clever and quick, I decided to name her Hope... er, that's her middle name.
Weasel Hope Pants Sofia Bulgaria has been enjoying my hospitality for a month now, and has been an absolute joy and delight.
Speaking of which...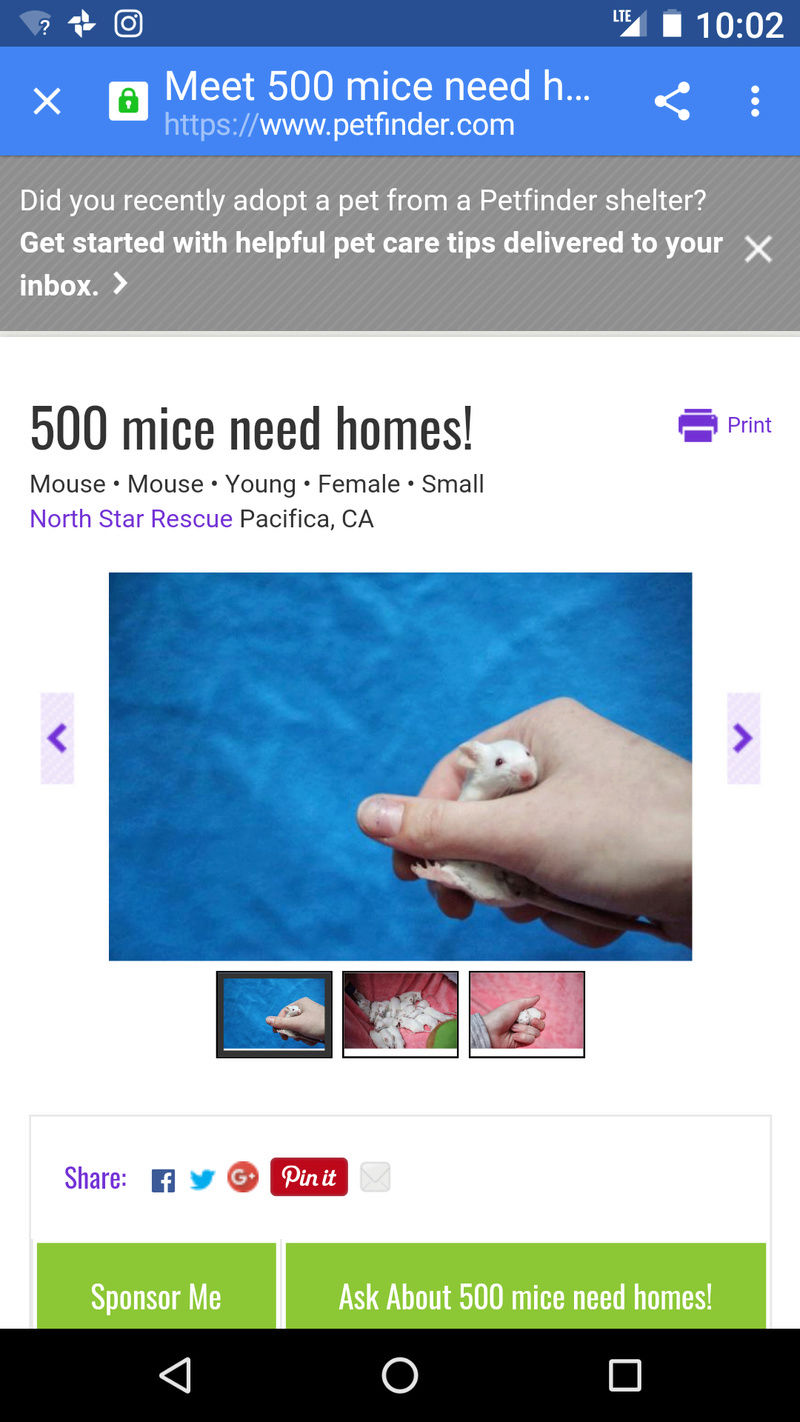 I was really delighted when I saw this on petfinder. 500 lovely ladies, rescued from a lab. Retired lab mice, if you will. Weasel will have no problem finding a few fellow mousey friends to share her tiny blog posts with. I like to imagine she runs a blog in her spare time, aside from RUNNING.
She had no wheel probably her entire life until now, and when I introduced her to a silent spinner she was confused and tried to run on the wheel on the outside with her front feet with her bottom feet on one of the toilet paper tube pyramids. Luckily I was able to get my hands on a flying saucer, and I was so proud of her when she figured it out She likes to keep some bedding in the middle of it, which is fine by me, and uses her tail for support in the center. Anyone know where I can get an 8 inch?
So, this weekend, I am hoping to adopt two female mice to accompany little Weasel on her adventure. I've got lots of surprises in store for her! I can only hope I'll be able to tell three PEWs apart.

antant26

Jr Member





Join date

: 2016-08-14


Posts

: 47






What a cute story and such a cute mousey!  Weasel is one lucky girl.
In time you'll be able to spot little differences in them.  My first 2 mice as an adult were both PEW.  One was a little bigger, more outgoing, and had bigger more open ears.  And now I have 2 agouti sisters that look a lot alike (see my avatar). Rina is fatter, has slightly darker ears with a little tear in one, and the very very tip of her tail is pink. Plus Celyn's a little more active and outgoing. Until you spot these little differences, you can use food coloring to mark them.

CallaLily

Hero Member





Join date

: 2016-04-03


Posts

: 3937






Such a cutie, it's great that she has a wonderful life ahead of her. You should post cage pics too.
_________________
Currently have 2 dogs and a turtle, hoping to get a mouse soon.

PastelMouse

Sr Member





Join date

: 2017-04-08


Posts

: 104






---
Permissions in this forum:
You
can
reply to topics in this forum