I posted a couple of weeks ago about my mouse Thistle's squinty eyes. It's been a couple of weeks that they've been on only paper bedding (previously a mix of aspen and paper) because I thought she was allergic to the aspen or it might have been irritating her, and Thistle's eyes seem about the same. I've been doing more research and I think she might have microphthalmia, which is a condition where the eye(s) are abnormally small. There is no discharge from her eyes and she doesn't seem uncomfortable at all. (Or any more comfortable on only paper-based bedding).
I've been reading as much as I can about it and there are quite a few medical/scientific journals concerning mice specifically (they're really confusing but informative), and Thistle's eyes do look quite a bit like some of the pictures in them. She's just smaller in general then her sister Sage.
I was wondering if anyone had any experience with microphthalmia? Or had ever even heard of it before? Thanks for any advice or information!
_________________
mice: blossom, thistle, & sage
rats: baby, daisy, tessa, stella, violet, pippa, & ollie
cats: jade & marmalade
remembering: lily  

louiee

New Member





Join date

: 2017-04-26


Posts

: 6






So her eyes have been squinty since you got her? How long have you had her? How old is she?

I've heard of microphthalmia before don't believe it's every come up here on the forum.

Do you have a picture of this mouse?
_________________
Lady mice
: stormy, Dahlia, lily, Ella billie, coco, maggie
Gentleman mice
: milo, jimmy
Other pets
: Little Buddy, Kevin (cats) robert, lulu, Englebert, harold, Gerald, Zumi, nico, charlie, (hamsters), stella (gerbil), Gilly (hedgehog)
 Penny, Honeybun, Lucy, Annie, Gilly, Furgie, Tedward Wigglesworth, Olivia, Goose, Sweet Katie, Binky, Delilah, Bitsy, Boopers, Sprout, Splotchy, Eva, Slappy, Shuggie, Fancy Pants, Jellybean, Charlie, Murray, Sally, Maya, Gunther, Lil Smokey, Magnus, Norman, Winnie, Sally, George, Harriet, Spec, Erzulie, Lucille, Agatha and Clementine.

scaredymouse

Hero Member





Join date

: 2016-04-03


Posts

: 2458









Yes, I'm pretty sure her eyes have been squinty since I've had her, and I've had her for at least 3 months now. I think she was only six weeks old when I got her but I'm not entirely sure. In the beginning I did notice her eyes looked a little funny but I thought she just seemed sleepy (I would lift up their house to check on them). After a while she started to come out more when I was around and that's when I really started to wonder if something was wrong with her eyes. I assumed it was an allergy/irritation due to the aspen bedding.
Her eyes just never seem to open as wide as my other two mice. You can clearly see a roundness to their eyes while Thistle's are just kind of half-shut.
It's hard for me to get a picture of her because she's not coming around to taming very well but here's the best I could get. (She's a little mad at me because I woke her up lol).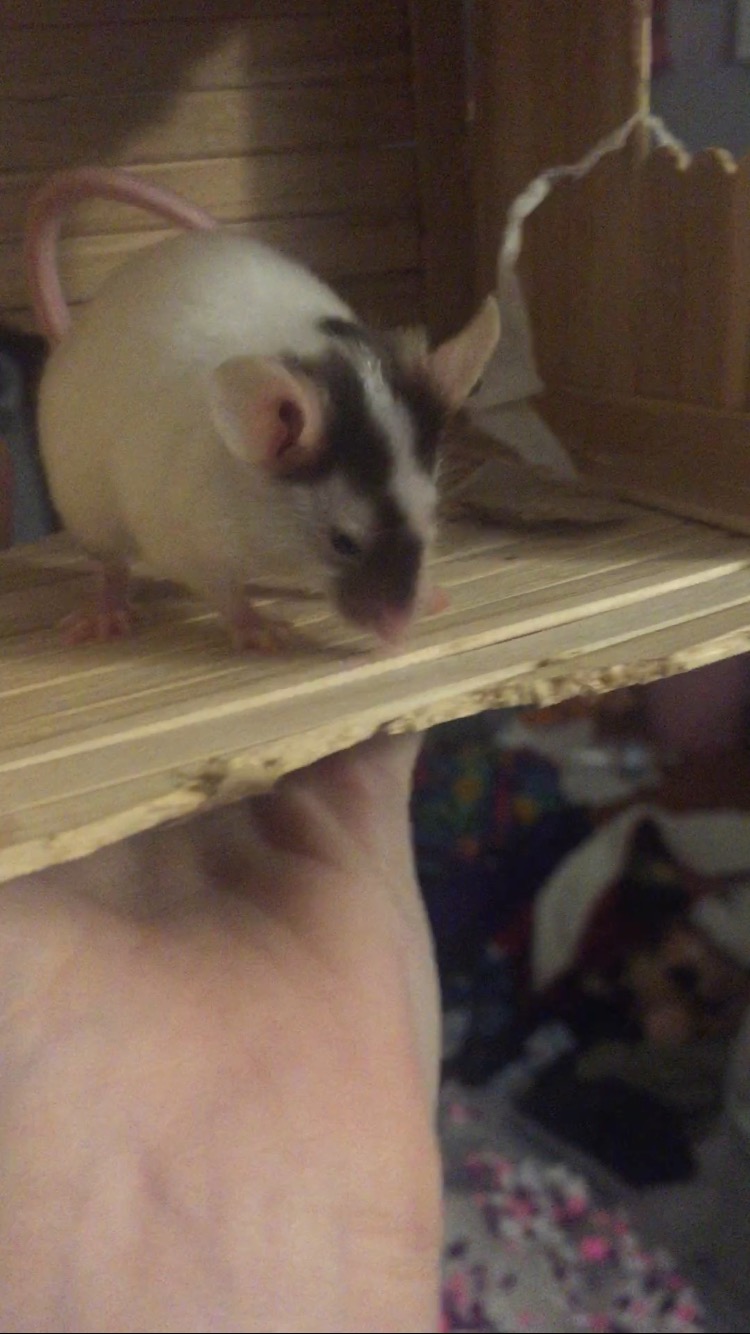 _________________
mice: blossom, thistle, & sage
rats: baby, daisy, tessa, stella, violet, pippa, & ollie
cats: jade & marmalade
remembering: lily  

louiee

New Member





Join date

: 2017-04-26


Posts

: 6






Aww, she is a cutie

Rodents rock!

Hero Member





Join date

: 2016-06-27


Posts

: 1818






Similar topics
---
Permissions in this forum:
You
cannot
reply to topics in this forum