Useful Links
Forum Rules
Please read the forum rules before posting. If you have any questions, contact a moderator.
Pet Mouse Info
Links to help you find all the care info threads throughout the forum.
Cage Calculator
Find out how many mice will fit in your cage or tank.
Contact
Use this link if you need to get in touch with the administration team without an account.
FAQ (forum)
Frequently Asked Questions about the forum.
Vetective™
Vetective™ is "a community-driven exotic mammal veterinarian locator and review service."
Rosaline: Adopted June 14, 2016 - May 27, 2017 (One year and a month).  She passed suddenly overnight and is survived by her sister, Desdemona.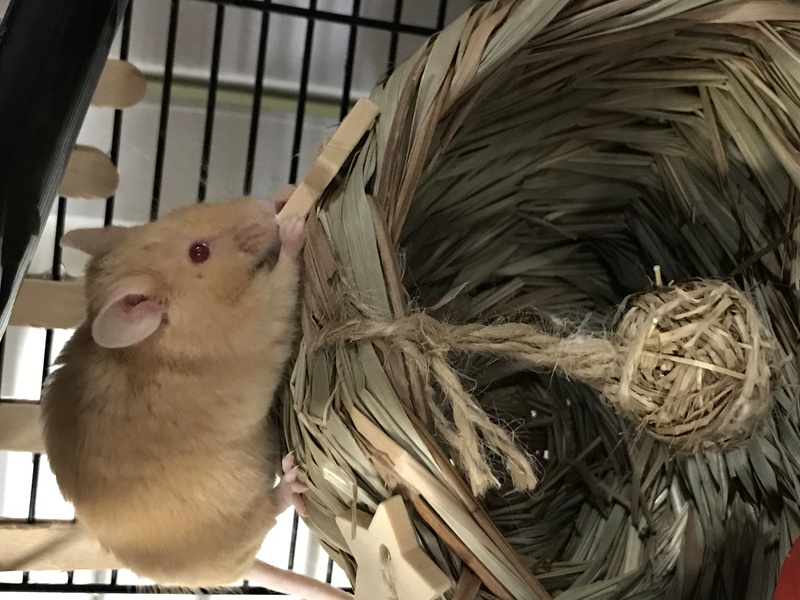 Katerina: Adopted March 21, 2016 - May 28, 2016 (8 months).  She was fighting off an infection in an abscess, and unfortunately the infection and the stress of being handled to be medicated was too much for her.  She is survived by her sister, Celia.
I just feel so broken.  I found Rosaline in the cage, but I watched Katerina pass on after giving her her evening medication.  I hate that I had to stress her so much in the last days of her life, and I wish she knew how much I loved her, and that we'd had the time for her to get used to me.  Even as a skiddish little mouse who ran from me, I always knew she was amazing, and I hate that I lost her so quickly.  I watched Celia groom her sister's body after she passed, and it just broke my heart.  Rosaline was an amazing little ray of sunshine.  Every mouse is special, but I don't think I'll ever find another one like her.
I love you, my little mouse babies.  Both of you deserved a perfect mom, but thanks for letting me be yours.  I thought I'd have longer to spoil you, but I wouldn't trade the time we had for anything.  Rest in Peace.
"It's the time that you lose for your rose that makes your rose so important."
Jr Member





Join date

: 2016-06-17


Posts

: 38


Likes

: 3




Hugs I'm so sorry for your loss.
_________________
Hero Member





Join date

: 2016-04-03


Posts

: 3054


Likes

: 754







I'm so sorry for your loss, i can tell how much you loved them. They were beautiful.
_________________
Lady mice
: Winnifred & Sally/Georgie & Harriet Potter, Spec, Erzulie, Lucille, Clementine
Gentleman mice
:  Lil Smokey, Magnus, Norman, Alexander, and Charlie
Natal multimammate mouse (ASF):
Agatha
Other pets
: Maya, Kevin (cats), Murray, Sherberta, Gunther, Dustin, Lidiya, Chip, Squiggy, Nina, (hamsters), Chloe and Zoey (chinchillas)
 Penny, Honeybun, Lucy, Annie, Gilly, Furgie, Tedward Wigglesworth, Olivia, Goose, Sweet Katie, Binky, Delilah, Bitsy, Boopers, Sprout, Splotchy, Eva, Slappy, Shuggie, Fancy Pants, Jellybean.
Moderator





Join date

: 2016-04-03


Posts

: 2345


Likes

: 665










I'm so very sorry for your loss. They knew how much you loved them. (((HUGS)))
Hero Member





Join date

: 2016-06-27


Posts

: 1538


Likes

: 423







Thank you, guys. I appreciate it
Jr Member





Join date

: 2016-06-17


Posts

: 38


Likes

: 3




I'm so sorry for your loss
You did all you could for your sweet babies and I'm sure they appreciate that. Play well at the bridge little ones X
http://www.rainbowbridge.com/Grief_Support_Center/Grief_Support_Home.htm

_________________
The boys- Tobias, Rinn, Fluffy, and Neville
The girls- Whiskey, Mishka, Shrew, Shina
Full Member





Join date

: 2017-01-22


Posts

: 50


Likes

: 18





Similar topics
---
Permissions in this forum:
You
cannot
reply to topics in this forum