Scout just wants you to know that he's still here and happy, just busy defending his tank from the giant hand monster
I put him on my little set for photo shoots today. He behaves better when I interact using gloves. I've been doing that, and he seems to think I'm more dominant than him now. I'll pet him and he will close his eyes, put his ears back, and try to look small. He obviously doesn't like it much, so I don't pet him long. We are both trying to trust each other, he doesn't completely trust me and I don't completely trust him to not bite me yet. Hopefully things will keep improving!
Just love those big ol' eyes!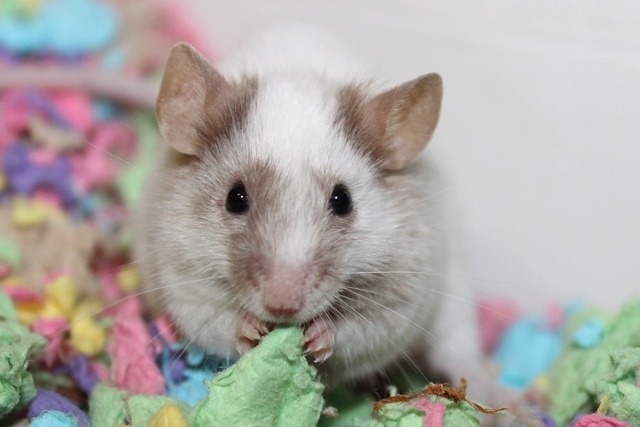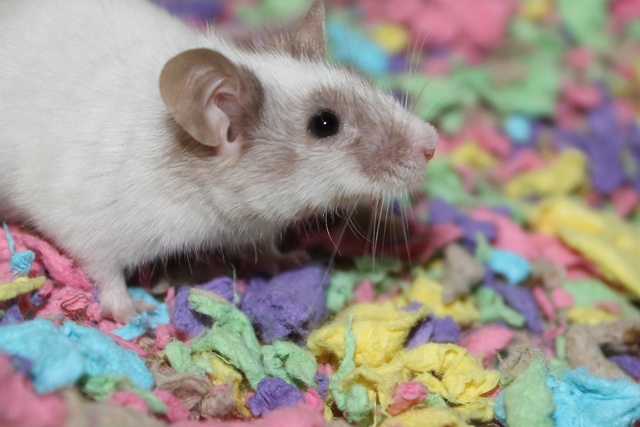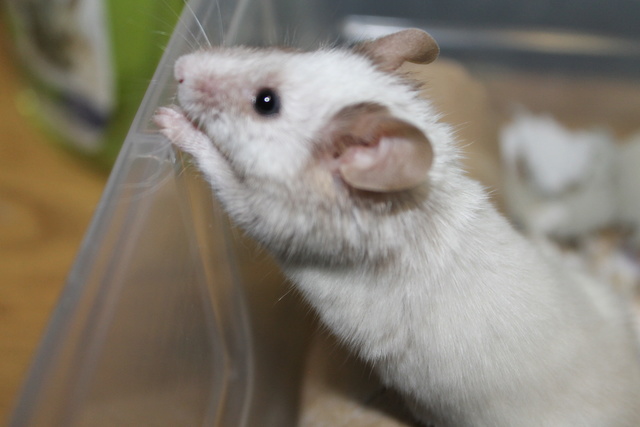 Awww he's quite a little cutie! The little spots on his muzzle are very cool- he has a nice coloration/pattern. You always take such high quality photos

Drago

Full Member





Join date

: 2017-01-22


Posts

: 54



I'm glad to hear he's doing well and that you're making progress. He's a cutie for sure.

CallaLily

Hero Member





Join date

: 2016-04-03


Posts

: 3937






D'awwwwww.  I'm like that with Magnus... I don't trust him not to bite me.  I can't believe how scared i am of this one little mouse!  He doesn't just bite, he attacks!
_________________
Lady mice
: stormy, Dahlia, lily, Ella billie, coco, maggie
Gentleman mice
: milo, jimmy
Other pets
: Little Buddy, Kevin (cats) robert, lulu, Englebert, harold, Gerald, Zumi, nico, charlie, (hamsters), stella (gerbil), Gilly (hedgehog)
 Penny, Honeybun, Lucy, Annie, Gilly, Furgie, Tedward Wigglesworth, Olivia, Goose, Sweet Katie, Binky, Delilah, Bitsy, Boopers, Sprout, Splotchy, Eva, Slappy, Shuggie, Fancy Pants, Jellybean, Charlie, Murray, Sally, Maya, Gunther, Lil Smokey, Magnus, Norman, Winnie, Sally, George, Harriet, Spec, Erzulie, Lucille, Agatha and Clementine.

scaredymouse

Hero Member





Join date

: 2016-04-03


Posts

: 2458









Yoshi used to attack! Those little maniacs! I hope your guys start to improve soon.
Scout is cute. Much too cute to maniac.

Peachy

Moderator





Join date

: 2016-04-06


Posts

: 3164






Scout is just adorable!

Rodents rock!

Hero Member





Join date

: 2016-06-27


Posts

: 1818






Similar topics
---
Permissions in this forum:
You
can
reply to topics in this forum