CallaLily

Hero Member





Join date

: 2016-04-03


Posts

: 3937


Likes

: 1109







I'm so sorry for your loss. She was such a beautiful mouse, I really loved her coloring and her silky looking coat. Rest in peace, Hazel.
Sweet Hazel.  She always reminded me of my Penny.   Hazel was a scaredy mouse, so i couldn't help being fond of her.  She was also gorgeous, such a unique color.  We will all miss her sweet face.  I'm sorry for your loss.
_________________
Lady mice
: Maggie, Claire, and Penny (aka Sweet P)
Gentleman mice
: Alexander
Other pets
: Little Buddy, Kevin (cats) Sherberta, Dustin, Lidiya, Chip, Squiggy, Nina, Harold, Spike, Mia, Mim, Henrietta(hamsters), Chloe and Zoey (chinchillas), Herman/Figaro Whooopers/Burlington (guinea pigs)
 Penny, Honeybun, Lucy, Annie, Gilly, Furgie, Tedward Wigglesworth, Olivia, Goose, Sweet Katie, Binky, Delilah, Bitsy, Boopers, Sprout, Splotchy, Eva, Slappy, Shuggie, Fancy Pants, Jellybean, Charlie, Murray, Sally, Maya, Gunther, Lil Smokey, Magnus, Norman, Winnie, Sally, George, Harriet, Spec, Erzulie, Lucille, Agatha and Clementine.

scaredymouse

Moderator





Join date

: 2016-04-03


Posts

: 2457


Likes

: 743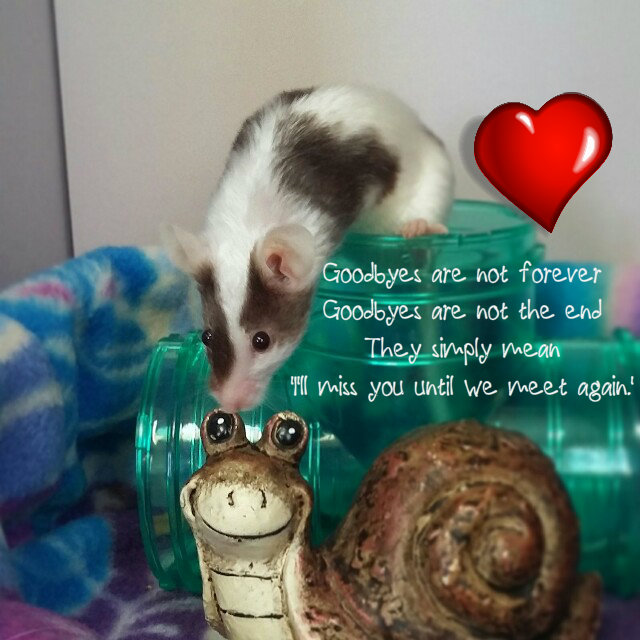 I'm so very sorry for your loss. Hazel was a beautiful girl. I hope you are doing alright. (((Hugs)))

Rodents rock!

Hero Member





Join date

: 2016-06-27


Posts

: 1818


Likes

: 599







Thank you everyone.
@AnonymousMouseOwner
, I love that picture of her. She was always so silly and full of energy when I tried photo shoots. Thank you.

CallaLily

Hero Member





Join date

: 2016-04-03


Posts

: 3937


Likes

: 1109







I'm so sorry for your loss, she was such a beautiful girl. I have only been on this forum for around a month now but I always loved logging on and seeing Hazel's little picture right on the top. Sending you love and good vibes <3

SkywalkerSyd

Jr Member





Join date

: 2017-05-12


Posts

: 23


Likes

: 4







Similar topics
---
Permissions in this forum:
You
cannot
reply to topics in this forum