Woke up as the sun was rising because the hens were making a fuss. Went outside to see a raccoon in their pen eating out of the feeder.
She exited the corner of the pen and climbed a nearby tree, followed by 3 baby coons. Good thing the rooster was still sleeping.
Went inside to my den to check on Mickey, Minney and Stripe.
That's when I noticed one of my live traps had what appeared to be a dead mouse.
When I went outside to empty it I noticed it wasn't dead just lethargic.
Setup a spare cage to check for injuries or see if it was sick.
While I was examining the mouse I spotted movement ON Mickey's cage.
A young female taunting Mickey, so live trap set but she's not going for it :/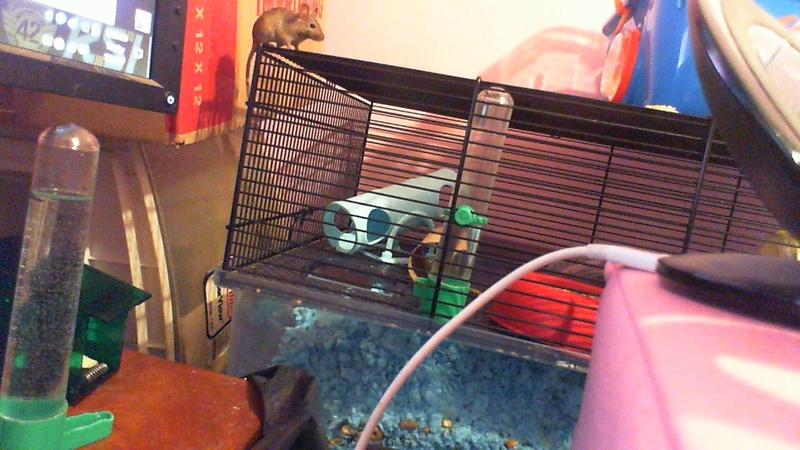 The mouse I thought was dead seems to be a different species as well, a deer mouse possibly with eyes twice the size.
Thought of red riding hood and the My what big eyes you have grandma. It is also female.
It looks like she has an injury near her back leg. Hope she isn't pregnant while I take care of her
as I'd hate to have another round of babies.
She seems to be very tame and not afraid of me.
Last edited by Eastridge on Sun 02 Jul 2017, 11:12 am; edited 1 time in total

Eastridge

New Member





Join date

: 2017-05-12


Posts

: 16






Wow, you sure have had an interesting morning! My mouse is also named Mickey!!!

Rodents rock!

Hero Member





Join date

: 2016-06-27


Posts

: 1818






I'm thinking the deer mouse had a run-in with the hens, they love to eat small animals like toads.
Gonna have to do a search of the house to see where the mice are getting in at.
My den is at the corner of the house nearest to the chicken pen.


Was just thinking, there is one other possible cause for the injury.
Our Yorkie might have gotten ahold of it and played with it.
Have caught her with mice before.

Eastridge

New Member





Join date

: 2017-05-12


Posts

: 16






_________________
Lady mice
: stormy, Dahlia, lily, Ella billie, coco, maggie
Gentleman mice
: milo, jimmy
Other pets
: Little Buddy, Kevin (cats) robert, lulu, Englebert, harold, Gerald, Zumi, nico, charlie, (hamsters), stella (gerbil), Gilly (hedgehog)
 Penny, Honeybun, Lucy, Annie, Gilly, Furgie, Tedward Wigglesworth, Olivia, Goose, Sweet Katie, Binky, Delilah, Bitsy, Boopers, Sprout, Splotchy, Eva, Slappy, Shuggie, Fancy Pants, Jellybean, Charlie, Murray, Sally, Maya, Gunther, Lil Smokey, Magnus, Norman, Winnie, Sally, George, Harriet, Spec, Erzulie, Lucille, Agatha and Clementine.

scaredymouse

Hero Member





Join date

: 2016-04-03


Posts

: 2458









Looks like the deer mouse has several wounds. With where she was caught it might have been a territorial dispute with the resident house mice. The trap was next to the house mice highway.

The female house mouse I spotted on Mickey's cage, looks like Minney and Stripe do not like her at all. She's smaller than Stripe, So I'm guessing she was recently weened and possibly orphaned if the deer mouse won the fight with her parents. No other mice have been seen so far.

Eastridge

New Member





Join date

: 2017-05-12


Posts

: 16






Similar topics
---
Permissions in this forum:
You
cannot
reply to topics in this forum