+3
Rodents rock!
CallaLily
BakaOnna777
7 posters
Hello everyone! New here. I have three mice now. Two from petsmart and one from petco. I have Mari who is a dark brown or maybe black in color. And Sofia who when I got her was completely white with black eyes but about two weeks after getting her home she got color and has brown splotches now. And my newest little girl is Minami and she seems to be your standard albino.

So here's the story. When I was a kid (I'm 30 now) I had gotten two mice to use in a science fair project for maze running. After the project was down I kept them and took pretty good care of them. Always enjoyed watching them run around and whatnot. Fast-forward 20 something odd years and I've finally been able to move back out of my parent's house and after confirming with my new landlord that mice would be ok I dug out my old 10 gallon tank and cleaned it up.

Went to petsmart and ended up spending close to $150(usd) on stuff from food to wheel to "snak shak", bedding, water bottle and finally the two mice. I get everything home and setup. Felt kind of bad keeping them in the transport box for so long (about one and a half hours) but they were ok.

Couple of weeks later I decided the 10 gallon was just too small so I dove into YouTube looking for alternatives. Ta da giant bin cage (over 650 sq in of floor space).

Fast forward again and I've had Mari and Sofia for two and a half month and the bin cage seems to be big enough for another mouse. So two weeks ago I buy my third mouse Minami who got the 10g suite to herself for a few days of quarantine.

I didn't realize Minami had been underweight so bad until I get home 14 hours after getting her settled and see this mouse in her tank that looks nothing like the one I put in there. I mean she nearly doubled in thickness. I had to hold her and get a good look. She seems fine with crawling around on my hand and does the thing where they basically hang off the side trying to see the floor. I turn my hand so she doesn't fall and can get to the back of it. As she stretched out I notice two lumps sticking out of her abdomen on either side and I think "that's either a whole lot of food or she's pregnant." (I'll post pictures when I get home from work not sure how to do that on mobile) it's been two weeks since then and no babies yet but her belly is a bit bigger and much more solid when she crawls on my hand. She's also been nesting a lot more frantically and even dragging food into her nest with her. Sleeping a lot too. (She definitely been pooping regularly so it's most likely not obstructed intestines) What do you guys think? She otherwise seems healthy and runs behaves similarly to my other two mice when she is awake and out of her nest.

BakaOnna777

New Member





Join date

: 2017-07-22


Posts

: 3



Welcome!

It does sound like your new girl may be preggo. Pictures can help. There's a "how to" thread stickied in the picture section. Also check out the reproductive care section to read up on what to expect, just in case. Good luck!

CallaLily

Hero Member





Join date

: 2016-04-03


Posts

: 3937






Hi and welcome! It does sound like she is pregnant from what you have described. Keep us posted. Would love to see photos of all your girls

Rodents rock!

Hero Member





Join date

: 2016-06-27


Posts

: 1818






Okay home from work and got pics old and new.
First Here's Mari today. It's hard getting pictures of her because we seem to have gone backwards in the taming process after I introduced Minami.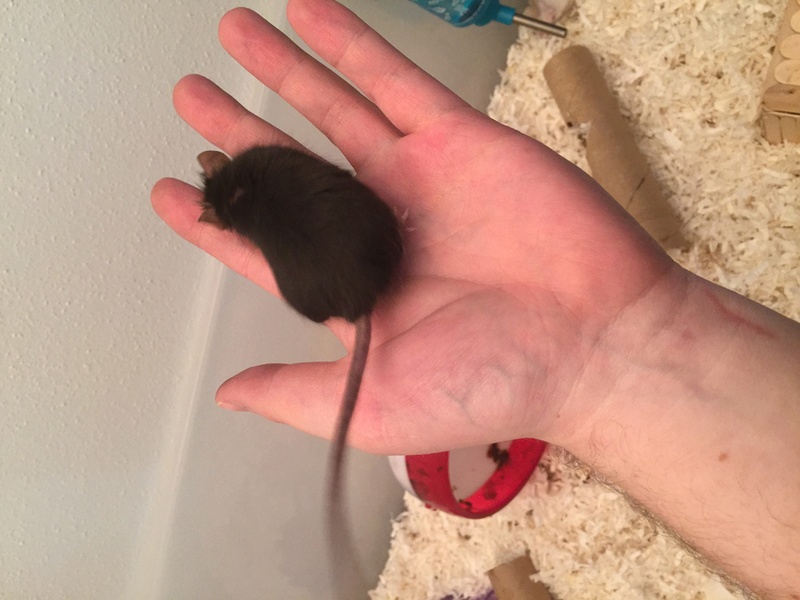 Mari is the explorer. She wants to get into everything.
Next is Sofia. She was my timid/jumpy/shy girl but lately she's come around.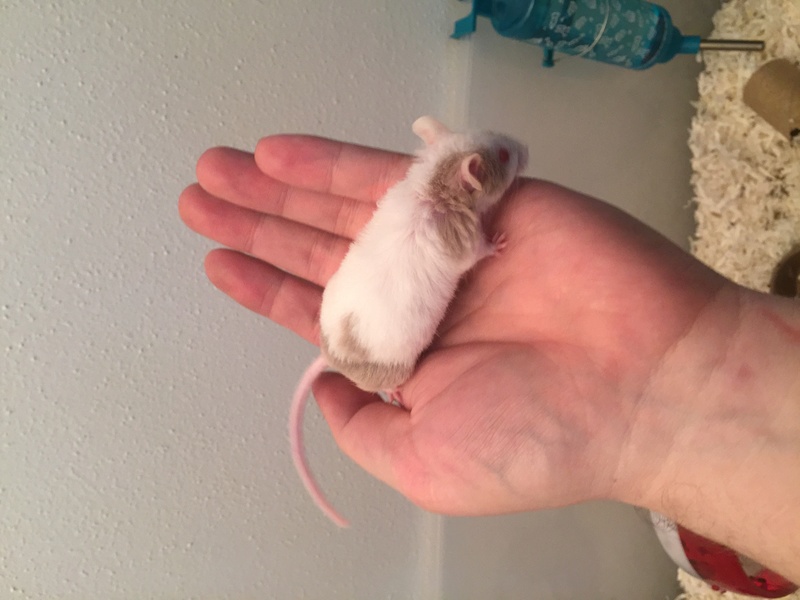 And here's my possibly pregger's new girl Minami 14 days ago
and here is Minami today. I also tried to get a picture of her underside but the only clear cup type thing i have is my measuring cup  
.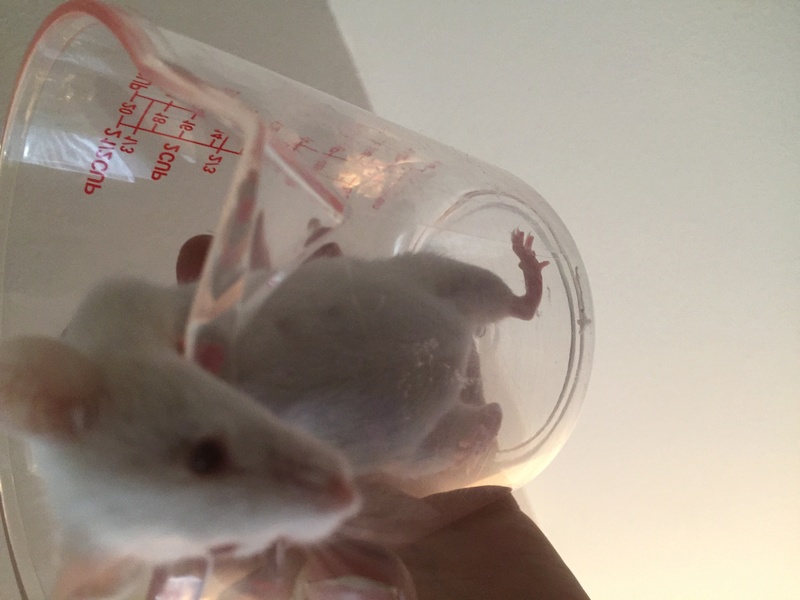 Here's Mari and Sofia's bin cage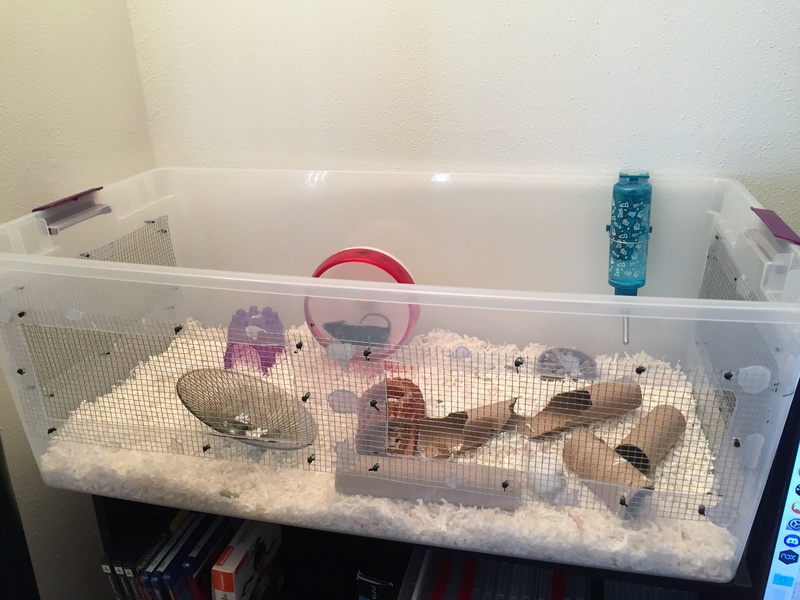 And here's the bin cage I just finished about an hour ago for Minami to have her babies in.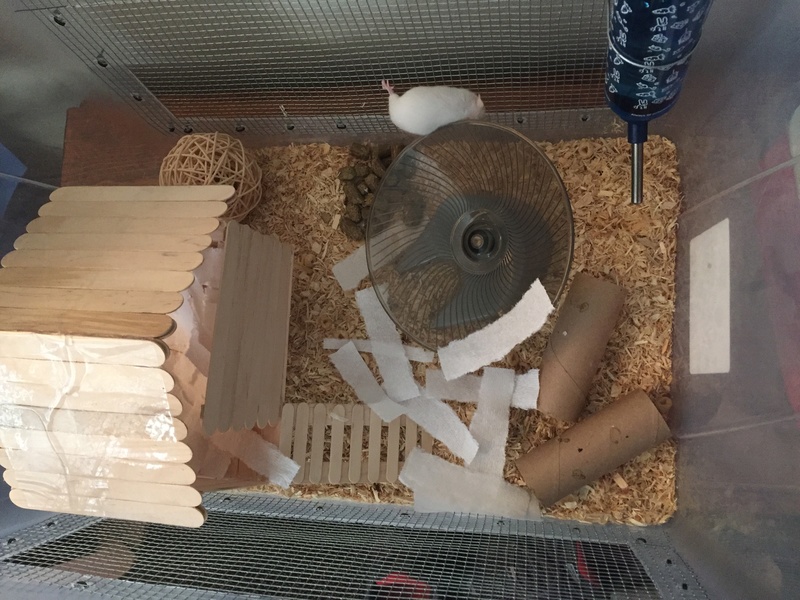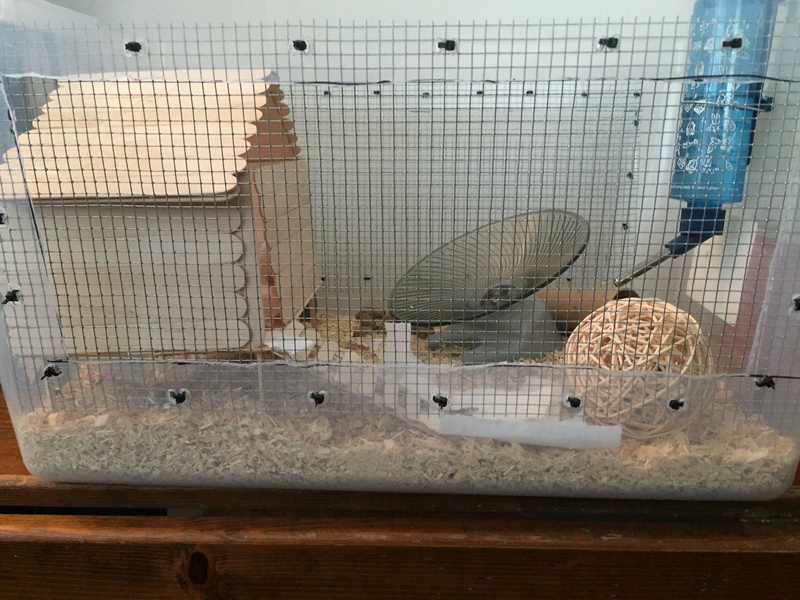 I've been considering taking Minami's wheel away but she's still moving fairly well.

BakaOnna777

New Member





Join date

: 2017-07-22


Posts

: 3



Nice job on the bin cages! All your girls are so adorable. I especially love Sofia's coloring! I'm 99.9% sure that Minami is pregnant.

Rodents rock!

Hero Member





Join date

: 2016-06-27


Posts

: 1818






She looks like she *could* be pregnant... but only time will tell. Sometimes mice will get a nice round preggo looking belly just from eating a lot of yummy food when you first get them home.

Gestation is 23 days.

_________________
Lady mice
: stormy, Dahlia, lily, Ella billie, coco, maggie
Gentleman mice
: milo, jimmy
Other pets
: Little Buddy, Kevin (cats) robert, lulu, Englebert, harold, Gerald, Zumi, nico, charlie, (hamsters), stella (gerbil), Gilly (hedgehog)
 Penny, Honeybun, Lucy, Annie, Gilly, Furgie, Tedward Wigglesworth, Olivia, Goose, Sweet Katie, Binky, Delilah, Bitsy, Boopers, Sprout, Splotchy, Eva, Slappy, Shuggie, Fancy Pants, Jellybean, Charlie, Murray, Sally, Maya, Gunther, Lil Smokey, Magnus, Norman, Winnie, Sally, George, Harriet, Spec, Erzulie, Lucille, Agatha and Clementine.

scaredymouse

Hero Member





Join date

: 2016-04-03


Posts

: 2458









How cute! Mari looks like my mouse, Biggy!
_________________
Mice: Biggy 
Remembering:
 ]Blondie, Obi (Hamster), and Grayson  
Other Pets: Hunter (dog)
Welcome! Your girls are so cute, and the bin cages look amazing. I love Sofia's coat, it's adorable
_________________
The trio: Maisy, Kisiel, and Fiona
Remembering Charlotte and Rogue

MooMouse

Sr Member





Join date

: 2016-08-15


Posts

: 274






Thanks everyone for the welcomes and compliments on the bin cages. My girls just love climbing the mesh.

BakaOnna777

New Member





Join date

: 2017-07-22


Posts

: 3



Welcome!
She looks possibly pregnant to me, too. Definitely share baby pictures if/when they come! Babies are so sweet and so much fun!

Peachy

Moderator





Join date

: 2016-04-06


Posts

: 3164






Similar topics
---
Permissions in this forum:
You
cannot
reply to topics in this forum