Here's a pic of Daisy: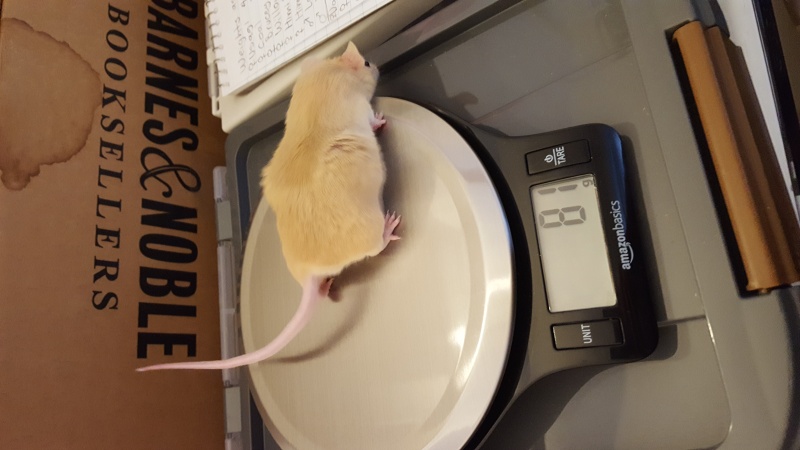 It's been 4 weeks since she gave birth, but she hasn't seem to have lost the baby wieght. She's a whopping 81 grams.
She eats the pre-mixed kahoots brand mouse food. She was supplemented with dog buscuits and kibble during pregnancy and nursing, but I stopped supplementing last week.
Everyone eats the same food, and she's the only fat one.
When usagi was pregnant, she wasn't still fat after birth. Even with the supplements. What's up with Daisy? Should I be concerned?

Soren

Sr Member





Join date

: 2016-04-28


Posts

: 140




She almost looks pregnant, but the shape is a bit wrong for that. 

How does her abdomen feel?  Bloated, lumpy, normal? Is it even on both sides?
Does she have an exercise wheel? Does she use it?

Also, I don't know this brand at all (different countries and all) so, is the crude protein percentage above 14%?
If they have it - do you pick out sunflower seeds? Peanuts?

Windmilla

Jr Member





Join date

: 2016-05-04


Posts

: 31






Brynne,
I thought that too sometimes. She looks preggers, but there is no way for her to be, as she was only housed with females since I bought her.
Edit: I felt her, and her mousey love handles are soft and squishy.

Windmilla,
Yes, she has a 6in comfort wheel that she does use.
The mix has sunflower seeds and corn, the rest are some assortment of grains, and has some green pellets. No peanuts. I'm not sure what the protein is... I pour the mix into a storage bin (made for dog food, but i use it for my mice) and toss the bag with the nutritional information on it. I don't pick things out. Should I? She is with her 28 day old daughters who are still growing... Would it stunt their growth to pick out the high-calorie parts?

I give them pumpkin seeds and non-glazed cheerios as treats.

Soren

Sr Member





Join date

: 2016-04-28


Posts

: 140




A soft tummy sounds good!
I'd wait until she has fully stopped making milk and re-assess her in another month or so.
I would pick out the striped sunflower seeds. Besides being fatty, they can easily cause allergies in mice (which can manifest themselves at any time, so the fact that they're not having reactions now doesn't mean they'll never be allergic).
_________________
Proud owner of two crazy one year old cats, Salt (grey and white) and Pepper (tuxedo)!
No mice... yet

See my Etsy Shop at www.etsy.com/shop/ArtistwolfDesigns
Similar topics
---
Permissions in this forum:
You
cannot
reply to topics in this forum