Hi, everyone! So I want to move my male mouse and I am having trouble deciding between a tank setup or a cage setup like this Furplast one:

https://www.amazon.com/Ferplast-CAGE-FAVOLA-BLACK-Hamster/dp/B0133LNVAS/ref=sr_1_6?s=pet-supplies&ie=UTF8&qid=1502199687&sr=1-6&keywords=hamster+cage

I keep reading conflicting things about tanks and whether or not they provide adequate ventilation. I would be concerned that my little guy wouldn't get enough oxygen down there.

With traditional cages, I'm concerned about him chewing through the bars. And now after reading a post on here, I'm concerned about wild mice getting in lol. We have a bad mice problem at my house, especially during the winter.

Anyway, what do you guys think? Should I get a tank? A cage?

ThePrairieNerd

New Member





Join date

: 2017-08-07


Posts

: 14






I don't know anything about that particular cage, but either type of housing is fine (tank or cage). Tanks do provide enough ventilation for smaller animals like mice and hamsters. The problem with tanks is when people house larger animals that need more ventilation in them, like rats. Tanks are the safest, but wire cages are fine too. Just watch out for the risks mentioned in the housing section, like bar chewing, wire floors, and bar spacing. Bar chewing can ruin your mouse's teeth if done long term, so that must be watched out for. Wire floors can cause foot problems or broken legs. With too big of bar spacing, like you mentioned, wild mice can get in, and your mice might possibly get out. Try to get the smallest bar spacing possible with an appropriate cage. I doubt your mice would be determined enough to chew out of a metal barred cage, it's the harm it causes to their teeth that is the issue.
Last edited by AnonymousMouseOwner on Wed 09 Aug 2017, 3:33 am; edited 1 time in total (Reason for editing : Grammar mistakes)
_________________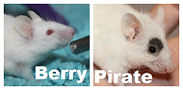 Remembering: Violet, Snow, Holly, Lilac, Clover, Petal, Cotton, Sugar, Autumn, Sage, Rocky, Jack, Willow, Blossom, Sierra, Amber, Olive, Scout, and Daisy
Personally I prefer a tank for mice. There is plenty of ventilation for mice, hamsters, and gerbils in tanks. I feel tanks are safe and a lot easier to clean then cages (just my opinion). And they are nicer for viewing your mouse
My mouse is in a 20 gallon long tank.

Rodents rock!

Hero Member





Join date

: 2016-06-27


Posts

: 1818






I actually have that cage for my girls. It's pretty nice, much better than that you would find in a store. I love cages and don't think I'll ever go back to tanks! That cage specifically, though, I love to have around but probably isn't one that I would buy again. ONLY because the door is pretty small. To be fair, I bought the Savic Mickey cage first, and it has a HUGE door... so I'm kinda spoiled.
I get around the small door by just taking the cage part off when I need to. It's held on with simple clips so it's no hassle.
Aside from the door, it's a good size for either one male or 4-5 females. The bar spacing is appropriate to keep mice in (and you can be creative about how to keep wild mice out), the level and main floor are plastic, and it's easy peasy to clean in the bathtub or with a hose.
My girls got used to it quickly and love it. They enjoy climbing the bars rather than chewing on them, thankfully. I took the level out so I could add more toys, because when the level is in, each space is only 5-6 inches tall.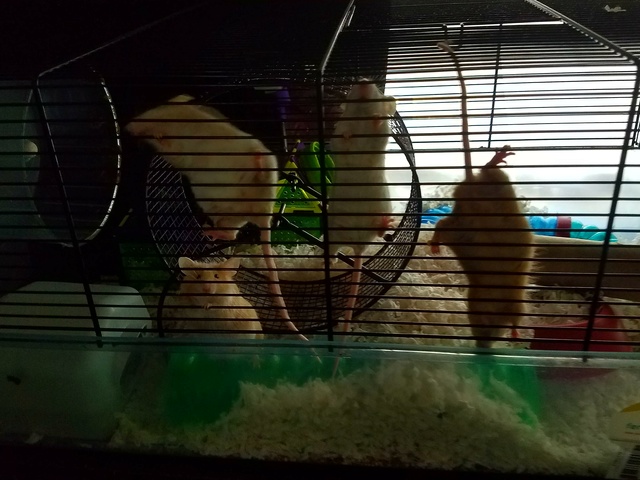 Cora and Dandy. Not chewing, just sticking their noses out to sweetly beg for treats!  
Cora.

Peachy

Moderator





Join date

: 2016-04-06


Posts

: 3164






Whichever you prefer, as long as it's of adequate size, bar spacing, and secure. Either can work just fine.

I've mainly used tanks so far, with mesh lids for ventilation and locking clips to secure. They've been easy to get into, easy to clean, very secure, and look nice. I might try cages in the future. My main reasons not to are the cats. If they did happen to get in where the mice are, I'm not sure a cage would protect them as well.

I've also used bin cages temporarily. They're easy to get into and clean like a tank but lighter (which isn't always a good thing with cats). On the other hand, they aren't as clear as a tank for observing, and not as secure simply because a mouse could chew out.

CallaLily

Hero Member





Join date

: 2016-04-03


Posts

: 3937






Peachy, your girls are adorable!!!
So cute begging for treats!
Great idea taking out the center platform to allow for more toys and climbing.

Rodents rock!

Hero Member





Join date

: 2016-06-27


Posts

: 1818







ThePrairieNerd

New Member





Join date

: 2017-08-07


Posts

: 14






What a handsome little boy! The tank looks great!

Rodents rock!

Hero Member





Join date

: 2016-06-27


Posts

: 1818






His new home looks so fun! Bet he loves it.

Peachy

Moderator





Join date

: 2016-04-06


Posts

: 3164






---
Permissions in this forum:
You
cannot
reply to topics in this forum