+4
scaredymouse
stephlisa
CallaLily
Yassssssss
8 posters
These at my new mice! I've had them about 2 weeks now, and they're 10 weeks old. Melon is the black one with a tan underbelly ( I don't have any photos of her by herself yet), Spice is the ginger and white one and pickle is the grey and white one.
sorry for the bad quality photos and bars in the way, they're not comfortable enough with me to be able to get pictures with the door open and I'm using my phone for pictures.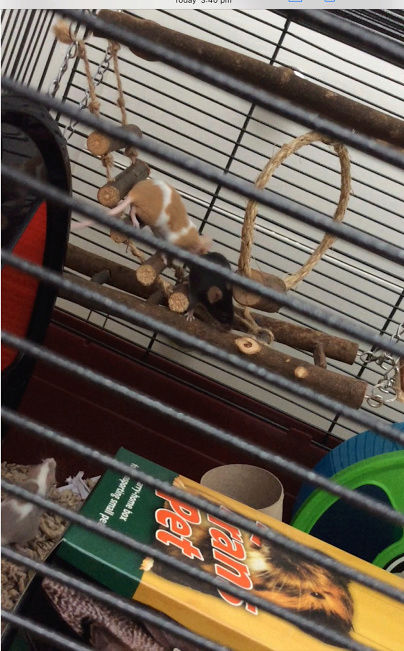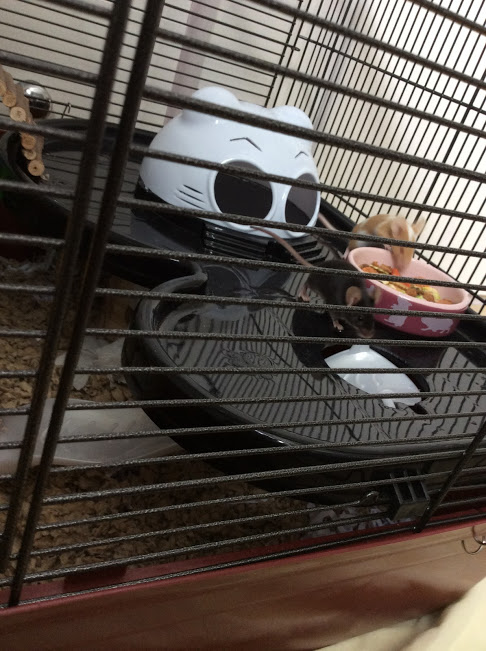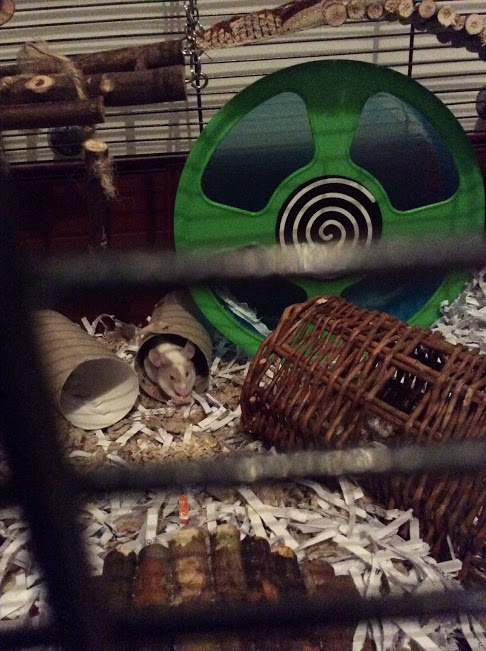 Yassssssss

New Member





Join date

: 2017-07-01


Posts

: 16






They're very cute! I like the cat(?) hideaway.

CallaLily

Hero Member





Join date

: 2016-04-03


Posts

: 3937






Awwww! They're beautiful! Hope they continue to settle in well!

_________________
Remembering Basil, Pumpkin & Colin
_________________
Lady mice
: stormy, Dahlia, lily, Ella billie, coco, maggie
Gentleman mice
: milo, jimmy
Other pets
: Little Buddy, Kevin (cats) robert, lulu, Englebert, harold, Gerald, Zumi, nico, charlie, (hamsters), stella (gerbil), Gilly (hedgehog)
 Penny, Honeybun, Lucy, Annie, Gilly, Furgie, Tedward Wigglesworth, Olivia, Goose, Sweet Katie, Binky, Delilah, Bitsy, Boopers, Sprout, Splotchy, Eva, Slappy, Shuggie, Fancy Pants, Jellybean, Charlie, Murray, Sally, Maya, Gunther, Lil Smokey, Magnus, Norman, Winnie, Sally, George, Harriet, Spec, Erzulie, Lucille, Agatha and Clementine.

scaredymouse

Hero Member





Join date

: 2016-04-03


Posts

: 2458









_________________
Mice: Biggy 
Remembering:
 ]Blondie, Obi (Hamster), and Grayson  
Other Pets: Hunter (dog)
cute! i got 2 mice yesterday. i named the black self Pickle, like Pickle Rick from Rick and Morty.

sneakysqueaks

New Member





Join date

: 2017-10-04


Posts

: 4






Your girls are so cute!!!

Rodents rock!

Hero Member





Join date

: 2016-06-27


Posts

: 1818






---
Permissions in this forum:
You
can
reply to topics in this forum