My mouse is 4 weeks old. She is a healthy female and She climbs on my hand so I can spend time with her with her at least once a day. I've raised her by hand from 1.5 weeks old and we have an incredibly strong bond. Does she need a friend in these circumstances?? If I got another mouse would we lose that bond?? She is a house mouse, if I got another mouse would it also have to be a house mouse? Thank you!!

Noonicorn

New Member





Join date

: 2017-08-18


Posts

: 3




Peachy

Moderator





Join date

: 2016-04-06


Posts

: 3164






Peachy wrote:Is this a wild mouse?
Yeah, she was abandoned on our driveway at about 1.5 weeks old. If she needs a friend and that friend needs to be another wild mouse I'm not going to catch another one because I think that would be cruel to just take a mouse if it isn't in any danger. Can she live alone or with a domestic mouse??

Noonicorn

New Member





Join date

: 2017-08-18


Posts

: 3



Hey there. =)
I would suggest you get her a friend, as mice are social critters, but that's entirely up to you.
And no, a friend doesn't need to be another field mouse. A domestic one is just fine.
I caught a field (wild) mouse one time that one of the cats had found in the hallway closet, and I immediately put her in with my big fancy male mouse I'd gotten from PetSmart last year (I don't have either of them anymore), and he was super gentle and nice to her. I think he was happy to have a friend.
She, however, wasn't too nice to him, but I don't believe she really hurt him. She mostly just annoyed him (she would take his food right out from under his nose). But then again, she was totally wild and I couldn't tame her, and Daniel (the male, aka Danny) was a pet from the start. But still, your house mouse--now pet--would probably be nice to an actual pet mouse, seeing as you've tamed yours.
And here's a picture of when they first met (she looks stunned because I think the cat had gotten her, but not enough to cause internal damage):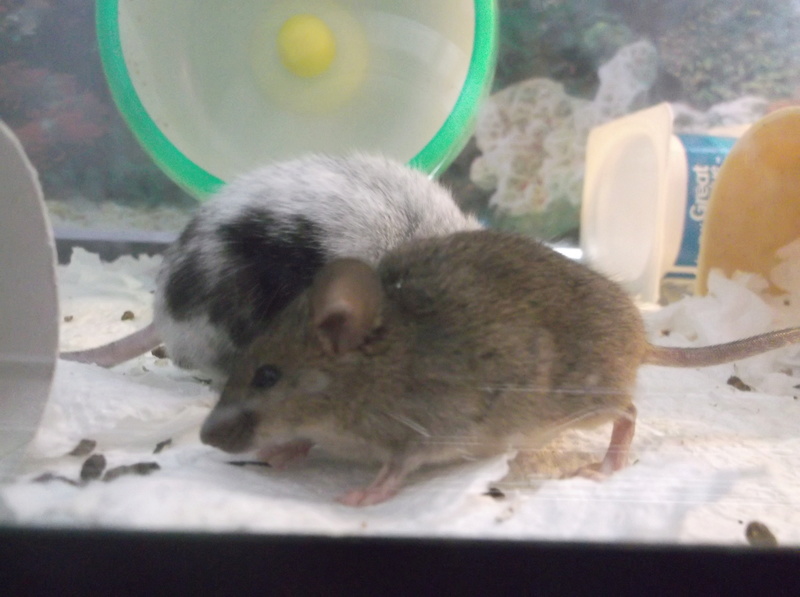 Danny was just checking her out and cleaning her. After plenty of food and some time to settle down from the shock, she went crazy, and then I couldn't pet her anymore. She was busy, busy, busy; looking for a way out. I might have kept her a total of sixteen days, but I did end up letting her go outside, as she just wasn't happy, but you can't blame her.
And honestly, I actually miss her; she was the only one to meet Danny, and he was my most favorite.

Blessed

Sr Member





Join date

: 2017-10-26


Posts

: 347






---
Permissions in this forum:
You
cannot
reply to topics in this forum