My Yoshi is less than two months away from his 3rd birthday, and he's looking a bit rough, but he's SUCH a trooper! He prefers to stay over in the senior corner of his 20 gallon for the most part, but today he actually walked all the way across his home to take an easy walk on his wheel. OMG!! I'm a super happy mouse parent. lol
He also let me comb him today. How many people have ever managed to brush their mouse?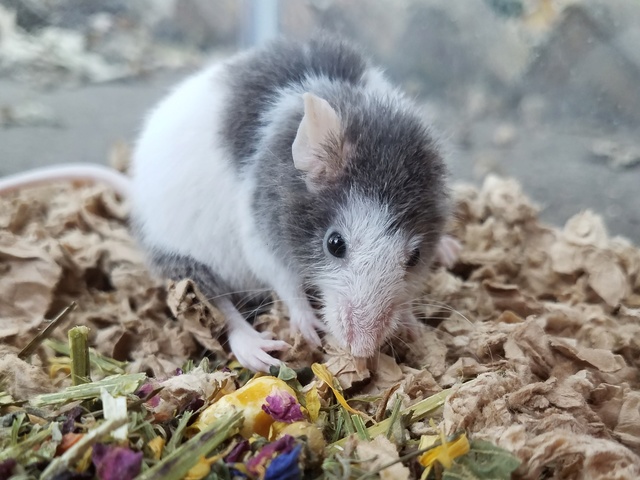 And a couple of the girls, enjoying their new pumpkin hide.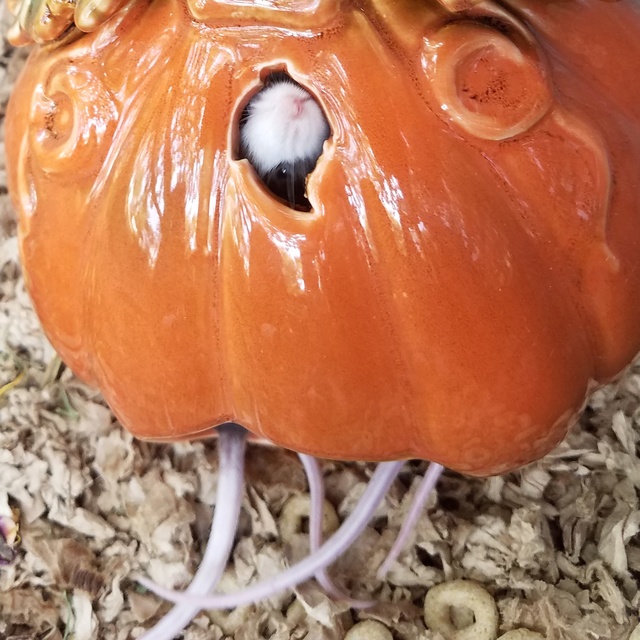 Peachy

Moderator





Join date

: 2016-04-06


Posts

: 3164






_________________
Mice: Biggy 
Remembering:
 ]Blondie, Obi (Hamster), and Grayson  
Other Pets: Hunter (dog)
Awwww, go Yoshi!
The girls are cute with their pumpkin too.

CallaLily

Hero Member





Join date

: 2016-04-03


Posts

: 3937






i love when old timers walk on their wheel
_________________
Lady mice
: stormy, Dahlia, lily, Ella billie, coco, maggie
Gentleman mice
: milo, jimmy
Other pets
: Little Buddy, Kevin (cats) robert, lulu, Englebert, harold, Gerald, Zumi, nico, charlie, (hamsters), stella (gerbil), Gilly (hedgehog)
 Penny, Honeybun, Lucy, Annie, Gilly, Furgie, Tedward Wigglesworth, Olivia, Goose, Sweet Katie, Binky, Delilah, Bitsy, Boopers, Sprout, Splotchy, Eva, Slappy, Shuggie, Fancy Pants, Jellybean, Charlie, Murray, Sally, Maya, Gunther, Lil Smokey, Magnus, Norman, Winnie, Sally, George, Harriet, Spec, Erzulie, Lucille, Agatha and Clementine.

scaredymouse

Hero Member





Join date

: 2016-04-03


Posts

: 2458









Yoshi is a handsome old man. So sweet!

Love all the girls tails hanging out of the pumpkin.

Rodents rock!

Hero Member





Join date

: 2016-06-27


Posts

: 1818






Ha! I love all the tails... one face and four tails. There are really five mice in there. lol
This appears to be my year for keeping mice! Yoshi and Frog are both almost 3 (Yoshi in November and frog in January) and Becky and Soong are just over two (as of July). Before this, my average was like 16-18 months. I'm so impressed with these guys and just love them all to pieces!!!

Peachy

Moderator





Join date

: 2016-04-06


Posts

: 3164






That's so awesome!
My average isnt so great so far at 16.75 months. I hope it improves. It's so sad to lose them so young.

CallaLily

Hero Member





Join date

: 2016-04-03


Posts

: 3937






---
Permissions in this forum:
You
can
reply to topics in this forum