Hi everyone,
some months ago, I rescued a baby mouse (someone thought it was fun to take her to a secret santa party and give her to someone who didn´t want her). I had never had mice before, I did some research and, since it turned out to be a girl, I decided to give her a sister so she had someone to cuddle with, so I went ahead and got another girl. This little girl turned out to be pregnant and gave birth a week ago to 7 beautiful babies. I was a bit overwelmed with the whole thing but, once I saw those tiny paws and faces, love was inevitable, hahahha

The thing now is, I'm gonna need help to sex the babies to avoid any further accidents so I was wondering if you experienced guys would be willing to give me a hand with that if I upload some pics.
Any other guidance will be appreciated.
Thanx!!
We can definitely help if you post pics.
There's a lot of info on baby mice here:
http://petmousefanciers.forumotion.com/t43-breeding-packet
and on sexing mice here:
http://petmousefanciers.forumotion.com/t45-sexing-mice
.
_________________
currently without meece but always remembering:
Cheeseburger, Bacon, Twix, Hashbrown, Daryl,
Celyn, Rina, Seren, Hazel, Arsinoe, Tilda, & Eulyn
Gerbils: Oghren & Merin, Hershey & the Oliebollen Boys, Emrys & Cream
+3 babies!
Hamster: Daydream
Hero Member





Join date

: 2016-04-03


Posts

: 3628


Likes

: 1021







I have read all the info and checked the pictures but I still don´t feel confident enough to rely on my abilities to distinguish males from females
I'll be posting my pics as soon as I can take them.
Thanx!!!
Welcome and congrats on your mice. Can't wait to see them!
Hero Member





Join date

: 2016-06-27


Posts

: 1818


Likes

: 599







Welcome!
Congrats on babies, they're so much fun!!
If they're a week old, nipples should be clearly visible in the next couple days. Girls have nipples and boys don't. The "easy peasy"-est way to tell, no third hand required.

_________________
Always believe that something wonderful is about to happen.

~Alex, Verity, Tulip & Finnegan~
~Milo~
Moderator





Join date

: 2016-04-06


Posts

: 2874


Likes

: 823







Welcome! I think raising baby mice would be extremely hard, but it seems like you've had some experience with it! I am not sure how to tell the difference between females and males, so sorry that I'm not much help there!
_________________
Mice: Biggy 
Remembering:
 ]Blondie, Obi (Hamster), and Grayson  
Other Pets: Hunter (dog)
Sr Member





Join date

: 2017-07-04


Posts

: 235


Likes

: 100







Welcome! I, too, brought home a pregnant female and i knew right away i was doomed.  I kept all 8 babies
_________________
Lady mice
: Winnifred & Sally/Georgie & Harriet Potter, Spec, Erzulie, Lucille, Clementine
Gentleman mice
:  Lil Smokey, Magnus, Norman, Alexander
Natal multimammate mouse (ASF):
Agatha
Other pets
: Little Buddy, Kevin (cats) Sherberta, Dustin, Lidiya, Chip, Squiggy, Nina, Harold, Spike, Mia, Mim, Henrietta(hamsters), Chloe and Zoey (chinchillas), Herman/Figaro Whooopers/Burlington (guinea pigs)
 Penny, Honeybun, Lucy, Annie, Gilly, Furgie, Tedward Wigglesworth, Olivia, Goose, Sweet Katie, Binky, Delilah, Bitsy, Boopers, Sprout, Splotchy, Eva, Slappy, Shuggie, Fancy Pants, Jellybean, Charlie, Murray, Sally, Maya, Gunther.
Moderator





Join date

: 2016-04-03


Posts

: 2455


Likes

: 743










Hi, I could tell using the nipple system but once the hair grew thjey looked all the same to me hahhaha
So I took them to the vet yesterday and she figured it out for me (turns out the numbers were right though: 3 girls and 4 boys). She told me to separate them right away coz even though they are only 3 weekd old, they are fully developed and sexually mature!
I'm keeping the females and looking for good homes for the males because I have read they will fight if kept together and stink up the place (I live in an apartament so that's not an option
)
I have another girl who is currently living alone (the one i had originally adopted). I guess the 5 girls can live together now, right?
Thanx for your help!!!
Yes, if introduced properly, 5 girls can live together. Correct, males must live alone. I live in an apartment (a tiny apartment) and I have a male mouse who lives in a 10 gallon tank. I don't have any trouble with my apartment stinking.
Hero Member





Join date

: 2016-06-27


Posts

: 1818


Likes

: 599







New Member





Join date

: 2017-10-08


Posts

: 2


Likes

: 1







Hi,
Three of the males have already gone to their new homes. It broke my heart to see them go but I believe they will have happy lives with their new families.
The other male is probably going to be adopted tomorrow.
The girls have been living together since yesterday. I made the introductions in a neutral space and adding one by one. I kept an eye on them for an hour or so and seeing that they were already cuddling together and grooming one another I`m feeling confident (fingers crossed) that they will live happily together.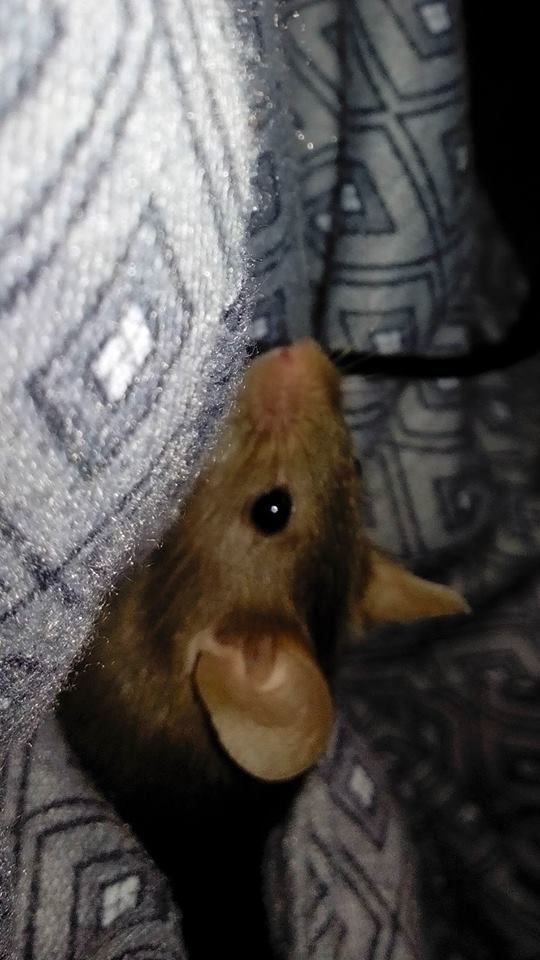 ---
Permissions in this forum:
You
cannot
reply to topics in this forum