Hi everyone, I noticed a problem with one of my girls last night and now she has me worried. First being that two of her nails are very very long, like long enough for them to curl all the way around. Her two inside nails on her back feet look like a Q they're so bad. But it's only those two, the rest are totally fine. I couldnt get a very clear picture but I'll attach one anyway. Has anyone had problems with this before?
The second problem is that her face is scratched up, or maybe its missing fur? It doesnt look scabby or irritated. I have no idea what could be wrong. In the picture shes squinting because I had to wake her up (note the mouse pile shes on top of)<3
Out of all seven of my mice, two of them are very skittish and scared... shes probably the worse of the two. Before I do anything I'll wait to get some advice from you guys so shes as little stressed as possible.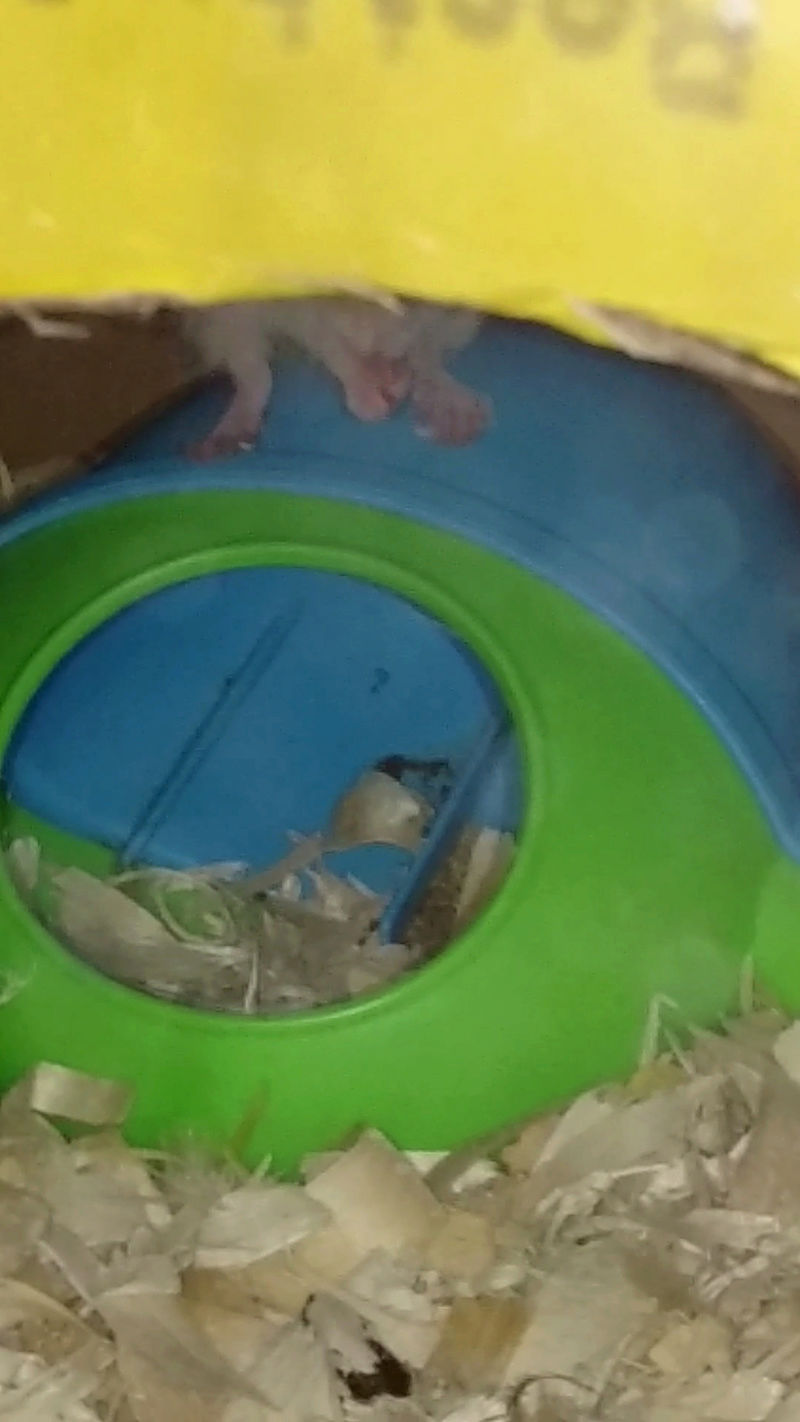 [url=https://servimg.com/view/19544990/18]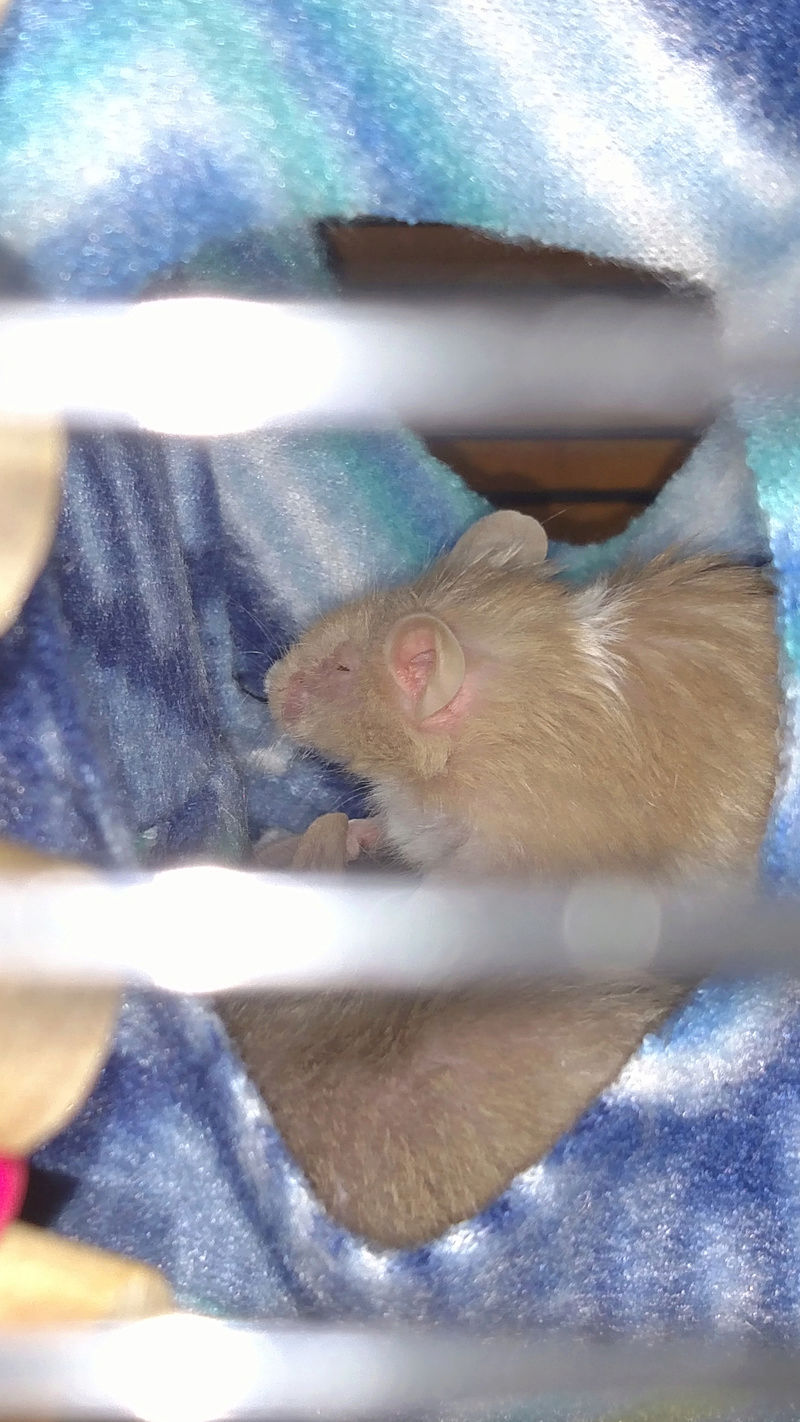 [/url
Full Member





Join date

: 2016-09-17


Posts

: 66


Likes

: 6




I think it was
@stephlisa
who had a mouse with one or two nails that never would naturally wear down.  You could choose to go to the vet to keep them trimmed or you could trim them yourself if you're comfortable with it.  But most of the time giving them a rough place to climb on (like a clean rock or brick) takes care of long nails.  Usually under the water bottle is best because then you know they will for sure climb on it.
I'm not sure about the fur. What are you feeding?  Bedding?  Have you treated for mites/lice before?  Is she scratching a lot?  Is it possible her buddies over groom her?
_________________
Rina, Tilda, Arsinoe, & Eulyn
Remembering:
Twix, Bacon, Hashbrown, Daryl, Cheeseburger,
Seren, Celyn, and Hazel
Hero Member





Join date

: 2016-04-03


Posts

: 2729


Likes

: 613







Hiya,
Yep, sounds exactly like the nail problem Colin had. Unfortunately there reached a point where they were just too long to allow him to wear them down so we had to go to the vets for a trim (because I wasn't going to try doing it myself!). It probably isn't hurting her, hut it will make it more awkward for her to get around.
Your mouse's nails sound like they are at that point. Once they are trimmed then some rough surfaces in the cage should help keep them down. This toy block was particularly good for Colin's -
http://www.petsathome.com/shop/en/pets/guinea-pig/guinea-pig-toys/small-animal-play-block
- you might be able to find something similar in shops near you, but, as CallaLilly says, a rock or a brick, we used sandpaper at one point too.
If you want to do it yourself, use proper small animal claw scissors, or I remember someone used a small nail clipper (the kind a lot of humans use!). Just be careful not to cut the 'quick' which is a blood vessel in the nail - have a little flour nearby to help stem the flow in case you do cut it as it is like a human head wound (bleeds a lot but isn't too problematic).
I'd also recommend grabbing a friend or family member to help hold the mouse as she's skittish (or you hold and someone else cuts). Also try distracting her with treats so she's still for a moment and you can sneak in a grab her foot and cut.
My vet was awesome and had nail trimming totally free, even for awkward to trim animals like mice, you might find your vet has reduced rates or similar, but you'd have to find out.
Hope that helps with the nails!
As for the patchy fur, I'm not sure I can help you there. But it does look like what my vet called a barbering patch - is it possible the others over grooming her?

_________________
Pumpkin & Basil - two brothers
Remembering Colin
Sr Member





Join date

: 2016-04-03


Posts

: 425


Likes

: 90










Thanks for the advice you two! Sorry about the slow reply. I put a couple rocks in there cage and a nice rough toy under both there water bottles and in spots she always goes too. Before I do anything else I'll give her some time and see how that works because I really want to avoid trimming her nails. If I get to that point what would be the best way to hold her while trimming? I'm almost certain she'll nip and bite. My poor baby
If I can't get her nails short myself I'll call around and see what it will cost to have a vet do it but I have a feeling they'll charge way too much just to see her. Hopefully it doesnt come to that!
Full Member





Join date

: 2016-09-17


Posts

: 66


Likes

: 6





Similar topics
---
Permissions in this forum:
You
cannot
reply to topics in this forum