I see this asked a lot, "What essential items do I need before I can get a mouse?", and many ask for a checklist to make things simple. So, here I will provide a checklist of what a beginner in mouse care will need. Please note that these are only the
essentials
and I recommend acquiring more toys and accessories as you can, so you are able to switch things up and make fun and new setups for your mice. I will provide several options for one item on the list, along with average retail prices for each item. What I mean by "options" for example, is different wheel styles, you of course don't need to buy every style of wheel listed, just pick the one that you think would work best for you.
Also check out this thread for lots more information on mouse care: http://petmousefanciers.forumotion.com/t1230-mouse-sticky-index
Habitat
NOTE: There are many choices, but the most popular choice for housing is a glass tank with a screen lid. What habitat you should buy varies depending on how many mice you choose to get. It also depends on their personalities, some mice prefer a little more space than others.


10 gallon tank with metal mesh lid (For 1-3 mice) - $20

20 gallon long tank with metal mesh lid (For 1-5 mice) - $35

Wheel

Popular and suitable choices:

8 inch mesh wheel - $10

7 inch mesh wheel - $5

7 inch saucer wheel - $7
Less popular, but suitable choices:

6.5 inch silent spinner - $12

8.5 inch comfort wheel - $7

Water bottle


You & me brand Petco plastic bottle - $3

Glass, chew proof Kaytee bottle - $7
You'll also need something to hold the bottle:

Super Pet water bottle holder - $4

Plastic "2 in 1" bottle holder - $4

Food & dish


Any ceramic or plastic food dish - $1-$3

Vitakraft Vitasmart Parakeet seed - $5

Sunseed Vita Prima Parakeet seed - $7

Bedding


Carefresh - $20

Clean and Cozy - $12

Hide


Plastic igloo - $3

Other plastic hide - $4

Wooden hide - $4

Extra toys


DIY toys made from popsicle sticks and glue - $7

5-6 Nice store bought toys - $18
In addition to DIY or store bought toys, you can offer toilet paper tubes, paper egg cartons, cardboard boxes, etc. These are nice FREE toy options that mice love!

So overall, if you were to choose the cheapest option from every section, your total startup cost would be around $60, but if you chose the most expensive options, it would be more around $110. You would also need to add the cost of the mice, unless they were free. If you get a mouse from a "feeder" bin, an adult is usually around $3, so a trio would be $9. If they come from the pet section at a pet store, labeled as "fancy" mice, they will be about $7, so a trio would be $21. Prices of good mouse breeders can vary greatly, but the ones I've seen can charge around $20 a mouse, making a trio of fancy show mice $60. Please note this total does not include any veterinary care either.
I hope this helps you in some way! Please be sure to check out the other mouse care topics before adopting or buying a mouse, they will help you greatly!
_________________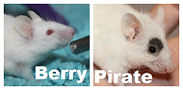 Remembering: Violet, Snow, Holly, Lilac, Clover, Petal, Cotton, Sugar, Autumn, Sage, Rocky, Jack, Willow, Blossom, Sierra, Amber, Olive, Scout, and Daisy
---
Permissions in this forum:
You
cannot
reply to topics in this forum