Meet Charlotte (not sure her color almost between dove and champagne), Darcy (Black), and Lydia (Agouti)!
I moved into the new place yesterday and decided to check out the Petco near me. I still plan on getting a trio from the breeder but they are currently unavailable. They are having so much fun in the cage. I will post better pictures eventually but they do not stop moving making phone pics hard to get.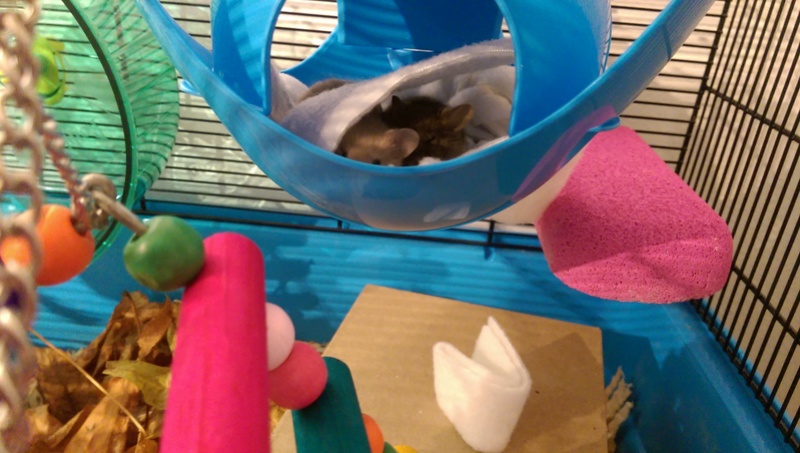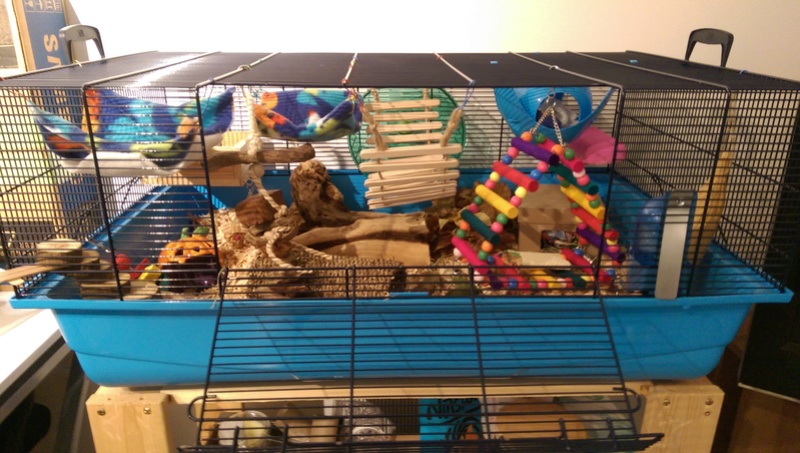 I'm so glad to see you have new mice in your life! They're adorable.
_________________
Lady mice
: Maggie, Claire, and Penny (aka Sweet P)
Gentleman mice
: Alexander
Other pets
: Little Buddy, Kevin (cats) Sherberta, Dustin, Lidiya, Chip, Squiggy, Nina, Harold, Spike, Mia, Mim, Henrietta(hamsters), Chloe and Zoey (chinchillas), Herman/Figaro Whooopers/Burlington (guinea pigs)
 Penny, Honeybun, Lucy, Annie, Gilly, Furgie, Tedward Wigglesworth, Olivia, Goose, Sweet Katie, Binky, Delilah, Bitsy, Boopers, Sprout, Splotchy, Eva, Slappy, Shuggie, Fancy Pants, Jellybean, Charlie, Murray, Sally, Maya, Gunther, Lil Smokey, Magnus, Norman, Winnie, Sally, George, Harriet, Spec, Erzulie, Lucille, Agatha and Clementine.
Moderator





Join date

: 2016-04-03


Posts

: 2457


Likes

: 743










Congratulations!!! Your girls are going to have so much fun in that cage! The cage looks great. Such cute mice!
Hero Member





Join date

: 2016-06-27


Posts

: 1818


Likes

: 599







Congrats!!! Darcy is on my name list for future ladies. I already have a Dulcie and a Dandy. lol
Your cage looks fantastic! I love that your girls are already in the Sputnik. I had to clip mine to the floor and then they finally started using it.

_________________
Always believe that something wonderful is about to happen.

~Alex, Verity & Finnegan~
~Milo~
Moderator





Join date

: 2016-04-06


Posts

: 2888


Likes

: 828







Mine are all over climbing everywhere in the cage! I was super surprised that they were not more hesitant. Darcy will clamber all around the cage by the bars without once touching the ground and she loves to monkey bar across the top. I am also pleasantly surprised by how quiet the Savic wheel is. I had to shift over so the clip was by a support bar in order to prevent it from tipping the girls out but now there are no issues.
Figured I would just keep updating this thread for now. Brisby, Lydia, and Darcy all in their nesting box! This was when I gave them table time during their cage rearranging.

Awww, so cute!! Thanks for sharing the video
Hero Member





Join date

: 2016-06-27


Posts

: 1818


Likes

: 599







It's funny, I named Lydia after the annoying sister in Pride and Prejudice that always gets her way. Turns out she matches that personality perfectly! She will periodically start scuffles with the other two but nothing serious or anything just normal scuffles figuring out who is in charge.


Similar topics
---
Permissions in this forum:
You
can
reply to topics in this forum