Hi all,
Around six weeks ago I bought 3 female mouse from a small, local shop - Evie, Maggie and Scruffy
Everything was going really well, they live in a roughly: 20 gallon, three tier, custom, glass aquarium.
However, I noticed that Evie was far bigger than the other two, at least twice the size. After a lot of panic i have had them sexed and I definitely have three girls. Thank God.
So, they're all the same age and likely fully grown (about 3 months old now) and they're all girls. The lady who sexed them for me pointed out that Evie wasn't actually larger than normal - it is the other two that are much smaller than the average 'fancy' mouse - she even pointed out that their fur seemed very different than that of Evie's.
She suggested that either their tiny size was to do with possible inbreeding OR they were possibly even a slightly different species of mouse.
I have called the original breeder who informed me that there is very little change of inbreeding as he receives ones male mouse, who breeds with a number of females and then when they are all sold he begins a new colony entirely from scratch.
So, can anyone provide some possible reasons as to why I have two tiny mice. Any ideas welcome! Pictures are attached.
Thanks!!
(p.s, they're all very happy and healthy so will be kept regardless - It's simply a matter of curiosity for me now.)
(p.p.s, Evie is the black one.)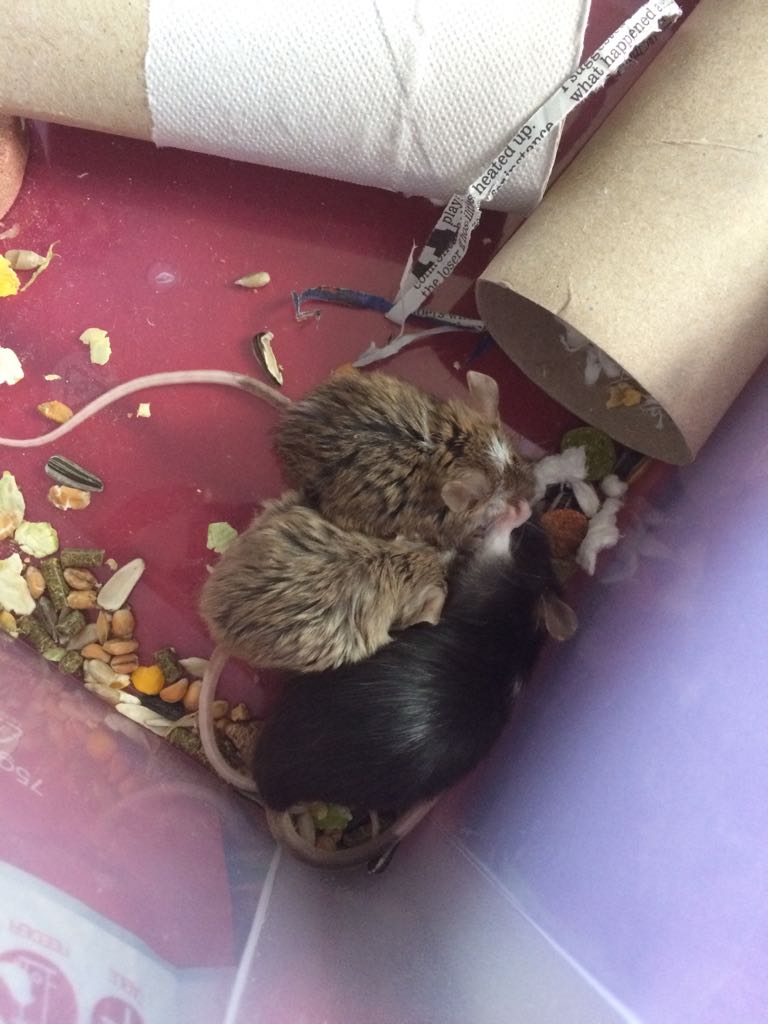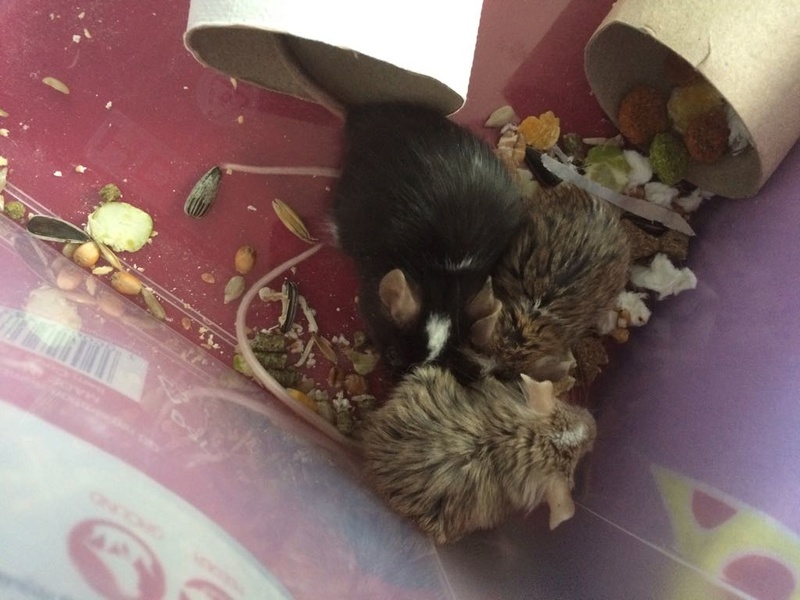 Charlie27

New Member





Join date

: 2017-10-31


Posts

: 3



Have you weighed them at all?  If so, what weights are they?  Its quite hard to judge things from a picture if that makes sense.

Is it possible that Evie is more of a show mouse which are generally larger?

_________________
Remembering Basil, Pumpkin & Colin
I'm going to guess that it's probably down to genetics. If the breeder is starting from scratch each time, there's no way of tracking lines and therefore no way of knowing if it's just a line that produces smaller mice or if there's any health concerns that have been passed along. If they're healthy and doing normal mouse things, eating well, etc I would try not to worry too much. Mus musculus can vary in size a lot. There are lines out there that produce tiny mice and those that produce large mice (show mice for example) and everything in between.
But I don't have any experience in breeding mice. This is just my guess. Someone with more experience may come along with a better answer.

CallaLily

Hero Member





Join date

: 2016-04-03


Posts

: 3937






Hey, Charlie27. Welcome to PetMouseFanciers.
I'm just going to take a guess, but more likely, the other two are younger and still have growing to do. Males tend to be bigger anyways, I believe. But the male mouse I got from PetSmart last year grew to be a big size for a mouse. My girls from Petco aren't nearly that big. But I am wondering if there may be subtle differences in sizes of mice, depending on the breeder, for lack of better wording.
By the way, your mice--especially the little ones--are cool-looking and so pretty. =)

Blessed

Sr Member





Join date

: 2017-10-26


Posts

: 347






I agree with what was said above - mice simply come in all shapes and sizes. Here's a picture of some of my past mice- a 19 gram mouse, Holly, and a 80+ gram mouse, Daisy. Both from pet stores, both the same species, just very different in size. They were both best buddies though, so no matter their size they can still get along just fine!
So even though they are different in size, they should still get along just fine. I have several mice from the same pet shop - sourced from the same breeder - and they vary greatly in size. It all has to do with genetics and how they are bred.
All your girls are so cute! The two little girls look like their fur is a bit of a different texture than the other mouse. I don't know anything about breeding mice, so I really can't be of any help as to why the size difference. It is interesting though. Welcome!

Rodents rock!

Hero Member





Join date

: 2016-06-27


Posts

: 1818







Charlie27

New Member





Join date

: 2017-10-31


Posts

: 3



Aw, she is adorable.

Blessed

Sr Member





Join date

: 2017-10-26


Posts

: 347







Rodents rock!

Hero Member





Join date

: 2016-06-27


Posts

: 1818






Similar topics
---
Permissions in this forum:
You
cannot
reply to topics in this forum