When my friend was walking to school today, she found a dark gray (head was was a darker gray than the rest of the body) mouse with a white tip on its tail that came up to her and even put their front legs on her shoe and sniffed it, the mouse wasn't afraid of her at all. Sadly, it was spinning in circles and we're both really worried about the mouse and didn't know if it was a pet mouse we should try helping or a wild mouse we should leave alone.

Winneroflife7

New Member





Join date

: 2017-11-16


Posts

: 2



It's hard to say since you mentioned the mouse was gray. Wild mice and pet mice can both be gray. The house mouse is the type of mouse you'd commonly find in cities wild, and it's also the species we keep as pets, so they look very similar. The only thing that could almost guarantee it was a pet mouse is if it was some unusual color that you'd never see in the wild, like a PEW, banded, etc., since wild mice would likely never come in that color/pattern. If the mouse was circling, it's likely he/she has an ear infection, unfortunately
If you are comfortable with handling a mouse that could possibly be wild, it's definitely worth a try helping! Maybe you could take the mouse in to your local exotic vet, and they could determine whether it was a wild or domestic mouse for you
If it was a domestic mouse, the vet could help you nurse him or her back to health, but if it was wild then I'd suggest taking the mouse to your local wildlife rehabilitation center, as they'd be able to help the mouse recover and possibly release the mouse back into the wild.
_________________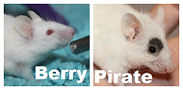 Remembering: Violet, Snow, Holly, Lilac, Clover, Petal, Cotton, Sugar, Autumn, Sage, Rocky, Jack, Willow, Blossom, Sierra, Amber, Olive, Scout, and Daisy
Thank you! I'll tell my friend this! Hopefully we can find it in the morning again!

Winneroflife7

New Member





Join date

: 2017-11-16


Posts

: 2



Similar topics
---
Permissions in this forum:
You
cannot
reply to topics in this forum