My Arsinoe has developed a mammary tumor.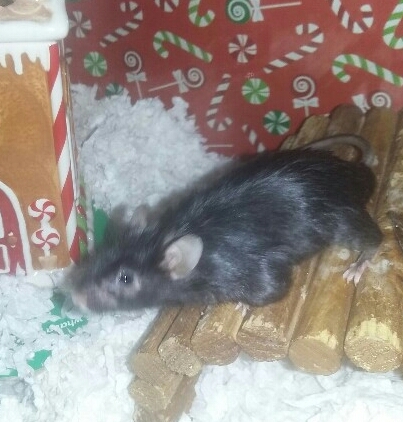 I don't know her actual birthdate but my best guess is she's around 1 year old. Keeping her comfy and happy for as long as I can. Being in the early stages, it doesn't seem to bother her much at all. Hoping it'll be slower growing and she gets a lot more time to enjoy life.
I hate tumors.

CallaLily

Hero Member





Join date

: 2016-04-03


Posts

: 3937






Aww, I'm so sorry to hear. No matter how quickly/slowly it progresses, she's lucky to have you. She's got it good, and she knows she's loved. I hope she gets plenty more time to spend with you

_________________
New to the world of mice, but not to the world of rodents. Mice, hamsters, gerbils, chinchillas.
My meeces: Darcy, Daisy, Daphne, Kalypso, Saratoga

Other pets: Kitties Juniper, Ozzie, and Rosie, Teddy Bear the poodle, Chinchillas Lily and Nina (a mother-daughter pair), Ferrets Hope and Azrael, and the fish-- Neon Tetras named after the Beatles and a Bristlenose Plecostomus named James. James is female.

Founder of Project Happy Paws-- phpaws.cf and foster mom to Strudel and Bagel!

Rest in peace, dear Scuttlebug and Shiloh. I love you both, now and forever. You'll always be my babies.
I'm sorry. Tumors make me so angry. With any care in breeding and they could be eliminated. We love these little creatures and it makes me so angry that the quality of their lives doesn't matter to these rodent breeders.

I know you'll keep her comfortable and provide her with the best for the time she has left.
_________________
Lady mice
: stormy, Dahlia, lily, Ella billie, coco, maggie
Gentleman mice
: milo, jimmy
Other pets
: Little Buddy, Kevin (cats) robert, lulu, Englebert, harold, Gerald, Zumi, nico, charlie, (hamsters), stella (gerbil), Gilly (hedgehog)
 Penny, Honeybun, Lucy, Annie, Gilly, Furgie, Tedward Wigglesworth, Olivia, Goose, Sweet Katie, Binky, Delilah, Bitsy, Boopers, Sprout, Splotchy, Eva, Slappy, Shuggie, Fancy Pants, Jellybean, Charlie, Murray, Sally, Maya, Gunther, Lil Smokey, Magnus, Norman, Winnie, Sally, George, Harriet, Spec, Erzulie, Lucille, Agatha and Clementine.

scaredymouse

Hero Member





Join date

: 2016-04-03


Posts

: 2458









Tumors really suck!!! She is a lucky little girl to have you.

Rodents rock!

Hero Member





Join date

: 2016-06-27


Posts

: 1818






I'm so sorry. I didn't realize mice could have tumors.
_________________

Darkly_Innocent

Jr Member





Join date

: 2017-12-01


Posts

: 40






Aw, sorry to hear that. My latest mouse, Lydia (if you remember?), developed that, too, I believe; only she got a huge lump on her throat. She did pretty good for a while; acted pretty normal with the exception of being more active and longing for my affection. There were only a few other subtle things she did/I noticed that you could tell she wasn't feeling totally right all the time. I don't remember when I noticed it, but she definitely got it before Thanksgiving. I don't know... maybe she lived roughly a month before passing after she'd developed it? And you know, I didn't have her a year (maybe eight months), and I wouldn't think she was even one-years old. But I don't know.
But hopefully Arsinoe will live longer; you probably give your mice way better care, anyways.

Blessed

Sr Member





Join date

: 2017-10-26


Posts

: 347






Thank you, everyone.
@Darkly_Innocent
@Blessed
She's my fourth mouse to develop a tumor (out of 12). The others only lived another 2-3 months after first noticing the lump. Twix had a mammary tumor too. Seren a tumor in her throat. Hazel had a huge abdominal mass. Unfortunately, it's fairly common in poorly bred mice.

CallaLily

Hero Member





Join date

: 2016-04-03


Posts

: 3937






Similar topics
---
Permissions in this forum:
You
cannot
reply to topics in this forum