Useful Links
Forum Rules
Please read the forum rules before posting. If you have any questions, contact a moderator.
Pet Mouse Info
Links to help you find all the care info threads throughout the forum.
Cage Calculator
Find out how many mice will fit in your cage or tank.
Contact
Use this link if you need to get in touch with the administration team without an account.
FAQ (forum)
Frequently Asked Questions about the forum.
Vetective™
Vetective™ is "a community-driven exotic mammal veterinarian locator and review service."
Kendra (my tiny little baby fuzz) is super sweet and is coming to me with her name about 50% of the time now. Big mouse has had a lot of stupid nick names because I don't like her much and she's not friendly, she doesn't bite though so I guess it's time to name her. She was older than Kendra when I got her so as a feeder mouse I suppose it makes sense that her personality is more focused on being a serious little survival mouse in serious mode all the time than a sociable one. Kendra is fuzzy with lots of spots, will she stay fuzzy? She's about 6 weeks old now. Big mouse is about 8 weeks old. and all white with a black butt.
 They had different mothers but share a father, his name's Domino and I've met him a couple of times as my friend and I both were hanging out the day she got him as a feeder and decided that he was too pretty and friendly.  Kendra looks just like him. I can't look at her feeders and not feel bad now that I got to know a couple of mice. I'm going to get a rat from her also next year once I got the hang of these guys.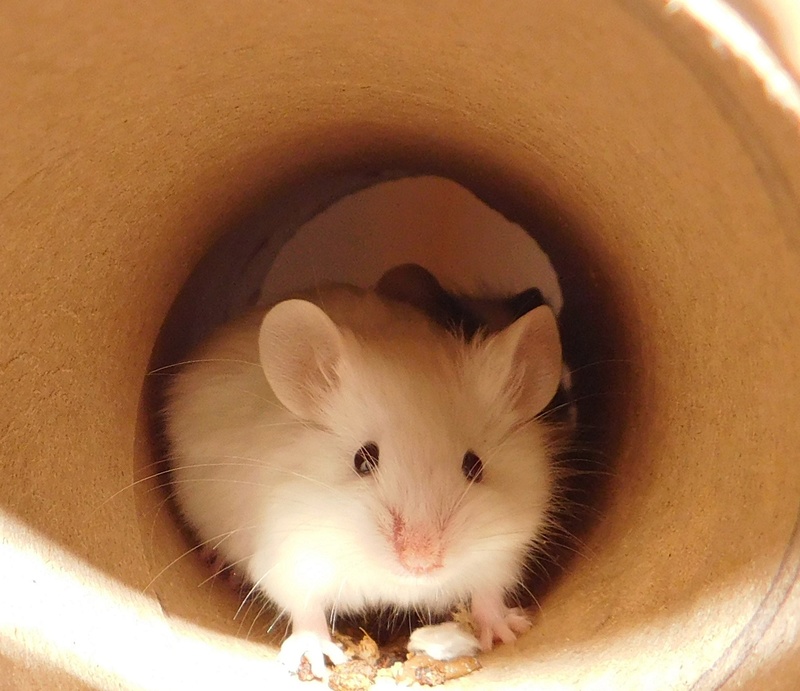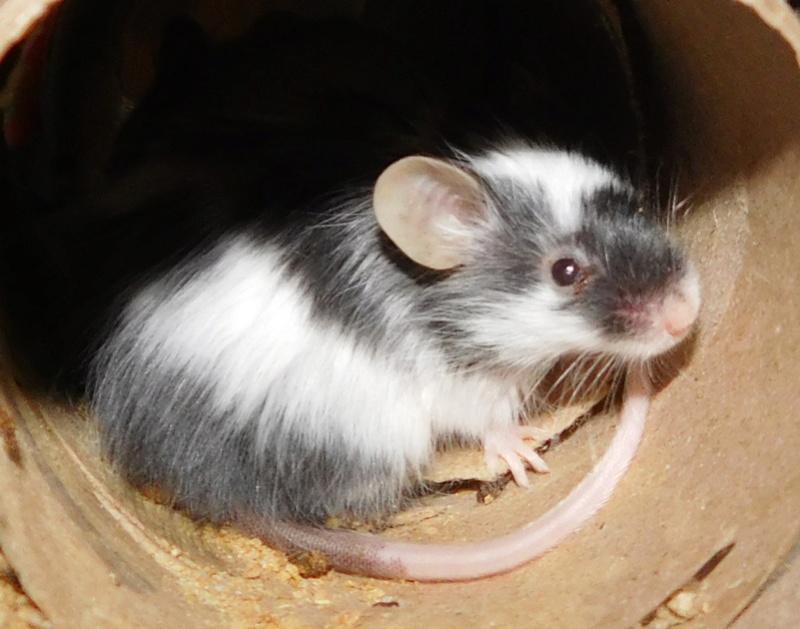 New Member





Join date

: 2017-12-03


Posts

: 17


Likes

: 3




Aww, there so cute!
_________________
Jr Member





Join date

: 2017-12-01


Posts

: 40


Likes

: 17







They're cute! I'm sure the new mouse will come around with treat bribery and slow work.

I do believe Kendra will keep her coat. They call mice like her long hair -- not quite Angora but still fluffier than usual.

Rats are a lot like mice, but even the males are happiest in pairs, so its extra cute with both genders -- always a good thing. They're good pets in my experience, I hope one will find a home with you. You seem like a loving parent!

Maybe you can derive a name from the fighty personality of the newer mouse. We named the male I temporarily owned (Ares) after the god of war because of his territorial issues + ripped ear. My other mouse, Maier was named for her black fur and after my favorite photographer Vivian Maier, who photographed in black and white.
Hero Member





Join date

: 2016-06-19


Posts

: 953


Likes

: 193








Similar topics
---
Permissions in this forum:
You
can
reply to topics in this forum