I found some discounted fabric at the store today and thought it would be super cute for a mouse photo shoot. I only got Milo and Mika done because everyone else was sleeping, but bonus girlie pictures from this morning! I'll have to catch everyone else before they go to bed tomorrow.
First was Milo. He made friends with Big Mouse and tried to hide in the broken sleigh. He's very observant, I didn't even realize it was chipped. lol
And hey, we matched!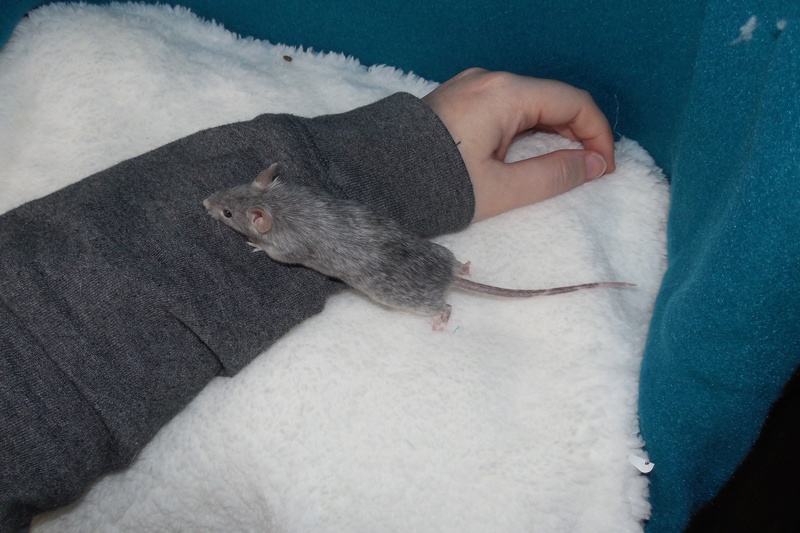 Next was Mika. None of his pictures turned out very clear, but he was just too cute!!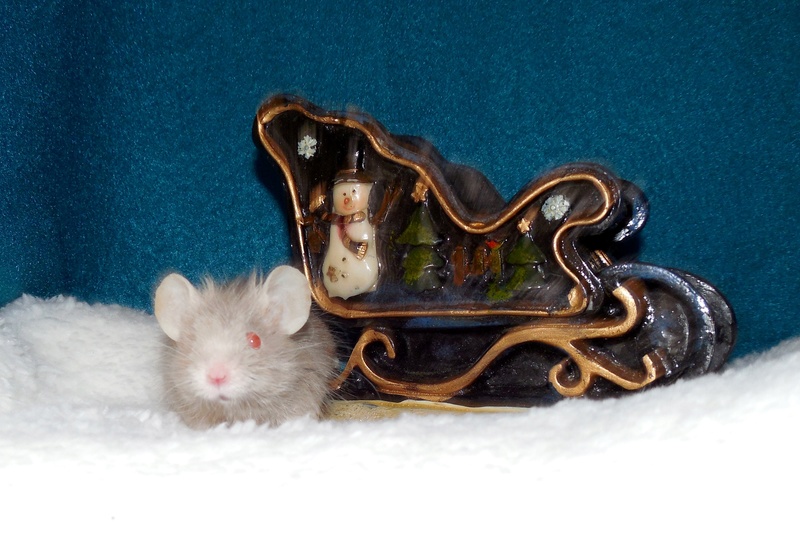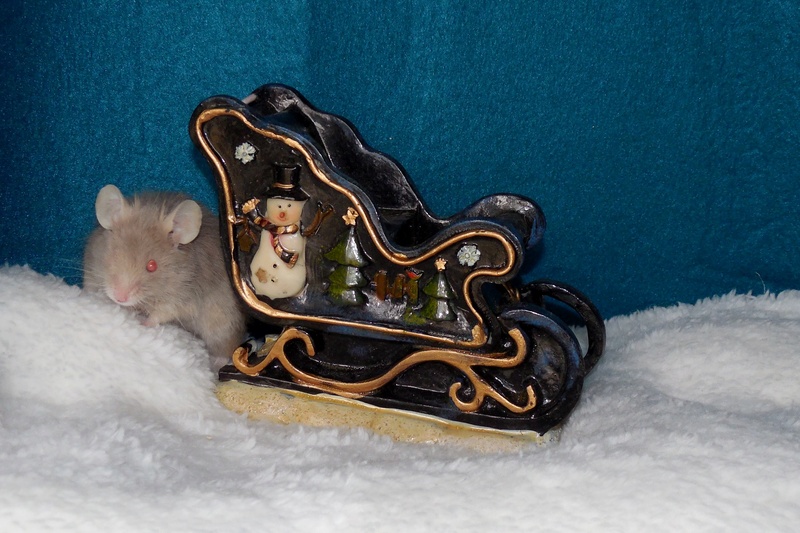 Bonus pics - Miss Dandy is the queen of begging. She even begs from the cat! But who could say "No more treats!" to this?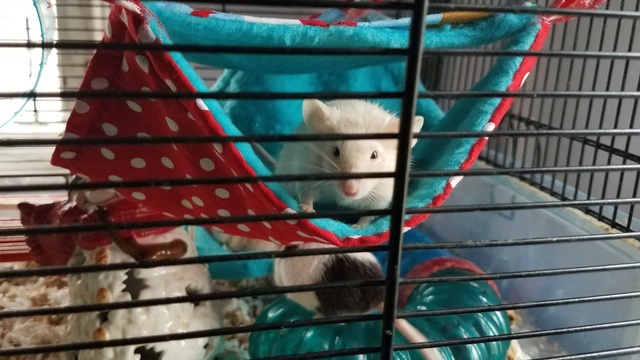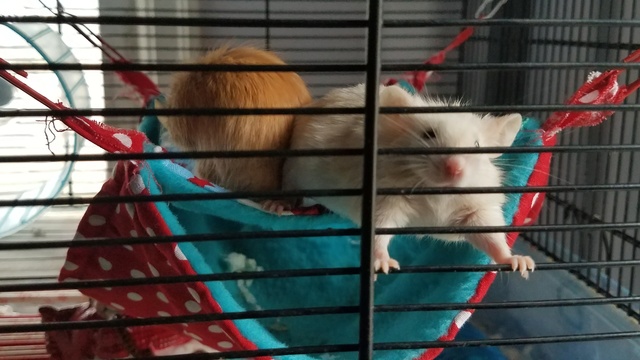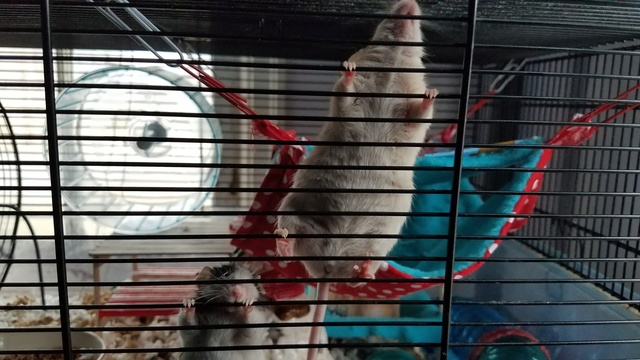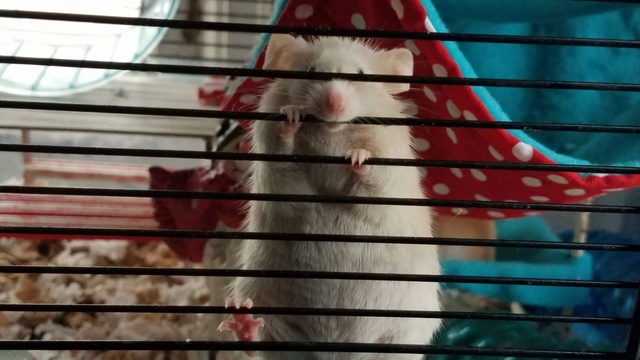 Dandy and Dulcie ran over Cora while she was sleeping here and she got up to yell at them.
Darn kids.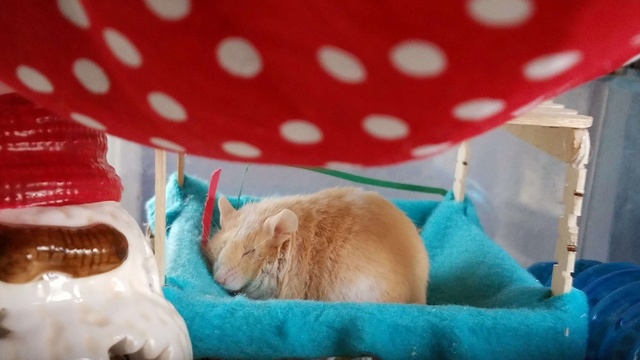 Dulcie only likes for me my Cheerios.

_________________
Always believe that something wonderful is about to happen.

~Alex, Verity & Finnegan~
~Milo~
Moderator





Join date

: 2016-04-06


Posts

: 2888


Likes

: 828







_________________
Lady mice
: Maggie, Claire, and Penny (aka Sweet P)
Gentleman mice
: Alexander
Other pets
: Little Buddy, Kevin (cats) Sherberta, Dustin, Lidiya, Chip, Squiggy, Nina, Harold, Spike, Mia, Mim, Henrietta(hamsters), Chloe and Zoey (chinchillas), Herman/Figaro Whooopers/Burlington (guinea pigs)
 Penny, Honeybun, Lucy, Annie, Gilly, Furgie, Tedward Wigglesworth, Olivia, Goose, Sweet Katie, Binky, Delilah, Bitsy, Boopers, Sprout, Splotchy, Eva, Slappy, Shuggie, Fancy Pants, Jellybean, Charlie, Murray, Sally, Maya, Gunther, Lil Smokey, Magnus, Norman, Winnie, Sally, George, Harriet, Spec, Erzulie, Lucille, Agatha and Clementine.
Moderator





Join date

: 2016-04-03


Posts

: 2457


Likes

: 743










Adorable!
_________________
currently without meece but always remembering:
Cheeseburger, Bacon, Twix, Hashbrown, Daryl,
Celyn, Rina, Seren, Hazel, Arsinoe, Tilda, & Eulyn
Gerbils: Oghren & Merin / Jeffrey, Geoffrey, & Jeffri /
Hamlet & Horatio / Emrys, Cream, & Hershey / 
Bill & Frances  
 Hamster: Daydream
Hero Member





Join date

: 2016-04-03


Posts

: 3676


Likes

: 1027







Aww, loving the photo shoot pictures!
_________________
Jr Member





Join date

: 2017-12-01


Posts

: 40


Likes

: 21









Similar topics
---
Permissions in this forum:
You
can
reply to topics in this forum